For a couple in the U.S., their Mirage exceeded all expectations.
We're all familiar with the Mitsubishi Mirage hatchback's famed fuel economy, which has been one of the model's selling points since it was launched in mid-2012. Apparently, a lesser-known trait of the Mirage is robustness, something which a couple in Minnesota, U.S.A. demonstrated.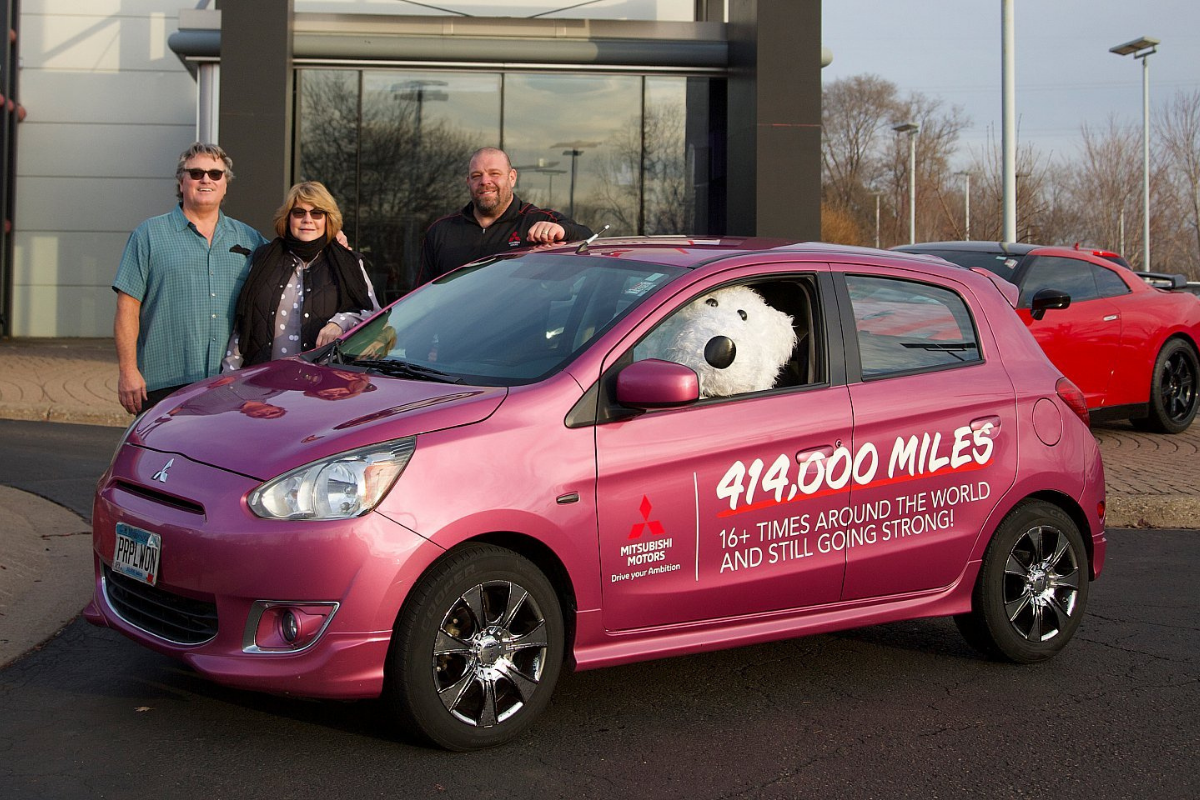 Jerry and Janice Huot of the U.S.A. pose with their 2014 Mitsubishi Mirage, nicknamed "Purple Won" 
Jerry Huot and his wife Janice will readily take on challengers to the title of the Mirage with the highest mileage. Their 2014 unit, dubbed the "Purple Won", managed to clock 414,520 miles on the odometer. That's 667,105 kilometers, thank you very much, enough to circle the Earth at the equator 16 and a half times.
Six years ago, the couple wanted to trade in Janice's gas-guzzling Cadillac for a more fuel-efficient model. They had previously owned an Outlander Sport and Montero Sport, so the logical step was to get another Mitsubishi. Visiting their local dealer, they chanced upon a Plasma Purple Mirage, which seemed like fate.
"Right in the middle of the showroom was this little purple Mirage that got 44 mpg (18.7 km/l)," Janice narrates. "We drove the Mirage home that day, right off the showroom floor."
>>> Related: Mirage vs Wigo: Which one would you choose?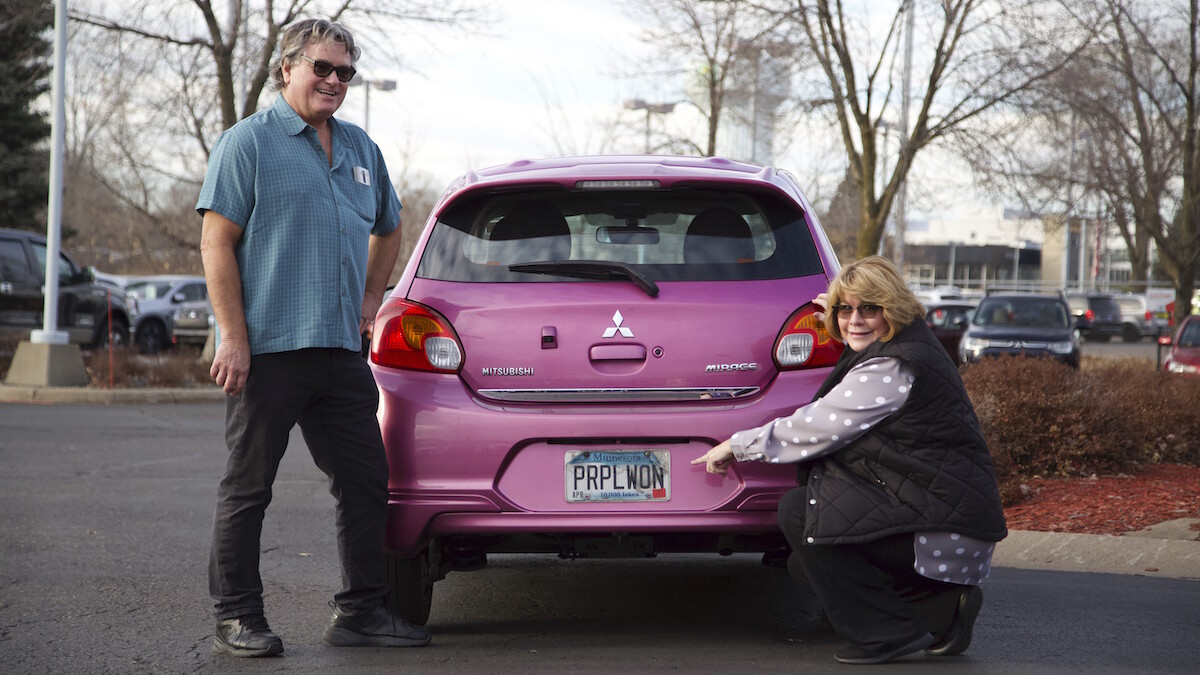 The car was named for its color, the late musical artist Prince, and the Minnesota Vikings football team
For the first 7,000 miles (11,265 km), it was Janice who drove the Mirage. But when winter came, she got herself a 2015 Outlander Sport for all-wheel-drive. That's when husband Jerry took over the wheel of the mighty mini, using it in his job as a courier delivering lab samples between doctor's offices up and down the state.
"The Mirage never missed a beat," he says. "it got me up and out of our gravel driveway, even in the middle of winter, when others got stuck in the snow."
Asked if they had ever babied the car, Jerry answers in the negative. "It was stored outside year-round. I used it to haul rocks and mulch for our yard."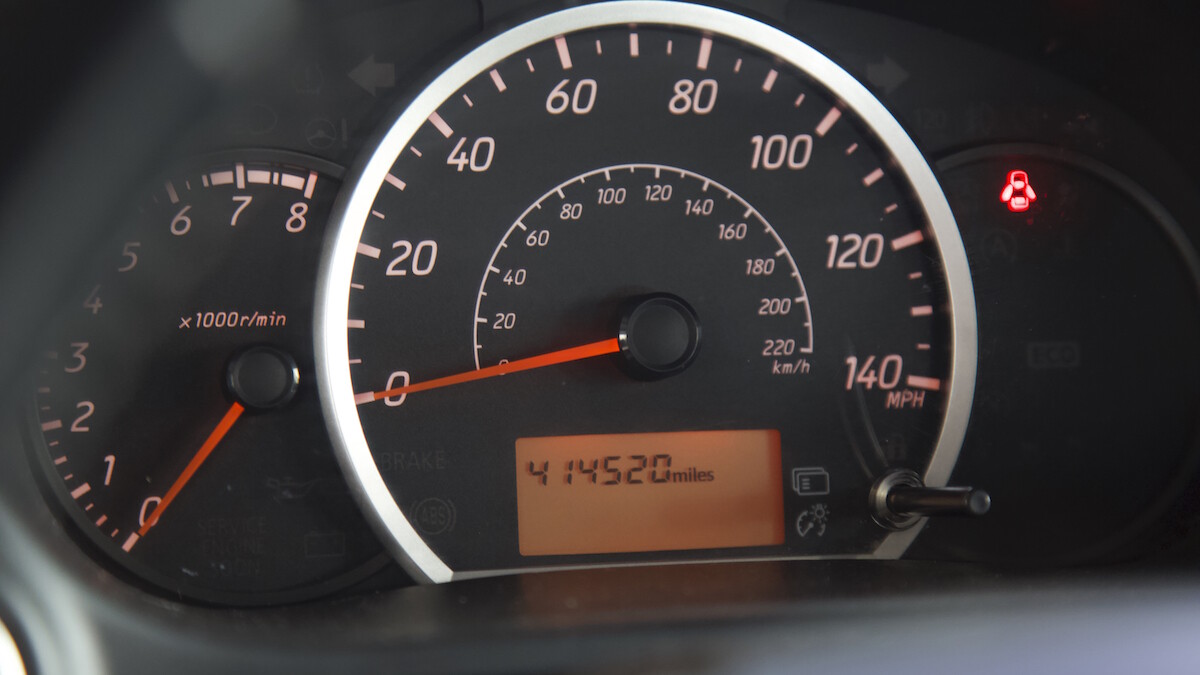 Proof of the Purple Won's outstanding mileage, part of which was from delivering urine samples
One notable thing about the Huot's Mirage is that it only needed routine maintenance for the most part, including regular oil changes. The only major components to be replaced were the wheel bearings (after 241,400 km) and the starter motor (between 321,870 and 482,800 km), and these were done under warranty.
In case you're wondering, the couple purchased extended warranty coverage beforehand, which explains the parts replacement at such a high odometer reading.
Jerry and Janice would have held on to the Purple Won too, if not for their dealer's offer to use the car for advertising. In exchange, the couple got a great deal on an updated 2020 Mitsubishi Mirage.
"I love it! It's really similar to the old one, but it's got HID headlights and fog lights, which are good for us living out on a dead-end road on the north side of the lake in Lindstrom," Jerry gushes. He still misses the Purple Won though, being the first new car he ever owned. "As long as Mitsubishi keeps making the Mirage, I'll own one."
>>> Related: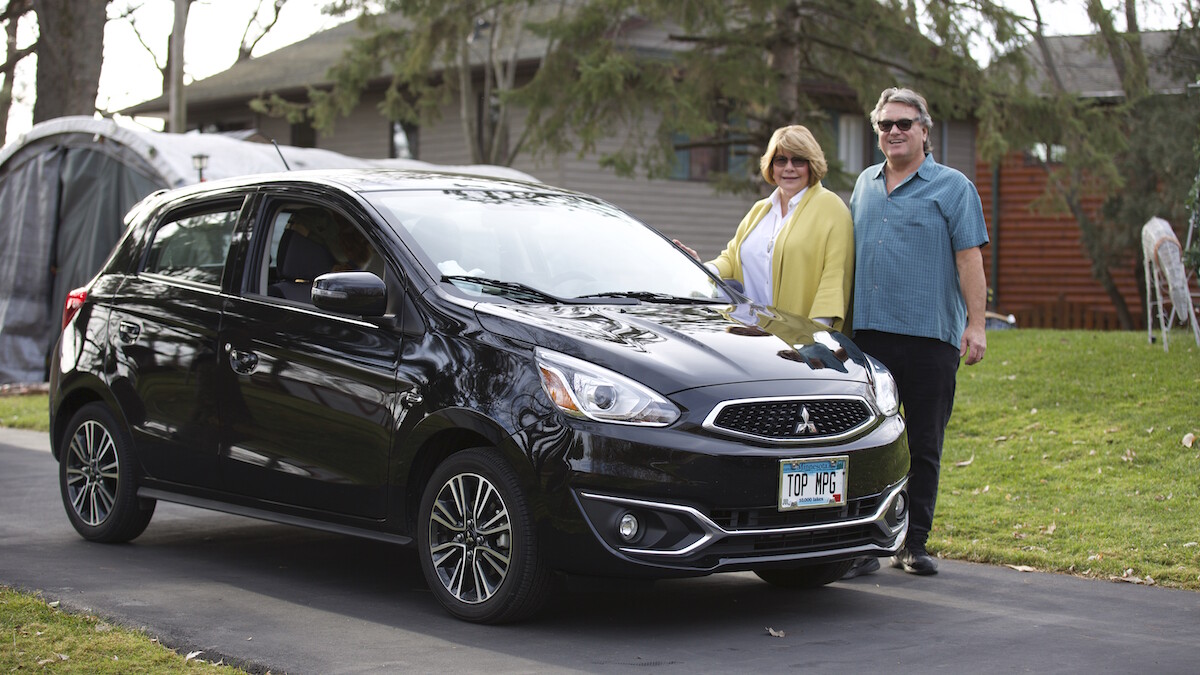 Can the Huot's new Mirage top its predecessor's feat?
Westerners generally have a very low opinion of subcompact econoboxes, the Mirage being no exception. They complain about its cramped space, audible engine noise, low power output, and less-than-ideal handling.
A Mirage bucking typical Stateside expectations of durability is nothing short of a shock and testament to everything that we Asians have always known (and loved) about cars in this class.
More fascinating bits of trivia about your beloved car brands at Philkotse.com.

Know more about Mitsubishi Mirage 2023

Mitsubishi Motors Philippines is fielding the Mirage in the subcompact hatchback category. From the original lineup of four variants across two trim levels, the Mirage currently has a single GLX trim, available with either a 5-speed manual gearbox or a continuously variable transmission. Both route power to the front wheels from a 1.2-liter 3A92 3-cylinder gasoline engine with MIVEC technology.
The Mirage measures 3,795mm long, 1,665mm wide, and 1,500mm high, on a wheelbase of 2,450mm. Mitsubishi Mirage prices in the Philippines range between Php 704,000 and Php 765,00. Customers can avail of the GLX manual variant for as low as Php 8,485 with a 50-percent downpayment and 60-month loan contract. Among the Mirage's competitors are the Toyota Wigo, Honda Brio, Suzuki Swift, Suzuki Celerio, Kia Picanto, and the Chevrolet Spark.


Joseph Paolo Estabillo
Author