Mercedes-Benz Class A 2019 has officially been released in the Philippines with a sleeker and sharper look.
Following its first worldwide debut last February 2018, Auto Nation Group - the Philippines'  official distributor of Mercedes-Benz has officially announced that the all-new Mercedes-Benz A-Class 2019 will finally hit the showroom. The new sedan is expected to be a cross breed of small luxury and sporty looking with innovative high tech features in an impressively small package.
The all-new A-Class is a proud flag bearer of Mercedes Benz's new design dubbed as "Sensual Purity."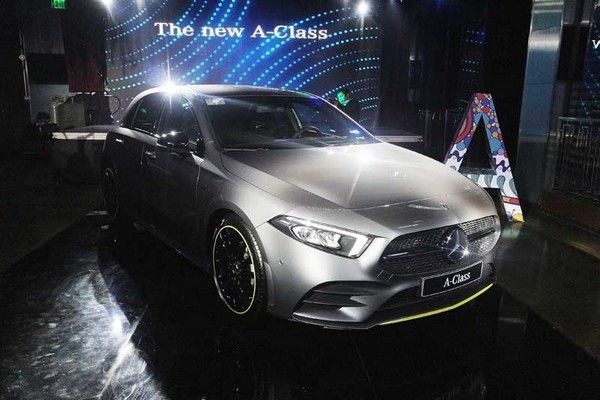 Mercedes-Benz A-Class 2019 finally hits the Philippines showrooms
This new look features a sleeker and sharper five-door hatchback compared to the previous rounded shape. The front also gets the newer progressive style front grill complete with flat LED headlights similar to the AMG GT. The bumper is also sportier looking now with longer taillights and an improved tailgate and rear bumper. The hatchback has broader lines and a more intimidating look.
The all-new Class A has a dimension are: 4419mm long, 1796mm wide, 1440m tall with a wheelbase of 2729mm. When parked side by side, the 2019 A-Class has the same height as its previous versions.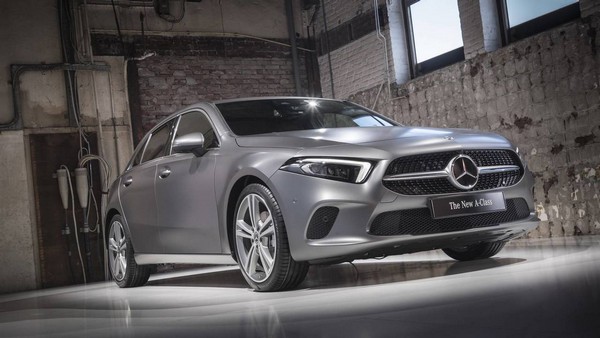 The all-new sedan features a sleeker and sharper five-door hatchback compared to the previous rounded shape
2019 Mercedes-Benz A-Class Review: Big Tech in a Small Package
For those that want a more stylish look, Mercedes-Benz Philippines is also offering the A-Class Edition 1. This model gets AMG's front and rear aprons with green inserts, with diamond style front grille with chrome inserts. The edition badges surround this compact car, lightweight 19-inch AMG alloy wheels with sort seats upholstered in Artico and Dinamica microfiber and a Nappa leather encased steering wheel.
The inside of the 2019 A-Class can be described as modern with a touch of avant-garde and the most impressive upgrade is its new multimedia system called 'MBUX.' MBUX stands for Mercedes-Benz User Experience, a new infotainment system of two 10.25 inch displays complete with WIFI capabilities. It also has speech recognition and voice control that can be activated by saying "Hey Mercedes!"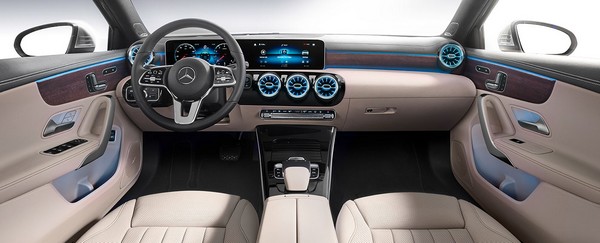 The 2019 A-Class can be described as modern with a touch of avant-garde
In term of powertrain, this small but terrible car is powered by the new 1.3 liters turbocharged four-cylinder engine in two tune states. The 2019 A-Class is available for three variant including A 180, A 200 and A 200 Edition One.
Drive home the new Mercedes-Benz A-Class 2019 with these prices presented in the table below. Also, Check out updated Mercedes-Benz Philippines price list to find out your suitable model of this luxury brand.
Mercedes-Benz A-Class 2019 price list in the Philippines

| | |
| --- | --- |
| Variants | Price |
| Mercedes-Benz A 180 Progressive | Php 2,490,000 |
| Mercedes-Benz A 200 Progressive | Php 2,990,000 |
| Mercedes-Benz A 200 Edition 1 | Php 3,290,000 |
Know more about Mercedes-Benz A-Class 2021

Mercedes-Benz is known for its timeless aesthetic and top-notch performance which extended to one of its most recent revamps of the A-Class. The A-Class was first introduced in the late '90s. The nameplate went through a series of engineering, aesthetic, and technological updates to keep up with the times. In 2018, it made its comeback as a sleek, modern hatchback. A year after, another generation of the A-Class was released. It was offered by Auto Nation Group to cater to the local market's demand for luxury compact vehicles in the Philippines. The Mercedes-Benz A-Class boasts of the German automaker's signature refined design language modernized by horizontal lines that add to its active and sporty look. As expected from the luxury brand, the interiors are equally compelling with high-grade leather seats and a range of technological features on the dashboard. It is currently offered in three variants which are the Mercedes-Benz A-Class 180 Progressive, the A-Class 200 Progressive, and the top-spec A-Class 200 Edition. All three variants run on a 1.3-liter gasoline engine attached to a 7G-DCT 7-speed dual-clutch transmission.

Hanna Sanchez
Author