Michelin together with GM has come up with a tireless, no-puncture tire system ready for passenger vehicles: The Uptis Tire
For decades since the automobile was invented, technologies related to the car has been improved exponentially. From safety with the latest automatic braking and advanced metallurgies of car frames to the information and entertainment system.
Even the electric powered vehicle has been enjoying quite a surge not only in sales but also with realized research and development. All are bedazzling in their ingenuity and creativity and thus indeed provide multitudes of convenience for everyone who needs to use a car.
There are things however that changed little over the years and one of those things is the tire. One of the most, if not the most important part of a car. It is, after all, the only part of a vehicle which transfers force from the engine to the road.
The tire, after all these years still relies on air inside of them and if punctured will of course cause you to stop. Sometimes with disastrous results.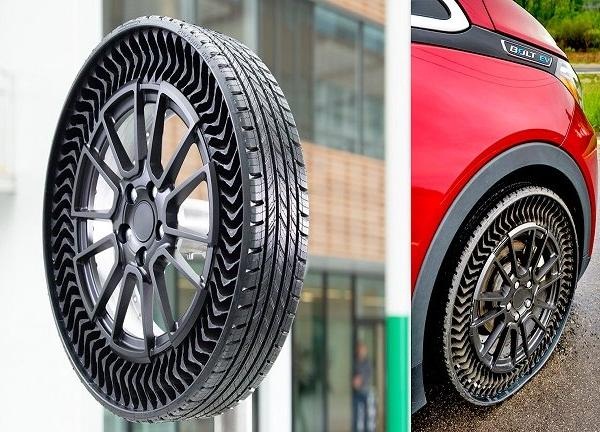 Michelin high tech tire: The Uptis tire
The Puncture-proof tire system
According to the latest car news, Michelin and General Motors has decided to change that and so have been working together to create a tire that does not use air and thus is puncture-free.
Called the "Uptis", it was revealed first at the Movin' On Summit for sustainable mobility back in 2017 as a concept and it aims to change entirely how tires work for the better. The airless, Uptis system itself is a production-ready version of the earlier Tweel system which Michelin revealed way back in 2005.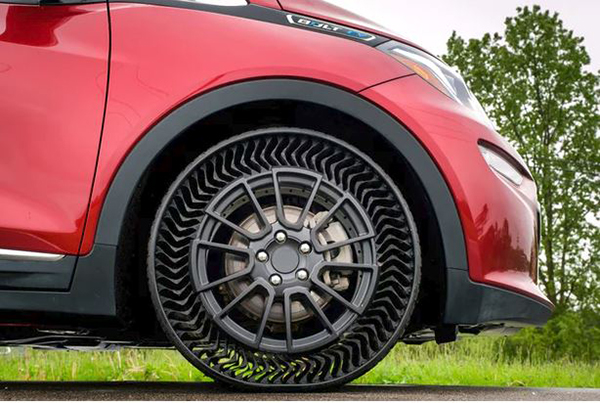 The Uptis tire as seen on a GM test vehicle
Aside from being puncture proof, the airless Uptis tire has a lot of benefits. It uses fewer materials and energy to produce and the amount of used-up, scrap tires will, of course, be minimized due to the decrease in wear and tear issues caused by both direct damage and over and under inflation.
And more importantly, accidents which are caused by a sudden tire blowout will be eliminated. Also, the act of changing a flat tire by the side of the road, which to us can become quite a hassle will be gone with this new tire technology.
For a driver, the Uptis, Michelin claims does not feel any different from that of a normal tire. The Uptis weights about 22.5 kg that puts it just below the weight of a standard tire. Also if one uses the Uptis, you would no longer need a spare tire which would give a ton in terms of weight reduction.
Environmentally friendly
Currently, 12 percent of regular tires will be scrapped earlier due to a number of reasons such as blowouts and about eight percent will be thrown away due to inflation issued. In total, that comes up to about 200 million individual tires a year.
This presents a gargantuan waste in raw materials like rubber, thousands of man-hours consumed, and the related pollution that comes with the overall task of either recapping these tires or processing the waste incurred.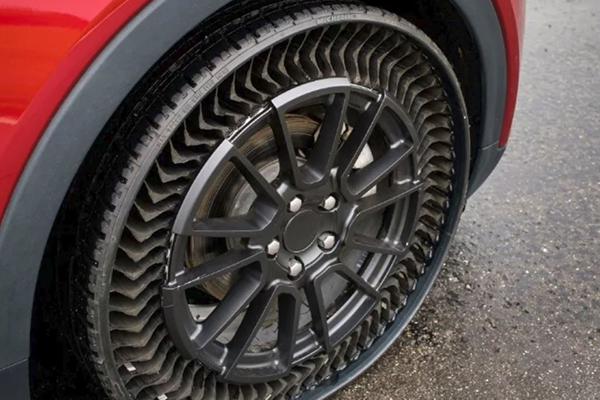 As some people on the internet said, the Uptis currently does not look good at all
Current Users of the Tweel airless tire
As of today, the Tweel has been in use by non-passenger vehicles like construction vehicles, farm vehicles and even the United States Military who use these airless tire systems for some of their vehicles and heavy equipment.
Michelin has not yet revealed how much an Uptis tire system's retail price. They are also yet to reveal what types or brands of vehicles would be able to use the Uptis nor did they talk about available tire sizes.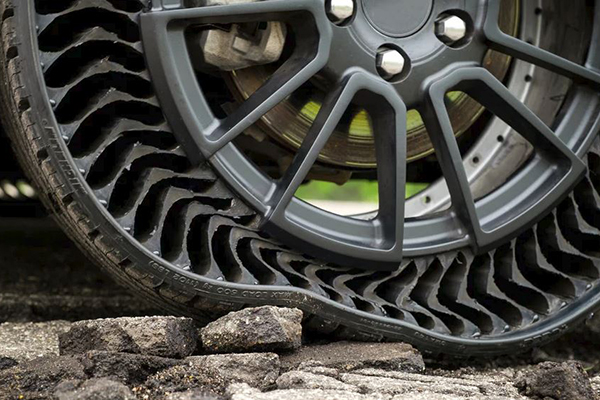 The Uptis absorbs small obstacles as seen here as a regular tire would
Michelin, however, has stated that they intend to target fleet vehicles and rentals first so the airless tire system might take a while for the regular automotive consumer.
Would you like to use a tire that won't go flat at all?
For more automotive news, reviews, and updated pricelists for the latest car models, please keep reading here at Philkotse.com.


Cesar G.B. Miguel
Author