Have fun customizing in the comfort of your home.
One of the most unsettling concerns car owners get when customizing their vehicles is if the modifications and new paint color will look good. Even cosmetic upgrades inside and out of the car can come with a high cost depending on the materials used.
Lamborghini addresses this matter by launching the "Lamborghini Car Configurator" on its website. This is a free-to-use program designed to display how various configurations such as paint, wheel, and brake caliper will look on its models. 
The "Lamborghini Car Configurator" in action [Video: Rana65556]
There are three commercially available models under Lamborghini, namely the Huracan, Aventador, and Urus, with the Sian as a limited model. The Lamborghini Huracan is an RWD sports car that uses a V10 engine, while the Aventador is the more premium sports car option equipped with a V12 engine. The brand also recently entered the SUV market with the Lamborghini Urus.
With the "Lamborghini Car Configurator," users of the page can configure any of the three Lamborghini models. After choosing the preferred model, the page will ask for the preferred variant. Then, users can customize the Lambo from front to back, as well as tweak the interior.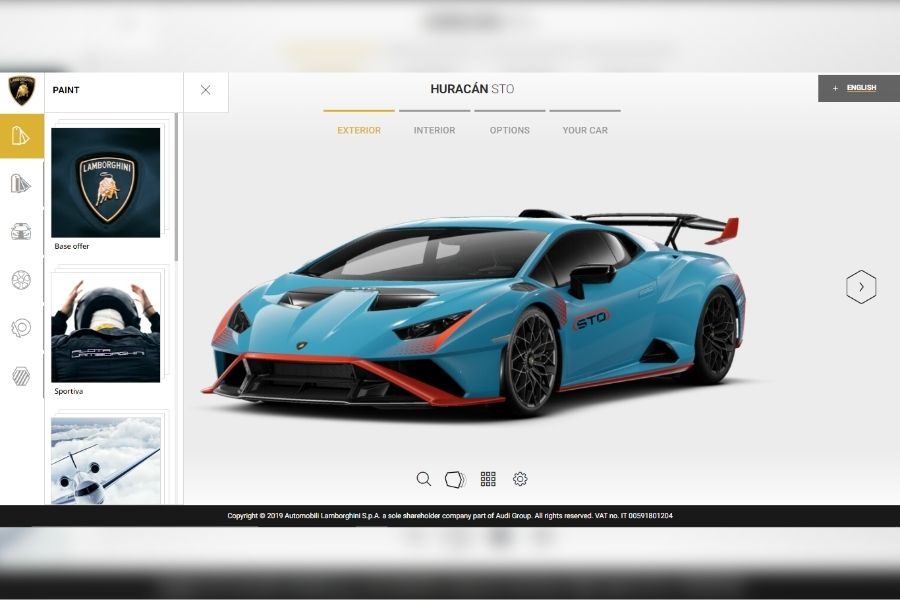 Visit the website and give it a try
As for the exterior, users can customize every detail such as the body paint, adding aerodynamic body kits, wheel size and design, engine bay design, and type of brakes. Inside, customizing features such as the seat material and stitching, floor mat color, steering wheel design, seat belt configuration is available.
Moreover, the duration of warranty and maintenance packages are also included. It is equipped with essential functions so that interested buyers will have an idea of the final look of their Lamborghini. The "Lamborghini Car Configurator" will provide a configuration code to save the options selected and will ask to send the request to finish the customization.
Visit Philkotse.com for more of the latest in the automotive industry.
Know more about Lamborghini Huracan 2021

The Lamborghini Huracan is an ultra-luxury sports car available as a two-door coupe and a two-door convertible. It features a refined, finely-sculpted, and futuristic body with sleek lines designed to assist its supreme aerodynamic capability. Inside, it is furnished with contemporary driving and passenger amenities to provide the ultimate riding experience. In the Philippines, the Lamborghini Huracan is available in the following variants: Lamborghini Huracan Evo, the Lamborghini Huracan Evo Spyder, the Lamborghini Huracan RWD, and the Lamborghini Huracan RWD Spyder. To match incomparable road presence, it is offered in more than 20 colors.
Price available upon request
Explore

Rex Sanchez
Author
Recent posts