Hyundai design boss bares details of future cars' styling on video
It will be designed with parametric dynamics found on the 2021 Elantra.
Hyundai Motor has released a new walkaround video of the Korean automaker's 7th Hyundai Design Center concept called the Vision T. We have first heard about the Hyundai concept car at the Los Angeles International Auto Show in November 2019.
Hyundai Vision T Concept Walkaround With Hyundai Design Boss SangYup Lee
In the new video, Head of Hyundai Design SangYup Lee explains the different design cues the Vision T possesses. He said that the Vision T is built upon dynamic architecture, sharp edges, and straight lines, and geometric design features called "parametric dynamics." We might have heard about this geometric design before as it was also applied to the exquisite 2021 Hyundai Elantra.
SangYup Lee further explains the parametric dynamics by saying that the Vision T comes with a chiseled surface, a combination of soft surfaces and hard lines, and sharp, geometric edges.
Geometric patterns have also been applied in the Vision T's front grille, including the hidden headlamps and the hidden taillights. When the vehicle is moving, the air intake flaps move, making the concept car look like it has a life rather than looking like a moving object.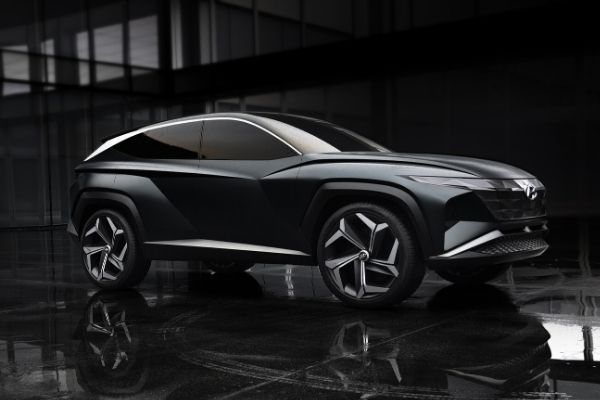 The Vision T will surely help Hyundai get on top in terms of design
"We really wanted to create Vision T as the most Avant-grande. the sportiest, freshest CUV. The most dynamic CUV as a vision that we wanted to introduce," says SangYup Lee.
If you haven't noticed it by now, Hyundai has been making its cars look sportier than ever – Kona, Santa Fe, Elantra are few of the recent entries of this movement. With Vision T, the concept car will further solidify Hyundai's sporty evolution of its cars.
"We pursue innovative solutions in design and add emotional value to our product experience through sensuous sportiness design language," said SangYup Lee after Hyundai revealed the Vision T.
Here at Philkotse.com, we value your interest in the automotive industry. You can visit our website to find out more.
Author

Rex found his passion for cars at a young age. He loves anything with an engine – which includes cars and planes. Right now, he is pleased to impart that passion for cars to a professional level under Philkotse.