It might be the Goldilocks zone for pickup trucks. Well for pinoys at least.
The all-new Hyundai Santa Cruz is smaller than the midsize pickup truck Filipinos are used to. For perspective, it only measures 4,971mm long, 1,905mm wide, and 1,694mm in height.
But then again, as the title states, we can say that its size actually suits Philippine roads. And to prove that, here's a walkaround video from Edmunds showcasing the Hyundai Santa Cruz in the metal.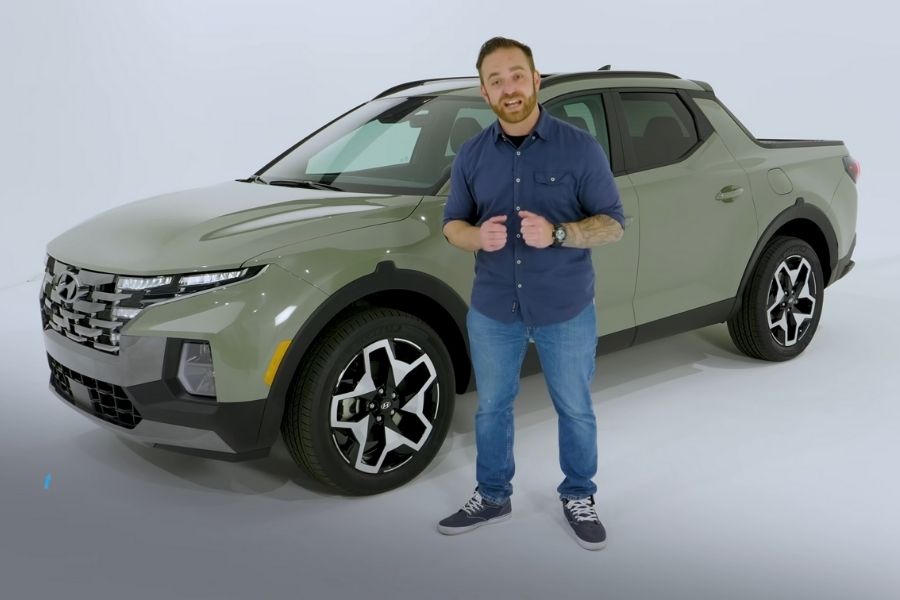 The 5'11'' Edmund's host together with the Hyundai Santa Cruz [Photo: Edmunds]
Style-wise, the Hyundai-made pickup truck looks sleek as it follows the Korean marque's current design language. Upfront, it resembles the fourth-generation Tucson it is based on. Its LED lights are integrated into the grille, and the rear features a pair of futuristic t-shaped taillights.
The side also mirrors the roofline of the Tucson a bit, and it even has similar-looking character lines. Then again, the Santa Cruz's roof slopes down into a bed, just after its C-pillars. Of note, people liked the design of this Hyundai model as per our previous posts, with some folks even describing it as gorgeous.
Going back to its dimensions, it isn't much larger than the average compact crossover. This makes it ideal for the usual tight city roads of the Philippines. Apart from that, its compact profile, the Santa Cruz also has 185mm of ground clearance, which is plenty enough to deal with rough roads, speed bumps, and the occasional pothole.
>>> Related: No, the Santa Cruz isn't the first Hyundai pickup truck
Hyundai Santa Cruz First Look Video
Moving on to the bed, it comes with a lot of features despite its small size. It comes with a power-assisted tailgate, which can be opened with the keyfob, as well as a tonneau cover. The cover itself can hold up to 100 kilograms, so one can actually strap stuff on to it in the event that the bed is full.
Tie-downs are also abundant, and it's also equipped with sliding adjustable tie-downs, much like the ones found on the new 2021 Nissan Navara. The bed also comes with lights which are useful for loading the bed during low-light situations.
There's also a smaller compartment on the side of the bed, wherein one can find a 12-volt outlet. Last but not the least, the rearmost section of the bed is a floor compartment, which comes with a drain. This makes it perfect for storing wet items, and it might even be capable of functioning as an icebox.
As a pickup truck based on a crossover, it has a smaller interior compared to midsize trucks. That said, the previewed US-spec model looks comfortable and upmarket. According to Edmunds though, it's leaning towards the minimalist side.
If we're talking about space, however, we think that it's just right for Filipinos. Sure, it doesn't have the sprawling interior space of a Ford Ranger, Nissan Navara, Toyota Hilux, Mitsubishi Strada, or Isuzu D-Max, but the 5-foot, nine-inch-tall Edmunds host didn't have problems when it came to headroom and legroom.
As for onboard features, there's nothing minimal about the Santa Cruz. For starters, its 10-inch touchscreen has wireless Apple CarPlay and Android Auto. It also comes with a digital gauge cluster, automatic climate control, a wireless charging pad, ventilated seats, and a lot of USB charging ports.
>>> Related: Hyundai Santa Cruz debuts: Compact pickup for those who hate big trucks
Of note, Hyundai is marketing the Santa Cruz as an adventure vehicle
So, is the Hyundai Santa Cruz coming to the Philippines? Well, Hyundai Asia Resources, Inc. (HARI), the official local Hyundai distributor, is yet to release a statement if this new model is indeed coming.
But Hyundai PH posted something on its official Instagram account. Do note that Santa Cruz is a Hyundai global model. As such, it might have a chance for a local release.
For more new car previews, car news, and car reviews, keep reading here on Philkotse.com.
Know more about Hyundai

Philkotse.com offers a wide variety of Hyundai cars. From fuel-efficient vehicles to big family automobiles, browse through countless selections that will not only satisfy your needs but your budget as well. Furthermore, stay updated with the latest news, updated price list in the Philippines, automobile reviews, and information about your favorite Hyundai model.

Cesar G.B. Miguel
Author