Providing excellent services amid the pandemic.
Hyundai Asia Resources, Inc. (HARI) honored Hyundai Trucks and Buses Alabang as well as Hyundai Trucks and Buses Commonwealth for excellence in Sales and After Sales Operations, respectively. The two Hyundai dealerships stood out among HARI's 14 Commercial Vehicle dealership networks.
HARI acknowledged how the two Hyundai CV dealerships have strived to provide excellent services despite the challenges brought by the ongoing health crisis. With this, HARI decided to celebrate the awarding ceremony with the theme, "The Great Reset."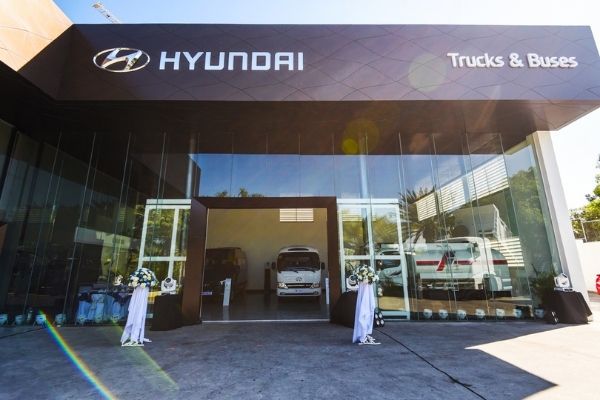 Hyundai Trucks and Buses Dealer in Alabang
>>> Related: HARI hails Hyundai Commonwealth as 2019 Dealer of the Year
Present in the first-ever Hyundai virtual Dealer Awards are Hyundai Motor Company (HMC) Commercial Vehicles Division head Mr. Incheol Lee, HARI president, and CEO Ma. Fe Perez-Agudo, as well as HMC head and senior vice president Mr. Don Ho Choi.
Moreover, dealer principal of Hyundai trucks and buses Alabang Mr. William B. Chiongban II, and president of Hyundai Trucks and Buses Commonwealth Atty. Anna Lyne San Juan-Ponferrada was also present in Hyundai's virtual Dealer Awards.
Hyundai Trucks and Buses Dealer in Commonwealth
"The pandemic has shown opportunities for the use of our public utility vehicles. We shall continue to be relevant. Our hearts are warm again today," said Mr. William B. Chiongban II, dealer principal of Hyundai Trucks and Buses Alabang.
While Atty. Anna Lyne San Juan-Ponferrada, president of Hyundai Trucks and Buses Commonwealth, said, "2020 has been a good year for all of us. This award will really inspire us and give us renewed energy to face the challenges ahead." 
Here are the notable achievements HARI have accomplished this year:
1. The first brand to launch commercial vehicles with safety and social distancing provisions for the new normal using the HD36L medium truck and the HD-50S Modern Jeepney Class-2 and 3 platforms.
2. Recognized as Hyundai's Best in Aftersales Operations 2020 for the third straight year, besting over distributors of Hyundai Trucks and Buses worldwide.
3. The first player in the country's Public Vehicle Modernization Program (PUVMP) to complete its lineup of three Modern Jeepneys certified by the Department of Transportation (DOTr).
"Let us remain as solid, as sensible, and as adaptable as the products that we sell. This is what RESET for HARI CV is all about: Resilience in the face of present and future challenges.
Always aiming for the perfect execution of your innovative programs. Quick to set aside a good idea for an even better one, in the spirit of SYNERGY. Because the be-all and end-all are to deliver a winning Customer EXPERIENCE. Pursuing that goal with the TENACITY of a champion." said Ma. Fe Perez-Agundo, HARI president and CEO.
Here at Philkotse.com, we value your interest in the automotive industry. Visit our website to find out more.
Know more about Hyundai

Philkotse.com offers a wide variety of Hyundai cars. From fuel-efficient vehicles to big family automobiles, browse through countless selections that will not only satisfy your needs but your budget as well. Furthermore, stay updated with the latest news, updated price list in the Philippines, automobile reviews, and information about your favorite Hyundai model.

Rex Sanchez
Author