Are you impressed by a Cobra symbol?
Up to now, we have still had a vague idea what the Ford Mustang 2019 will be. Some photos supposed to be the new Ford Mustang Bullit were revealed. And it seemed that we just had to welcome the 2019 Mustang at Detroit Auto Show 2018 next month. However, other leaked images showed that the Bullit was not what we've been looking for. It's the Ford Mustang Shelby GT500 instead.
Buying Ford GT500 Shelby: DEMON KILLER? (New Photos & What We Know)
As a proof, on a famous Ford Mustang forum named "Mustang6G", a close-up of the Mustang's engine bay has been exposed. The image confirms a 5.2-liter supercharged Predator engine labeled Cobra symbol. Not only that, the owner of this image has also unveiled one more picture which is of an engine oil requirements document showing the "5.2L Mustang GT350" being produced together with the "5.2L Supercharged Mustang GT500." Additionally, a footnote inscription reading "Updated 10/13/17", to some extent, confirms information about the 2019 model.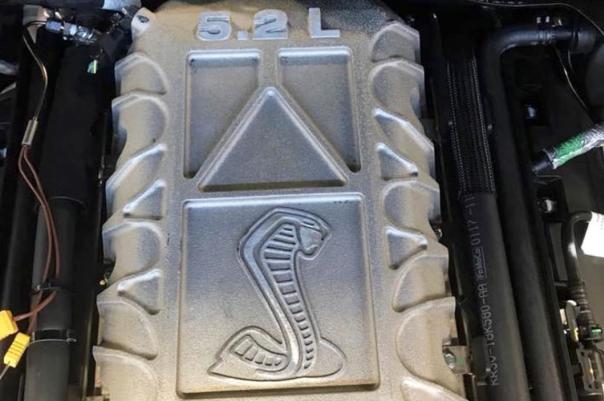 A close-up of the Mustang's engine bay has been exposed
Another image posted by another MustangG6 member presents massive Brembo brakes of the GT500, purportedly. It is also suggested that a Cobra R variant would be in the works that will directly compete against the Camaro ZL1 1LE from Chevy.
Those are forum posts, so we should take them with a pinch of salt. That said, those are all we've got and concerning the reputation of MustangG6, we believe that those are true.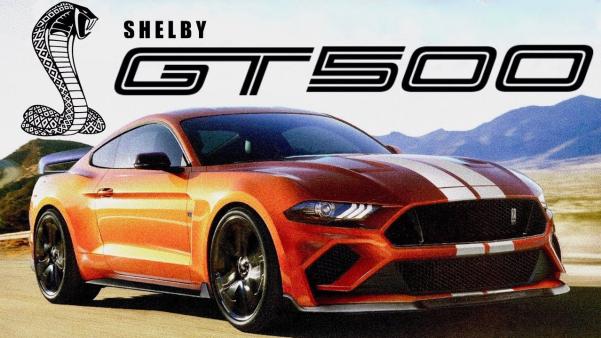 Ford Mustang Shelby GT500 will be faster and sportier than ever
As for power delivery, it's strongly believed that the new Mustang will generate more than 526 hp of the GT350. Nevertheless, in order to push back the Camaro ZL1, our GT500 must crank out at least 650 hp. Further, according to latest car news, it appears that the Blue Oval also intends to join the battle against the Dodge Challenger Hellcat which is capable of up to 707 hp. So, rumor has it that the workhorse might produce more than 800 hp with a V8 mill.
No matter how potent the supercharged engine is, the only thing we can sure for now is that the Ford Mustang Shelby GT500 will be faster and sportier than ever. Just wait and see.
Ford Mustang Price in the Philippines
Ford Mustang 5.0 V8 GT Premium AT
₱3,195,000
Ford Mustang 2.3 EcoBoost Premium AT
₱2,585,000
>>> If you want to learn more about the Ford Mustang 2018, click here to look through our comprehensive review.

Know more about Ford Mustang 2023

Arguably the most popular vehicle from the Blue Oval company, the Ford Mustang is one powerful coupe that is competing in the market with its sixth-gen model. Ford Mustang 2023 Price Philippines from Php 2,948,000 to Php 7,760,000, depending on the variant. Speaking of variants, the Mustang comes with four variants in the Philippines, namely the 2.3L EcoBoost, 5.0L GT Fastback, 5.0L GT Convertible, and Shelby GT500. The base Mustang uses a 2.3-liter EcoBoost inline-4 engine that makes 310 hp and 475 Nm of torque, while the GT variants are powered by a 5.0-liter Ti-VCT V8 engine that generates 460 hp and 569 Nm of torque. As for the top-spec Shelby GT500, it boasts a 5.2-liter supercharged V8 engine that churns out 760 hp and 847 Nm of torque. Only the Shelby GT500 utilizes a 7-speed Tremec dual-clutch transmission, while the rest offer a 10-speed SelectShift automatic transmission.
In terms of dimensions, this American sports car has a length of 4,788 mm, a width of 2,081 mm, and a height of 1,395 mm. Additionally, it comes with a wheelbase length of 2,721 mm and a ground clearance rated at 137 mm. The Mustang is competing in the local market against the likes of the Chevrolet Camaro, Dodge Challenger, and Nissan 370Z.
Recent posts