The nearly impossible 300 mph (482 km/h) barrier has been broken by Bugatti. Find out how they did it!
Ever since hypercars were a thing, car enthusiasts, manufacturers, and the engineers who make these incredible feats of automotive engineering from all over the world always had this one looming, a seemingly unreachable milestone in mind; the 300 mph speed barrier. On September 2, 2019, though, that unreachable milestone has been reached by Bugatti. Keep yourself updated with Philkotse.com right now!
1. The 300 mph (482 km/h) feat: Why it's so hard to accomplish…
Before we even get to talk about how Bugatti managed to reach 300 mph and with what car, let us talk first about why reaching 300 mph (482 km/h) for production vehicles is so hard.
There are a few factors but the biggest one is cooling. Now in order for a car to reduce the temperatures on its engine and transmission, it needs humungous air intakes and that in turn will cause more drag. If you have more drag, your car will need more power to compensate.
490+ kilometers per hour | Bugatti Chiron | Speed record
With regards to internal combustion engines or ICE for short, it needs a LOT of cooling. So in turn, drag becomes a major issue as ICE's as you already know will generate a lot of heat especially when attempting something like the 482 km/h milestone.
Second is tires. You need a set of tires that can handle the extreme loads of running around 280 mph (450 km/h). There's also the gyroscopic effect caused by the insane rotational speed of the said tires at this speed and above which will exhibit itself probably by wobbling on their bearings.
While traveling on normal speeds, this gyroscopic effect will not be felt, but on 450 km/h above, it will potentially cause a dangerous situation especially if you're attempting something like breaking on breaking the 300 mph barrier. Also, there's the heat generated by spinning around so fast which will potentially damage a tire. That too is a recipe for disaster.
>>> Read more: Can you name all the cars in Tokyo Drift?
2. The 300 mph barrier: How Bugatti broke it
Now ever since Bugatti released the Chiron with a speed limiter, a lot of people wanted to know what it could do if all those horses were unleashed. That's exactly what happened at the Ehra-Lessien test track located in Germany where the Chiron had reached a whopping 304.773 mph as certified by the German TUV organization. That's around 490 km/h. Insane!
Driven by Bugatti test driver Andy Wallace, the Chiron that broke the record isn't exactly a factory, or rather "stock" unit. For one thing, it has a higher seventh gear ratio, a gutted interior to reduce weight, additional safety, and a slight variance in its aerodynamics to address that drag earlier.
It's also 250 mm longer than the regular Chiron presumably due to the modified aero and air intakes. And lastly, it has an insanely low ride height to further reduce drag. Bugatti also removed the stock rear wing and airbrake and replaced it with a non-moving unit.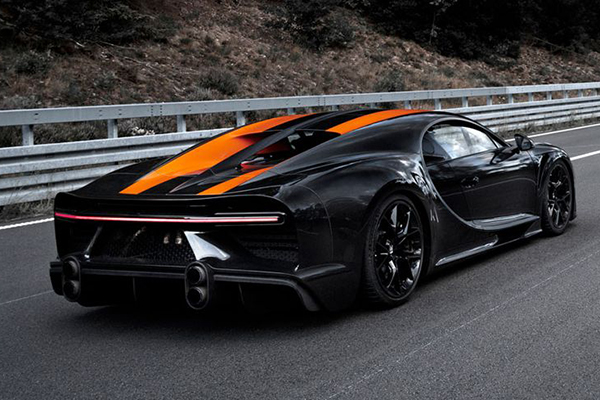 Here's a view from the rear of the Chiron record-breaker.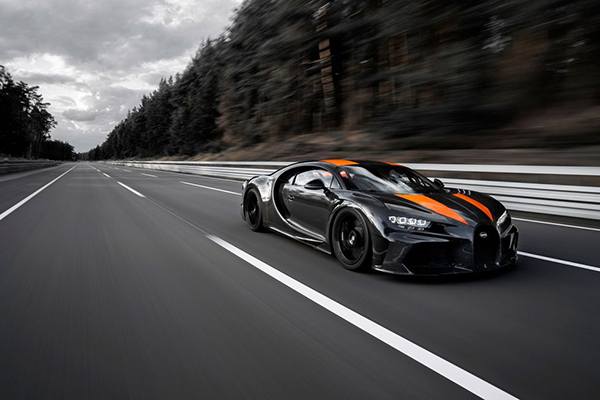 Here's another view from the front. Note the very low ride height
>>> Related: Porsche 911 GT2 RS 2018 breaks Nurburging record in 6 mins 47.3 secs.
The quad-turbo 8.0-liter W16 engine on this Chiron is also a bit more powerful at 1600 horsepower whereas a stock Chiron only makes around 1500 horsepower. The engine itself has been nicknamed "Thor" which quite awesomely describes the power it can make.
Then, of course, there are the tires which were specially made by Michelin. Based on the Pilot Cup 2, these special, reinforced tires were made with thin metal strands embedded around its edges.
These enable these very special Pilot Cup 2's to handle the insane gyroscopic effects we mentioned before as well as the temperatures of rotating up to 4,100 times a minute.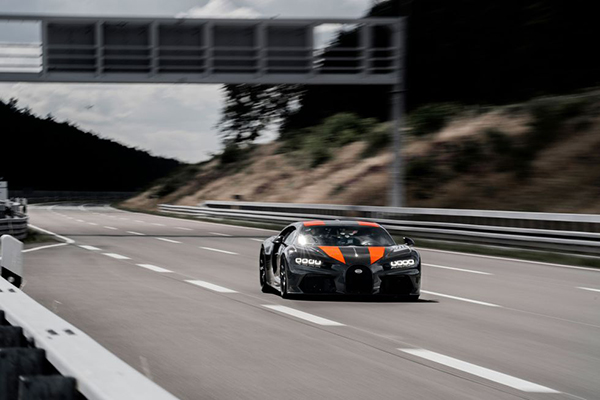 Here's the Bugatti Chiron performing one of its many runs at the Ehra-Lessien track
>>> Flashback: Daymak C5 Blast Ultimate – The world's fastest go-kart.
3. The 300 mph barrier: The attempt and the actual record-breaking run
The Ehra-Lessien track has banked corners and has a speed limit of only 200 km/h or 124 mph. These features of the track Wallace admitted were quite tricky. He says you'd have to slow down gently to not lose control and braking isn't as simple as just pounding on the pedals. If you did that, you'd lose control.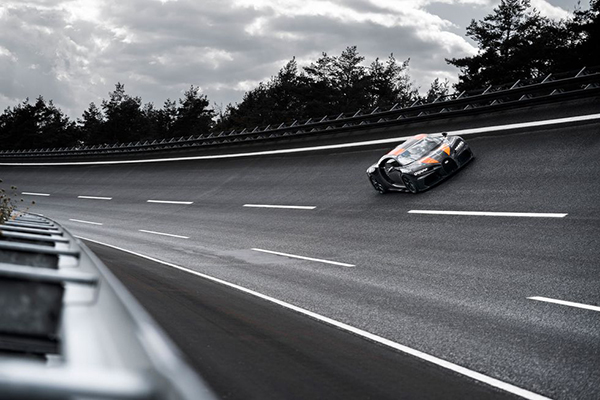 Check out the banked portions of the Ehra-Lessen. Scary!
So with consideration with the track's conditions, weather conditions, etc. The Bugatti team didn't exactly break the record in just one day. In actuality, they stayed for about four days at Ehra-Lessien where they had managed a peak speed of 482.5 km/h or 299.8 mph. On the fifth day, Wallace felt comfortable and went for it.
4. The 300 mph barrier: Not just a one-off the record
By breaking the 300 mph barrier, Bugatti has once again proven what they're capable of. They are proud of it of course but as President Stephan Winkelmann of Bugatti says, the 300 mph project does not end in breaking the barrier alone.
From that achievement, the company has learned a ton in terms of engineering and it will be inevitable that the knowledge they have gained will trickle down to future production vehicles and future generations of the Bugatti Chiron.
This incredible feat also quite possibly heralds a new age of hypercars and we're equally curious as to how Koenigsegg and Hennessey, two car manufacturers that had also vied for the 300 mph record will react in terms of car development.


Cesar G.B. Miguel
Author
Recent posts