Expect more regulated mobility until Easter Sunday.    
It's back to enhanced community quarantine or ECQ for the country's capital and adjoining provinces, also known as NCR Plus, until April 4, 2021. The rising cases in new COVID-19 cases have prompted the government to restore these areas to the strictest quarantine measures.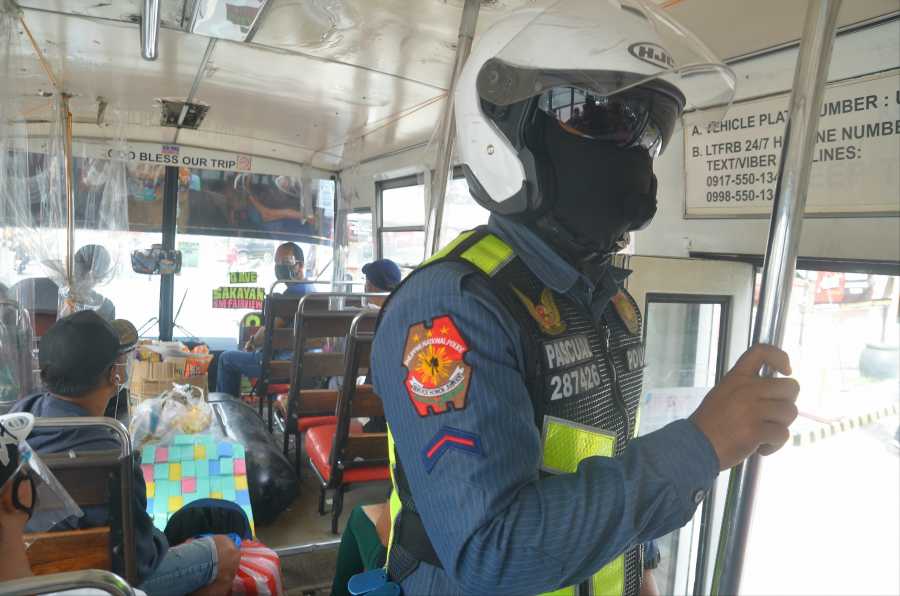 Authorities will be checking public transport for compliance with public health measures
While citizens are largely called upon to stay at home, essential workers are still allowed to go about their daily business. The Department of Transportation (DOTr) says that public transportation is still available but expect mobility to be regulated. Across all forms of public transport, there are seven commandments that apply:
Wear masks and face shields
No talking and voice calls
No eating
Keep vehicles well-ventilated
Conduct frequent disinfection
COVID-19 patients are not allowed to board
Proper physical distancing should be observed
In line with this, the agency has released mass transit guidelines for commuters and transport operators to observe.
Land Transport
All public utility vehicles (PUV) i.e. buses, jeepneys, tricycles, taxis, TNVS, shuttle services, and UV Express units can only accommodate a maximum of 50 percent passenger capacity. Passengers will be positioned one seat apart from each other, and the driver's seat is separated from the rest of the cabin using a non-permeable transparent barrier. Designated seats for occupancy shall be marked accordingly.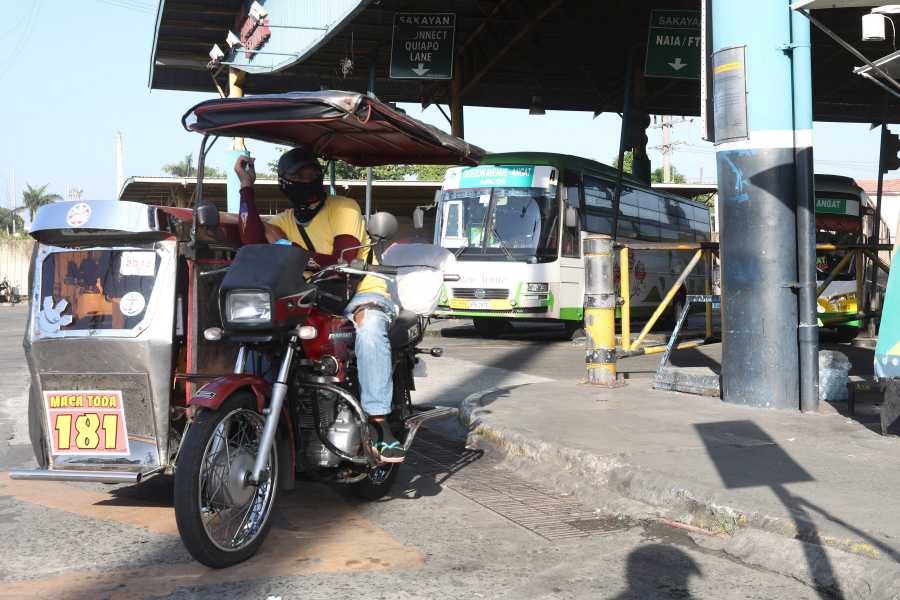 Tricycles should carry only a single passenger within the sidecar
Motorcycle taxis will be allowed to operate, with a maximum of two occupants per motorcycle and a barrier separating them. Provincial buses occupied by authorized persons outside of residence (APORs) will be allowed to enter the bounds of NCR Plus, provided that these are point-to-point trips only. Free rides will be provided to health workers, numbering over 580,000 in the Greater Manila Area as of March 18, 2020.
PUV drivers are required to display their respective QR codes prominently inside their vehicles. For public transport terminals, there should be isolation areas and medical personnel on standby.
Travel by sea
All forms of maritime transport are still required to observe the 50 percent maximum passenger capacity. Only those exempted under the guidelines issued by the Inter-Agency Task Force on Emerging Infectious Diseases (IATF) will be allowed to pass through ports for boarding. This applies to both private and government ports.
Maritime travel will be subject to requirements imposed by the local government units (LGUs) both at the point of origin and destination. Vessel operations such as cargo handling and other related activities at port are allowed, subject to existing quarantine guidelines. More stringent health protocols will be implemented aboard all vessels and port facilities.
Travel by air
Air transport activities will be allowed to operate, subject to protocols mandated by the DOTr and the IATF. Inbound international passengers at the Ninoy Aquino International Airport (NAIA) should not exceed 1,500 per day. Domestic commercial flights should comply with requirements on capacity and frequency of flights imposed by LGUs outside the boundaries of NCR Plus.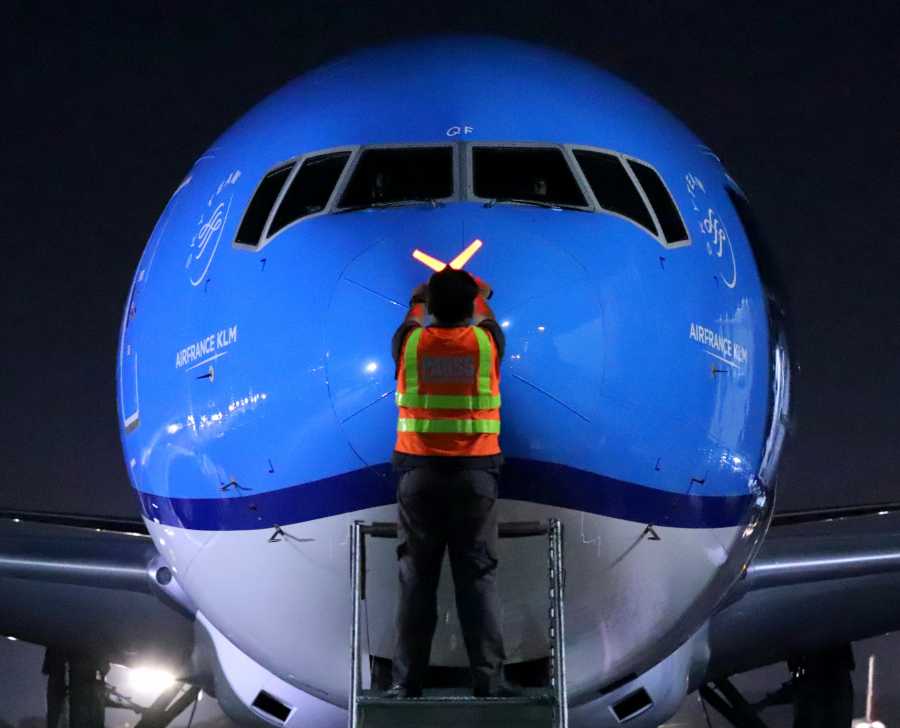 Air travel is also subject to limitations
All airlines are required to strictly abide by established health and safety protocols for public transport, both while at the airport and aboard the aircraft. They must notify passengers immediately in the event of flight postponements or cancellation, and are urged to provide the option to refund unused tickets without imposing penalties.
Railways
All existing railway lines, including LRT-1, LRT-2, MRT-3, and Philippine National Railways (PNR) should maintain a maximum passenger capacity of 20 to 30 percent. Operations will be stopped for the Holy Week, dedicated to maintenance. For LRT-1 and LRT-2, this takes effect on Holy Wednesday (March 31), for MRT-3, this starts on Holy Tuesday (March 30), while the PNR implements this on Maundy Thursday (April 1, except for the Calamba-Tutuban route).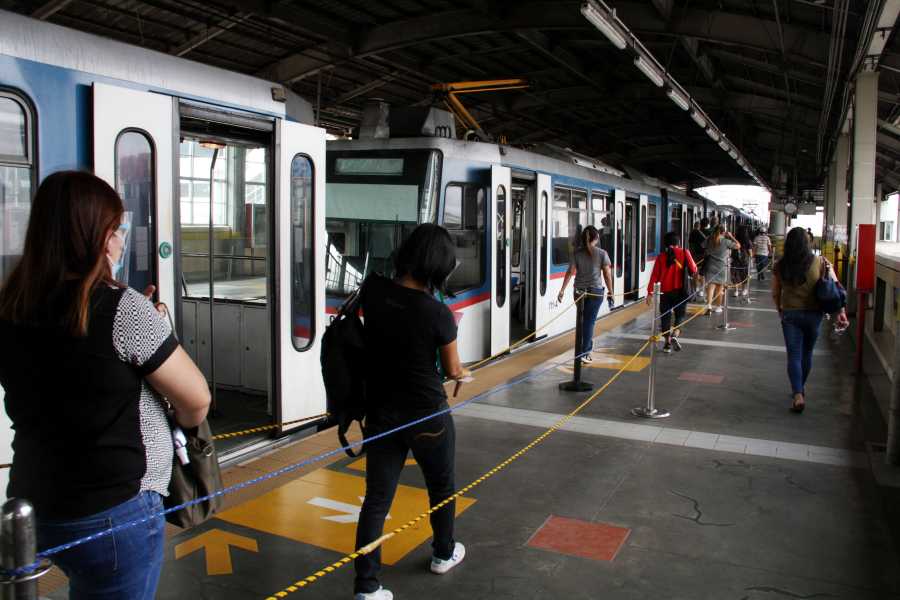 Rail services will have to contend with a 30-percent maximum passenger capacity
Station and train personnel are required to wear personal protective equipment (PPE) during train operations, with staff reporting for duty undergoing extended health and symptoms monitoring on a daily basis. Office and administrative personnel will be limited to 30 percent on-site, with alternative working arrangements for the rest.
Alternative modes of transport 
Non-motorized transport and personal mobility devices such as bicycles, e-bikes, and kick scooters are encouraged for mobility. However, these will still be subject to physical distancing measures.   
Keep up with more transport and public safety updates at Philkotse.com.

Joseph Paolo Estabillo
Author