Electrification and all-wheel-drive will debut on the sports car. 
The current Chevrolet Corvette C8 is distinct as the nameplate's first-ever mid-engined model. Now, the automaker has another milestone in its sights with electrified versions of the iconic sports car, one using a hybrid powertrain and the other as a full-on electric vehicle (EV).
Chevrolet Corvette hybrid teaser video
This was announced by parent company General Motors (GM) through company president Mark Reuss. "In addition to the amazing new Chevrolet Corvette Z06 and other gas-powered variants coming, we will offer an electrified and a fully electric, Ultium-based Corvette in the future," he said. 
Posting on his LinkedIn account, Reuss added that the hybrid Corvette will be launched as early as 2023, with details to come at a later date, including what the model will be called. The electrified Corvette has been speculated to carry the 'E-Ray' name, based on a filing made by Chevrolet with the U.S. Patent and Trademark Office in December 2015.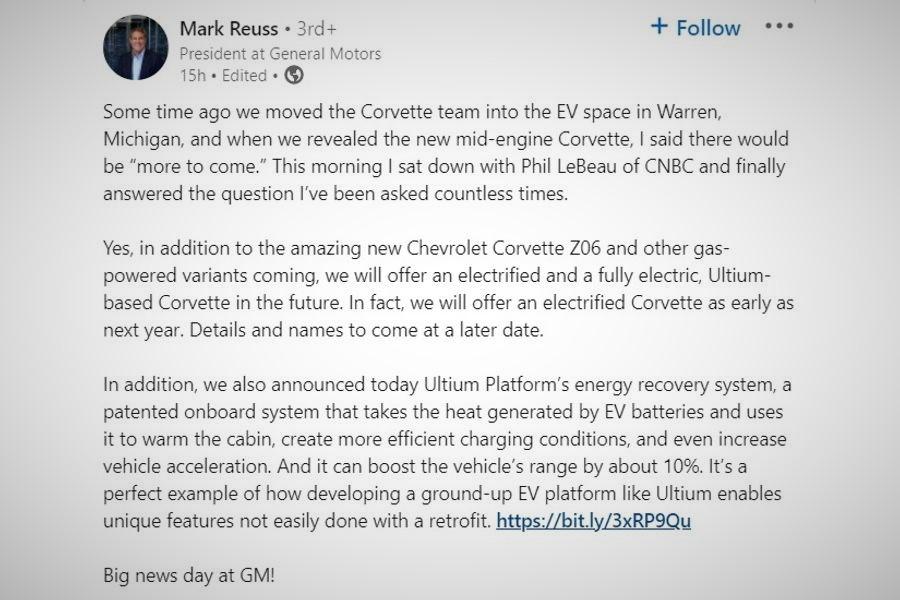 GM President Mark Reuss confirms both hybrid and electric versions of the iconic Chevrolet Corvette 
A teaser video released by Chevrolet shows a heavily camouflaged hybrid Corvette undergoing testing in the snow. The spinning front wheels are taken as a sign that this will be the first model in the nameplate with an all-wheel drivetrain, likely using an electric motor on the front axle. 

Expected to be found behind the hybrid Corvette's cabin is a 6.2-liter V8 engine rated at 495 horsepower. Rumors suggest that this could be cranked up all the way to 1,000 horses with twin turbocharging and electric assist, easily exceeding the 670 horsepower promised on the 2023 Corvette Z06's 5.5-liter LT6 V8.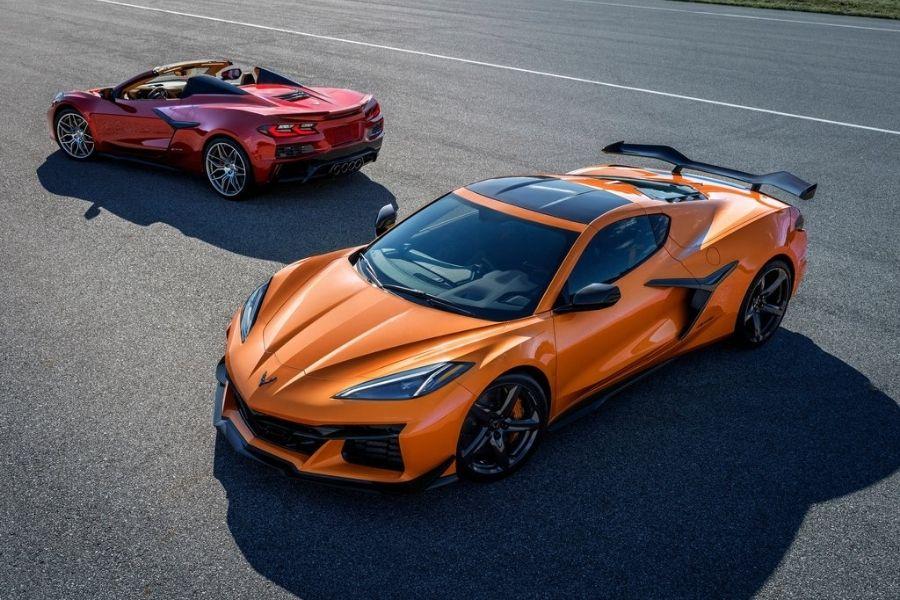 Slated for 2023, the Z06 currently sits at the top of the Corvette range
There's even less information to go on regarding the all-electric version, only that it will be using GM's proprietary Ultium battery technology alongside its hybrid counterpart. This will be accompanied by a new energy recovery system, using heat generated by the batteries to warm the cabin and increasing vehicle range by as much as 10 percent. 
Keep up with the most electrifying news in the industry at Philkotse.com.


Joseph Paolo Estabillo
Author