A 10-year driver's license requires a spotless record. 
The Land Transportation Office (LTO) will be rolling out driver's licenses with a 10-year validity starting October 28, 2021. This is in line with the Republic Act (RA) 10930, and it will be available for those renewing their driver's licenses at the Central Office-Licensing Section at the Quezon City Licensing Center (QCLC).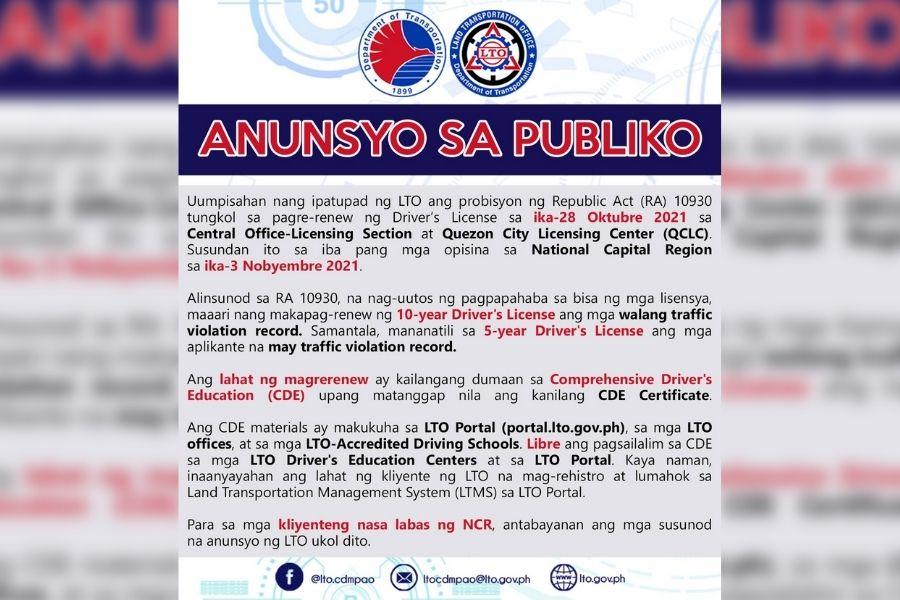 The official post regarding the 10-year driver's license from LTO
For other LTO offices in the National Capital Region (NCR), the 10-year driver's license will be made available on November 3, 2021.  
But while the 10-year driver's licenses will be available from LTO offices from the dates mentioned above, the LTO is yet to provide any dates for those outside NCR. For that, you'll just have to wait for more announcements from the said agency. 
Do note that according to RA 10930, only those without traffic violation records can renew their licenses to become a 10-year driver's license. Meanwhile, those with traffic violation records can only get a five-year driver's license. 
Furthermore, all driver's license renewal applicants are required to go through the Comprehensive Driver's Education (CDE) for their CDE Certificate. If you want to study up on the CDE, you can acquire materials from the LTO Online Portal. Just look for the E-learning section (graduation cap icon) on the dashboard.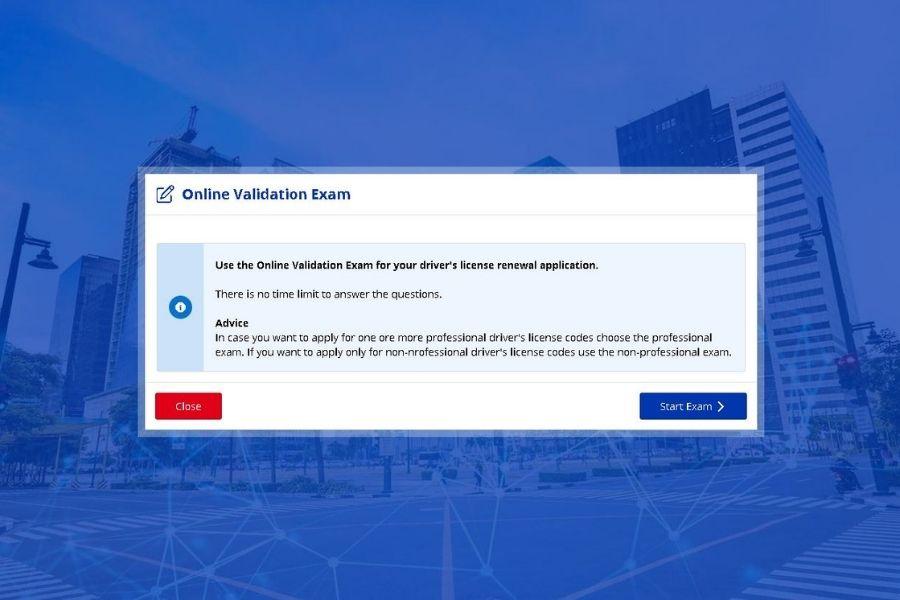 The start of the exam. Note that you can review for this via the online refresher course
For the CDE certificate itself, it is also found under the E-learning section and it is the first option on the drop-down box. The test itself consists of sixty questions, the answers of which are available in the online refresher course section. The E-Learning section also has two videos covering defensive driving, road courtesy, pavement markings, road signs, etc. 
The LTO is also reminding everyone that the CDE is free if undertaken through any of the LTO Driver's Education Centers. It is also offered for free at the LTO Online Portal via an online validation exam. One can also check on the LTO Portal if they have unsettled traffic violations and demerit points.   
That said, the said agency is encouraging those interested to register at the Land Transportation Management System in the LTO Portal. 
For more transport-related updates, as well as the latest news from the automotive industry, keep it here on the Philippines' largest car portal. 

Cesar G.B. Miguel
Author
Recent posts