Protect your beloved car by installing a car alarm with central locking.
Most often than not, car owners will consider their cars as a part of their families. For some car enthusiasts, their beloved rides might even garner more of their attention than their girlfriends. As such, many car owners will go to great lengths to protect their cars.
While most modern vehicles today already come with an alarm and a central locking system. Other models, including older cars, however, do not. As such, many will install aftermarket deterrents like alarms. Of note, a car alarm plus a central locking system is recommended. But how to install a car alarm with central locking?
Yep, your precious classic car likely lacks a central locking system
I. How to install a car alarm with central locking
While there are many shops around the Philippines that can do this for you, some of you might want to do this yourself. Working on your own car, after all, will help you get to know it better. Plus, you'll save a bit of cash. But before the actual installation steps, there are some things you'll have to consider first.
II. Choosing a compatible alarm and central locking system
For car alarms, it's easier nowadays. That's because many universal aftermarket car alarms are available. One recommended product is the Cobra Car Alarm Omega, which is currently available locally at around Php 4,700. For a cheaper alternative, there's also the EXAD Car Alarm System at Php 899, and the Giordon GT Car Alarm System at Php 1,399.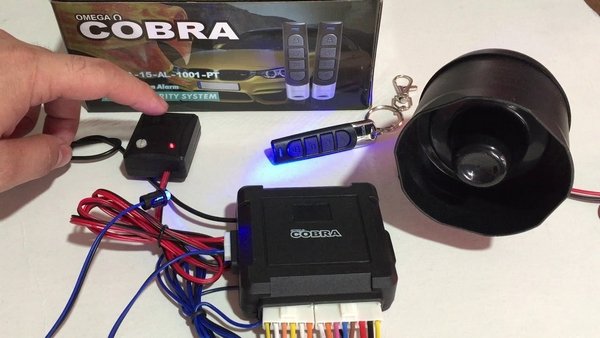 The Cobra Car Alarm Omega
For your central locking system, it usually comes as a separate kit from the car alarm system. These will range from cheap ones at Php 372 to Php 2,000 and up. Note that we recommend getting high-quality ones like those from Cobra. You don't want a central locking system to malfunction while you're in the car, right?
If you've got that cash though, there are car alarm and central locking kits also available locally. These range from Php 2,400 and up.
>>> Related: Car alarm in the Philippines: Installation guide, How it works, How to stop it & What to buy
III. Step by step guide to installing a car alarm and central locking
How to install a car alarm
1. First, read the manual that came with the car alarm.
2. Open the car's hood and disconnect the battery. Remember safety first. Make sure that the ignition is off, and remove the negative terminal first.
3. Prepare your materials. These include zip ties, a cutter or wire strippers, a handheld drill, electrical tape, and the car alarm system itself.
4. Choose where to mount the car alarm speaker/siren. For this, we recommend a metal surface with ample room. Also, make sure that it's at least eighteen inches from hot engine parts like the exhaust manifold. And lastly, make sure to face the siren downward to prevent water damage. While many car alarm sirens nowadays are also waterproof, it always pays to keep it safe.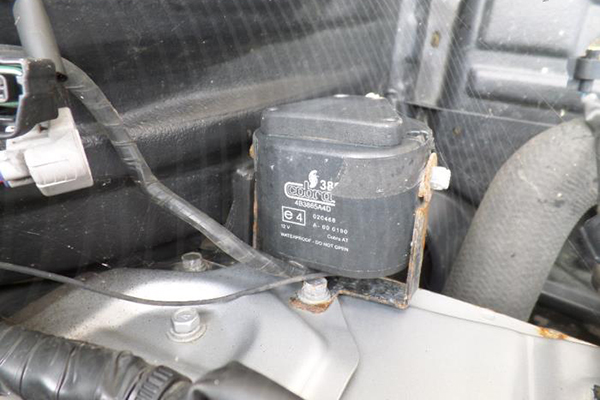 Here's an example of a properly installed car alarm siren
5. The wires for the car alarm siren will need to be routed into the car's interior. As such, you'll need to find a preexisting passage through the firewall. If that isn't available, then drill a hole into one of the softer parts of the firewall. Before drilling, be careful not to damage other components on the other side of the firewall. Also, a hole might cause corrosion on the firewall itself.
6. Now you can wire the alarm to the car's electrical system. For this, consult the car alarm manual as it usually comes with a diagram.
Do note that some car alarms will have its own "computer" units. Cheaper ones however need to be wired into the car's engine control unit (ECU) for it to gain access to the vehicle's door and window sensors. Usually, the ECU is located behind the glove box or under the driver's side dashboard. To save time, consult your car manual for its location.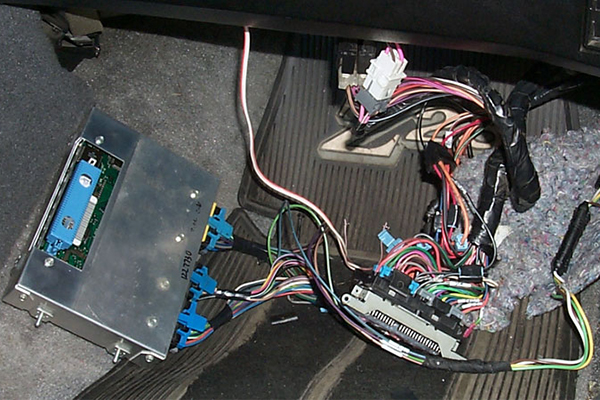 Most modern cars have their ECU's mounted under the dashboard
7. If the aftermarket car alarm system came with additional sensors, consult the car alarm manual. Also, some car alarms will come with an LED light. This will indicate if the alarm is active or not. For this, we recommend mounting it somewhere around the dashboard.
8. Next, connect the battery and activate your car alarm system. Usually, car alarm systems come with a button letting you activate the alarm. If not, then try opening your car's locked door.
9. If you're certain it works, package the wiring by using zip-ties.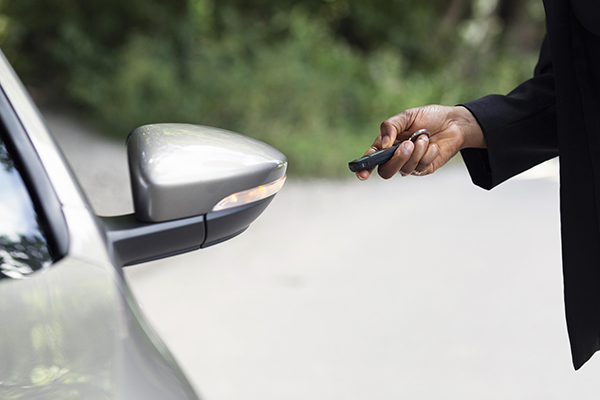 Don't forget to test that new car alarm
>>> Related: 3 effective ways to enhance your car safety
How to install a central locking system
1. Follow the first to third steps above.
2. Remove the car door panels carefully.
3. Usually, the optimal position of the actuators will be indicated in the central locking system's manual. Make sure that an actuator is not blocking any other moving parts of the car door like the windows. And lastly, make sure that the actuator is moving parallel to the door's lock bolt. Otherwise, the actuator will not be able to move the door lock.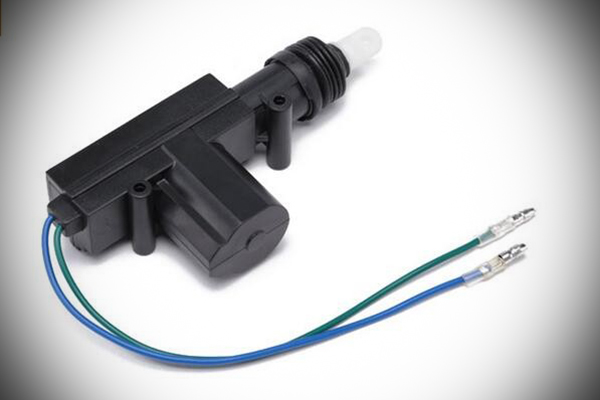 A car door locking actuator
4. To install the actuator, drill a 3/16-inch hole. Connect the provided joint connector or slave rod in-between the actuator's lever and the door lock bolt.
5. After installing the actuators, you can now install its wiring. For this consult the central locking system's manual. Usually, though, a central locking kit will come with multiple color-coded wires bundled up into a wire harness. As such, you should connect the wire wires from the actuator to the same colored wires in the actuator.
Some central locking kits will also have a black or brown wire. This is usually a ground wire and this should be attached to a metal surface. Another wire, usually a red colored one, is connected to a 12-volt power source, which is your car battery. Lastly, make sure that any of the door's mechanisms including the actuator, will not pinch the wires.
>>> Related: How to install a car battery safely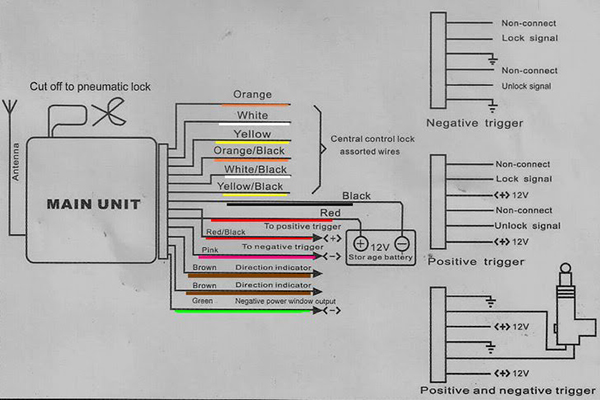 A typical car central locking system's wiring diagram
6. Install the central locking system's control module. This usually comes in the form of a box with multi-colored output wires. Identify the respective pairs for the lock output and the unlock output and where to connect them.
7. Finally, you can now test the central locking system. Do this by standing outside the car and simply pushing the lock button and unlock buttons on the provided remote.
IV. How to install a car alarm with central locking system: Final takeaway
Remember that central door locking systems will come in many different types. Each of these will have different door lock relays and circuits. Different cars will also come with different circuits. So to sum it up, installing a car central locking system is undoubtedly complicated. So if you're new to wrenching on your car, we recommend having a professional install your car's central door locking system.
For the car alarm system though, it's a bit easier to deal with as it has no moving parts. All it does after all is emit loud sounds. Do note though that different car alarms might have different wiring diagrams. So again, it's better to approach a professional for this.
>>> Related: [Philkotse guide] 6 DIY car wiring tips that you definitely need to know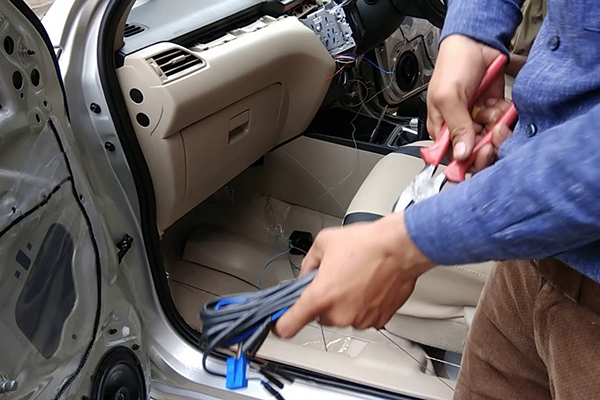 Yep, installing a central locking system is a bit complicated
Sure you can save a bit of cash, but having a malfunctioning car alarm that's constantly screaming is particularly annoying to you and your neighbors.
A malfunctioning central door locking system is even scarier. Just imagine locking yourself from your car just as you're about to go to work. Or worse yet, an improperly installed central locking system might even turn your car into a prison.
To sum it all up, we recommend hiring a professional to install a car alarm and with central locking system. But if you're familiar with automotive electrical systems, then by all means do it yourself.
For more automotive maintenance guides, keep reading here on Philkotse.com.


Cesar G.B. Miguel
Author