Found an old car you want to return to its former glory? Here are some tips and guidelines you can follow to do just that!
Car restoration especially here in the Philippines can be a very profitable business. If you don't want it to be a business it can also be very satisfying albeit somewhat time-consuming hobby. But what hobby isn't? Right?
So now you want to try your hand at it because of that juicy but old car left by your grandfather to rot in his garage. But where do you start? Well for this article from Philkotse.com, we will talk about some basic steps and some know-how on how you could get started on car restoration.
1. Take a good look at the car, your available resources, and yourself
Before even getting started, there are some things you have to take into consideration first. Which parts of the body are too rusted out? Does the engine even turn over? Can I work on this myself or do I need to hire a guy? Do I have the necessary tools? Can I source parts of this car?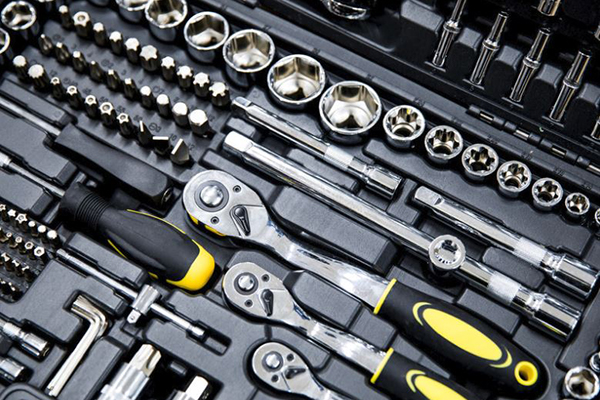 Do you have the right tools for the job? If not, can you afford to buy some?
These are just a few questions that will definitely come up to mind. As such, even from the beginning, you can already have a picture of how much time, money and patience you need for a particular restoration project.
2. Make a list
After thoroughly checking the car and the condition of its parts, make an outline of the things that need replacing in conjunction to the work needed to be done to them, i.e. do I need to replace a part or just clean/fix it up?
This will aid you in prioritizing which to do first, which to replace and even which parts to purchase first. This also provides you with a rough timetable with regards to the work needed to be done and sometimes it can even tell you if you actually need to hire someone because it's beyond your skill level.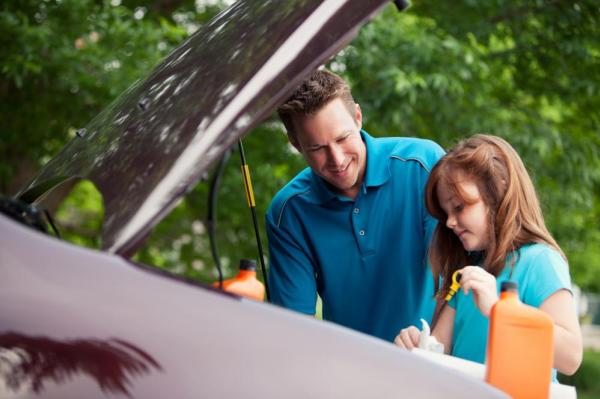 DIY car maintenance can help you save a lot of money
Sure, DIY car repairs definitely save you a lot of money but there are some things, especially with regards to mechanical skills that are beyond you so you might want to consider hiring some help.
This might cost you more, but making a mistake which might result in more damage to your car's parts can end up costing you more money.
3. Location, Location, Location!
Take into consideration as to where you will perform this project. Do you have your own garage? Because if not, that might be a problem.
Even if you already have a rented parking space that might not be enough to work on a car as you will be surprised as to how much SPACE car parts will take up especially if they're just lying around, sprawled out waiting to be installed.
Heck, it might even bother your neighbors and you do not want that. Also, consider that it will be inevitable that you will be replacing several kinds of automotive fluids.
As such, spills will happen and as we've said before, that can be dangerous to your health and the environment. So working on your car on the side of the road is definitely out of the equation.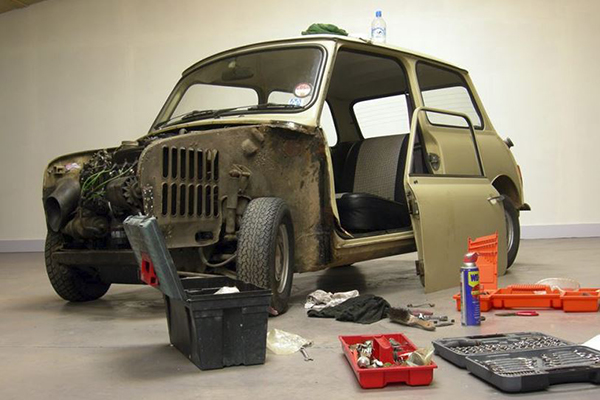 A good wide garage with enough ventilation is paramount to a seamless restoration job
What you need is a proper workspace with enough shelves and/or boxes to hold your parts and of course, containers for the liquids you will drain from the car you're restoring. Take in mind that you need enough ventilation too.
4. Stripping your car
Assuming you already have a space to work on your car, you'd want to start stripping away the parts. If you want to do it yourself, there are many resources on the Internet that may help you.
It's also very important to label everything you remove because it will definitely be impossible for you to remember how every single bit comes back together. It will also save you a lot of time especially during the rebuilding phase.
Gut the interior
Start with the interior. If it's too rusty and dirty, please make sure you're wearing some protection. Don't throw away stuff just yet as you can use those to compare it to the replacement parts you're buying. If for some reason you really need to throw your interior parts right away, take pictures instead.
>>> More tips on car interior maintenance: 
Engine and gearbox
First off, drain all the fluids out and use a catch pan. If you have an engine crane, the better. As mentioned before, label everything especially the wires.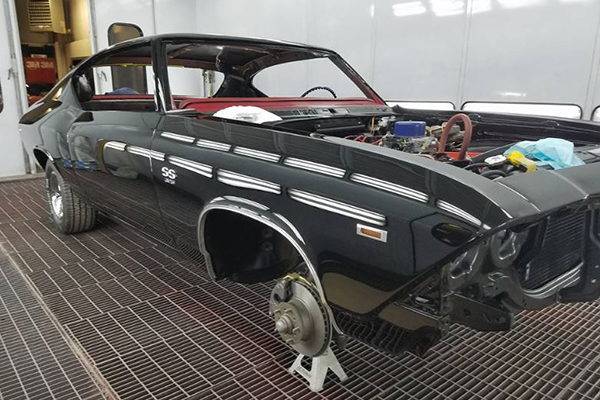 Stipping might be easy, but re-assembly might not be especially if you didn't label your parts!
External Panels
Fenders, Bumpers, wings, all those stuff. Be careful not to further damage those though especially the ones you plan to re-use. When storing, don't just pile them on top of each other. If space is a premium, you may want to use something soft to place in between each part to prevent further damage.
Take off the window glass
For older cars with rubber seals, carefully slice those as reusing old window seals will be detrimental in the long run. For some cars with their window glass bonded in, you might want to call for a specialist.
Remove wirings
As you start to remove these, label them. Also, take note of damage that you'd want to repair or replace later. Be sure to detach the battery first.
Undercarriage
Take everything off underneath. Brakes, suspension parts, steering rack, exhaust, etc. It is also at this point that you can assess what you can re-use, repair or outright replace.
Power coating
Has this done with parts you'd want to reuse? We recommend giving it a power coat to prevent rusting in the future. It might be expensive here in the Philippines, but this step will definitely save you some headaches and money in the long run.
Order the parts
Refer to the list you've made from earlier. Take note that this might get expensive so you might want to order parts in increments. Another thing to consider is that some of the stuff you've ordered might take a while to arrive so a great deal of patience is needed.
5. Work on that Body
In order for you to get the most out of the car appearance wise, you might want to take the shell of the car to a paint specialist. There, they will perform a bare-metal restoration either by sandblasting or acid dipping. For this, you might have to figure out how to transport your car shell.
As to specialists that can do this here in the Philippines, there are definitely many to choose from. Such examples are Hotwheels Autobody Specialist located in Cubao, Carbonzone Unlimited in Kamuning, Cruven Auto Specialist in Makati and Marikina, and Acts Body Paint and Car Repair also in Quezon City.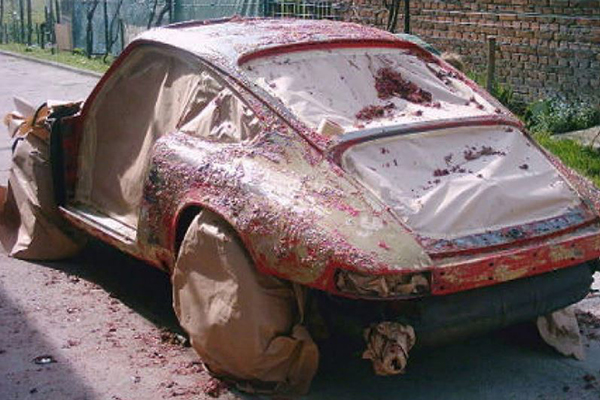 A Porsche in the middle of paint stripping
Work for your car's shell might take a couple of days to a week depending on the repairs needed and the size of the vehicle. You might also want to take with you the exterior panels you have removed if you want them repainted or repaired.
6. Performance restoration
Like with the aforementioned you might want to hire a specialist for this. If you want to do this yourself, we'll have to discuss this further in a future article.
Engine
Depending on the condition of the engine and power train, you might want to replace some parts. Some parts like the belt, vacuum hoses, wires, and the belt have the tendency to become brittle over time so you might want to replace those regardless of how the current ones look.
Under-chassis
You might want to have your suspension and other under chassis parts checked and have them greased for good measure. Also, it might be ideal to update your exhaust system to a more modern system that is more compatible with the current emissions laws. And of course, this will improve your gas mileage.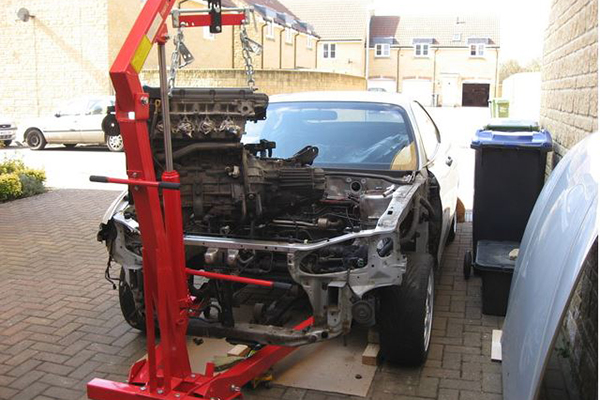 It helps a lot if you have your own engine crane
Car Restoration: It's more fun than practical
As it isn't evident already, car restoration might not be for everyone and in some cases, it might even be more practical to buy a new car altogether. But that's besides that point as car restoration can be a fun and satisfying experience for hobbyists and car enthusiasts especially if you did a majority of the work yourself.
We're also sure that there are more things that we might have forgotten to mention in this article, regardless, this will serve as an adequate stepping stone especially for beginners.


Cesar G.B. Miguel
Author