The Toyota C-HR 2018 makes its way to Bangkok with fetching accessories, looking eye-catching from afar.
The photos taken in 2018 Bangkok International Motor Show have shown two eye-catching Toyota C-HR 2018 models, the red Toyota C-HR TRD and the white pearl Toyota C-HR wearing a full Modellista kit.
Speaking of the former, the 2-tone red vehicle has attracted the spotlight with its outstanding suit of appearace built by the Toyota Racing Development. In particular, the car comes with black roof, trunk lid spoiler, additional front spoiler, rear spoiler, front grille garnish, a set of seventeen-inch sleek black wheels, plastic garnish placed between the rim spokes and black overfenders. The package costs an extra of Bt 75,900 (equivalent to around P127,000).
Video: 2018 Toyota C-HR vs Honda HR-V
Also make its way to the show is a white pearl C-HR coated with a full Modellista kit. Taking a closer look at the car, we easily recognize ornamental bits (the fake gills on the front wing), nice rims and the twin pipes.
The Toyota C-HR 2018 is manufactured at Gateway plant in Chachoengsao, Thailand from where the SUV will be exported to more than 100 countries. There are two engine choices available which are a hybrid 1.8L and an automatically aspirated 1.8L. The VVT-I motor Toyota used in the model produces 175 Nm of torque and 140 PS. It is mated to an automatic CVT with 7 virtual ratios. The engine comes compatible with E85.
>>> Also read: Thai-spec Toyota C-HR 2018 added with a wide array of accessories
Meanwhile, the Hybrid C-HR combines a plug-in motor with 163 Nm and 72h hp with a 1.8L engine named 2ZR-FXE Atkinson-Cycle. The Max output is able to reach 122 hp and much more power of torque. The motor is powered by the nickel-metal hydride battery.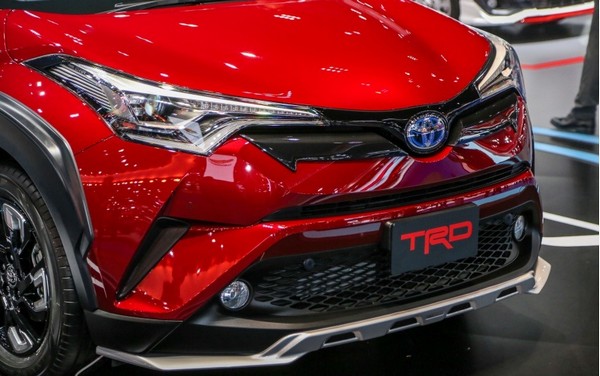 There are two engine choices available which are a hybrid 1.8 litter and an automatically aspirated 1.8 litter
It is claimed by Toyota that the fuel economy of the model is 24.4 km/l and it only emits 95 g of CO2 per km. Toyota put a 10-year warranty for the battery and 5-year warranty for its system.
The 1.8L comes in Mid and Entry trim levels as the Hybrid can be had in Hi and Mid variants. The 1.8 Entry priced at Bt 979,000 (about P1,639,000) comes equipped with LED taillamps, automatic halogen projecting headlamps, fabric seats, seventeen-inch alloy wheels, 7 airbags, and a seven-inch touchscreen.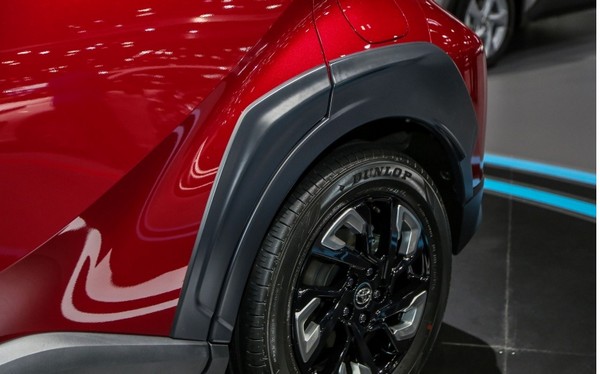 The 1.8 Mid (Bt 1.039 million, P1,740,000) comes with extra features- leather and keyless start and fog lamps
While the Hybrid Mid worth Bt 1.069 billion (approximately P1,789,000) is equipped with all above along with complete T-Connect telematics, complete LED tail lamps, and complete LED headlamps, the 1.8 Hybrid High worth Bt 1.159 million (equal to nearly P1,941,000) comes with all and is added up with the Safety Sense pack and navigation.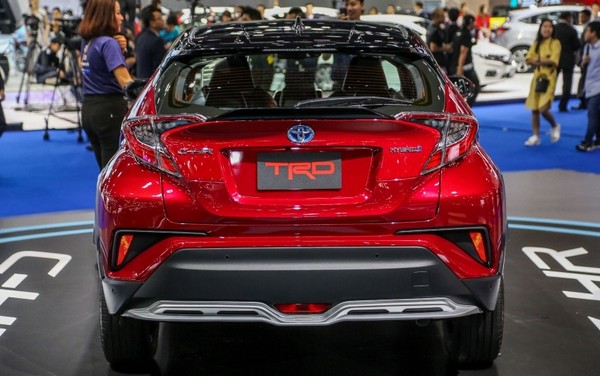 The fuel economy of the Toyota C-HR 2018 is 24.4 km/l and it only emits 95 g of CO2 per km
There are many choices from exterior color to a tissue box cover. They may seem tacky but it is probably the intended idea of the carmaker to treat various tastes of customers. It's unsure at the moment whether the current Toyota Philippines model lineup will welcome this car.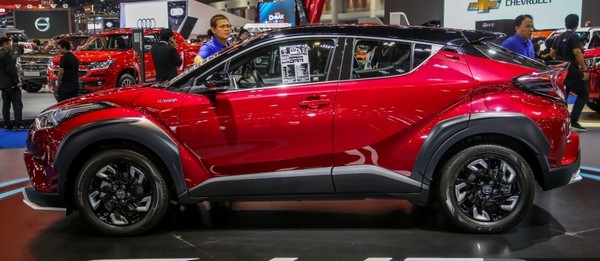 The motor is powered by the nickel-metal hydride battery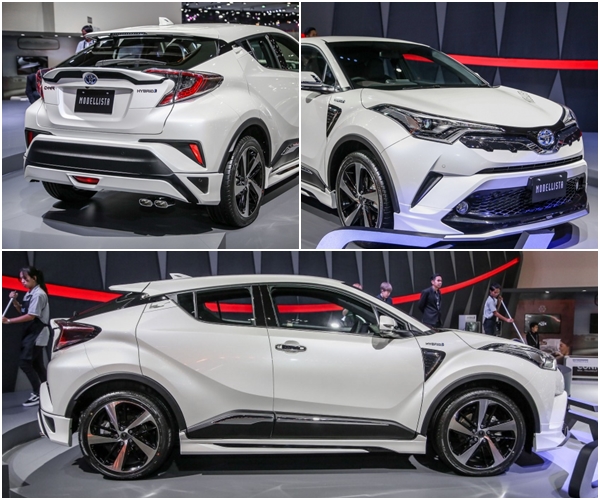 The white pearl Toyota C-HR on display is coated with a full Modellista kit

Recent posts