Wait for a production version to come.
The Hyundai Tucson Sport Concept will be showcased at the Specialty Equipment Market Association (SEMA) show, in Las Vegas. The vehicle is the fruit of the collaboration between the Korean car maker and Vaccar – a Florida-based tuning group. With a radical-looking appearance as well as a more powerful engine, the Tucson Sport Concept will truly a great offering to all families if it enters the production line.
For starters, the Concept is covered by a unique aqua blue finish with matte gray splashes. Thanks to the creation of Vaccar, the Tucson Sport now features new front lip spoiler with expanded side skirts, merged into the rear diffuser. Other exterior refinements are composed of a new mesh front grille and 20-inch forged alloy wheels protected by flared wheel arches, providing the SUV a sportier looking makeover.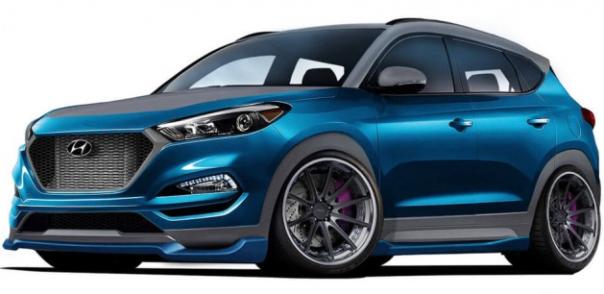 The vehicle is the fruit of the collaboration between Hyundai and Vaccar
>>> Read more: Hyundai Tucson Sport revealed with new power of 204hp
Getting inside, the Hyundai Tucson Sport Concept comes fitted with Ice Gray leather upholstery highlighted by blue stitching. What's more, the instrument panel is given new analog gauges. Infotainment system includes a 9-inch touchscreen system, a 12-inch subwoofer, headrest-mounted displays and new speakers also.
Not only does the new Concept receive cosmetic changes, it also boasts new powertrain, as we've note above, with a new turbocharger, a new AEM inlet piping, a Mishimoto intercooler and a new exhaust as well. Output figures haven't been disclosed but the engine is expected to deliver over 300 PS.
In addition, adjustable coilovers, revised suspension system and new sticky rubber promise to bring you much better handling than ever.
According to latest car news, along with the new Tucson Sport Concept, the Hyundai HyperEconiq Ioniq concept will be likewise in attendance at the car event.

Know more about Hyundai Tucson 2022

The Hyundai Tucson is a compact, five-door crossover with a front-engine, front-wheel-drive or all-wheel-drive layout. It is now in it's fourth generation version, and depending on the market, it either gets a 2.0-liter gasoline engine, a 2.0-liter diesel, a 1.6-liter gasoline mill or a 1.6-liter gasoline hybrid. It uses a totally new platform, and it is gets a more modern and more refined exterior design.
Recent posts