1. 2020 Toyota Vios 1.5 G CVT vs Honda City RS Turbo: Spec Sheet battle
The Toyota Vios and the Honda City. These two are among the popular, and successful vehicles in the Philippines. In Metro Manila alone, every time you find yourself staring at one of the many thoroughfares in the city, you'll definitely see either of the two.
Now in 2020, Toyota Philippines has released a facelifted version of the Toyota Vios. Gone is the polarizing looking front fascia, and what we have now is a better, sportier-looking front end for the Vios. In turn, we can also say that the all-new seventh-generation Honda City, which is currently available in Thailand, will inevitably enter the Philippine market to once again contest the Vios in the competitive subcompact sedan market.
So how does the new Honda City fare against the new Toyota Vios on paper? Let's find out.  However, to make this comparison simpler, we'll be comparing both the top-of-the-line variants for each model, the 2020 Toyota Vios 1.5 G CVT, and the 2020 Honda City RS Turbo just recently launched in Thailand.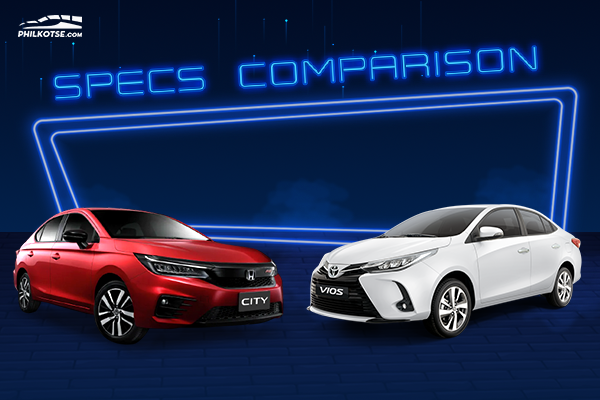 Let's see which sedan is better on paper
2. 2020 Toyota Vios 1.5 G CVT vs Honda City RS Turbo: Exterior
When it comes to size, the Vios 1.5 G is 4,425 mm in length, is 1,730 mm wide, and 1,475 mm high. It also has a wheelbase length of 2,550 mm.
Compare that to the City RS which is 4,553 mm long, 1,748 mm wide, 1,467 mm high, and its wheelbase is 2,589 mm in length.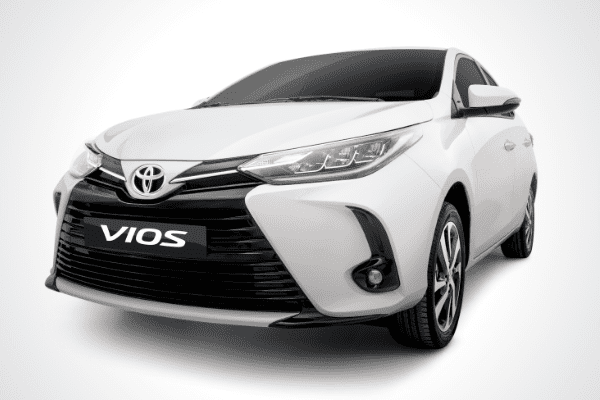 The updated Vios is definitely better looking than the last one.
To sum it up, the Honda City is longer, the Vios is both wider and taller, while the City has a longer wheelbase. In terms of exterior equipment, however, these top variants are very similar to each other. Both are equipped with LED headlamps, 16-inch alloy wheels, chrome grilles, LED fog lamps, folding side mirrors with integrated turn indicators, and both also have fin-type antennas.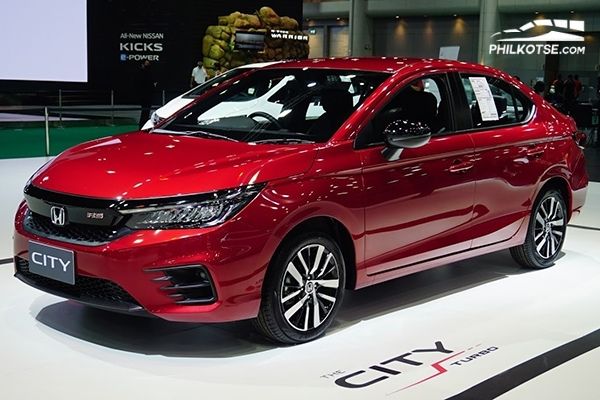 The City RS Turbo is a step above the standard Honda City when it comes to sportiness
Despite the very similar array of exterior features, each is perfect representations of their respective marque's current design language. As to which is better looking, that's subjective and we'll leave that up to you.
>>> Related: Which is more fuel-efficient, Toyota Vios or Honda City?
3. 2020 Toyota Vios 1.5 G CVT vs Honda City RS Turbo: Interior features
When it comes to interior equipment, both the City RS Turbo and the Vios 1.5 G CVT are also quite similar. Both have automatic air conditioning, both have paddle shifters, an Eco drive mode and a sport mode, a digital gauge cluster, and steering wheel-mounted controls. Both can fit five people, and both have leather-clad seats and soft-touch dashboards.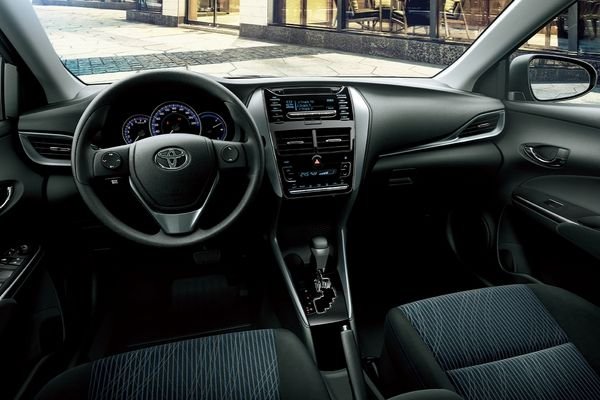 The new Vios's interior didn't change much
Do note though that the City RS Turbo does have several advantages over the top variant of the Toyota Vios. It has two more audio speakers numbering at eight, its touchscreen is one inch larger, and the City RS Turbo even has cruise control and an electronically adjustable driver's seat.
Also, note that these two model's infotainment systems are very different. The one aboard the Toyota sedan is a seven-inch unit capable of connecting via Bluetooth, or via Weblink for both iOS and Android.
Meanwhile, in the City RS Turbo, its larger eight-inch head unit can also connect via Bluetooth, but it has more connection options through its Honda Connect system, as well as Apple CarPlay. Both systems however do have USB ports, as well as an aux jack.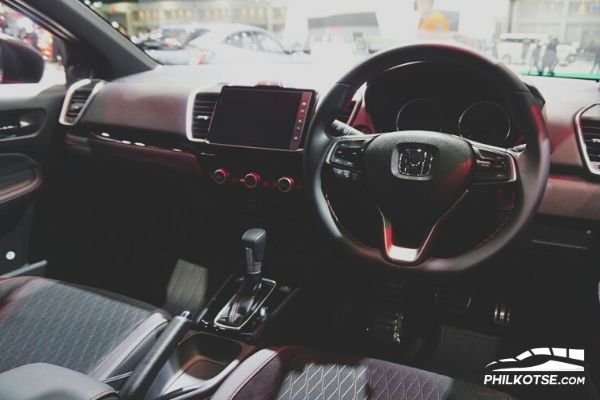 Like the Civic RS, the City RS's interior comes with red stitching
And back again to the driver amenities, the City RS Turbo has a four-way adjustable steering column, while the Vios 1.5 G CVT has a simpler tilt-adjustable one.
>>> Related: Facelifted 2020 Toyota Vios debuts: Level up the bestseller
4. 2020 Toyota Vios 1.5 G CVT vs Honda City RS Turbo: Engine and Performance
Under the hood, the Toyota Vios 1.5 G CVT is powered by a 1.5-liter four-cylinder inline-4 gasoline engine that can make a maximum of 104 horsepower and 140 Nm of torque. Power is then sent to the front via a continuously variable transmission.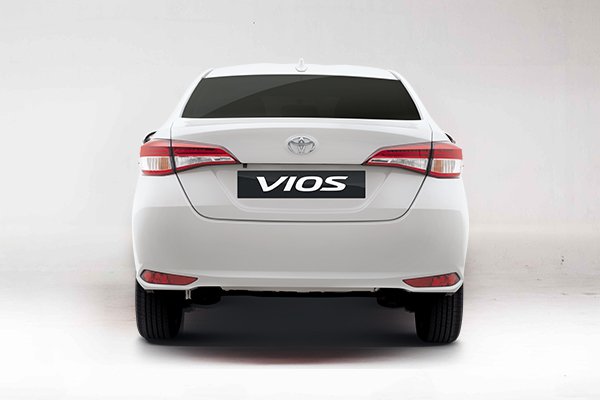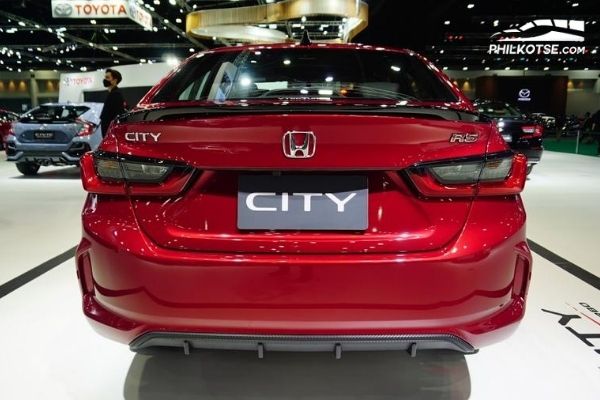 Compare the rear of the new Vios (Left), with the City RS (Right)
Other variants of the Vios come with a 1.3-liter gasoline engine that makes less at 97 horsepower and 123 Nm, which is then paired either to a five-speed manual or a CVT. Do note however that the 1.5 liter 2NR-FE inline-4 powering the top-spec Vios also has a five-speed manual transmission option.
On the other hand, the top-spec City uses a 1.0-liter turbocharged inline-3 engine. It can churn out a maximum of 119 horsepower and 173 Nm of torque.
For the seventh-gen City, there's also a 1.5-liter inline-4 gasoline engine, and a 1.5-liter diesel inline-4 engine each paired with either a manual or a CVT. The one with the manual and the aforementioned inline-4 engine for the City, however, isn't available in Thailand and is only available in India. 
| | | |
| --- | --- | --- |
|   | Toyota Vios 1.5 G | Honda City RS Turbo |
| Engine | 1.5-liter DOHC, inline-4 with VVT-i  | 1.0-liter DOHC inline-3 VTEC Turbo |
| Fuel Type | Gasoline | Gasoline |
| Displacement | 1,496 cc | 998 cc |
| Transmission Type | CVT | CVT |
| Max Output | 104 horsepower | 119 horsepower |
| Max Torque | 140 Nm | 173 Nm |
>>> Related: 
5. 2020 Toyota Vios 1.5 G CVT vs Honda City RS Turbo: Safety
For safety, both the Vios 1.5 G CVT and the City RS Turbo are both very well equipped. Both models come with dual front airbags, side airbags, curtain airbags, although the top-spec Vios has a driver's knee airbag. Do note though that the seven-airbag option is available only as an indent order for the lower-spec variants of the Vios like the Base, the Vios J, and Vios XE.
Apart from airbags, both models also have hill-start assist, anti-lock braking system with electronic brakeforce distribution, a rear parking camera, stability control, ISOFIX, and child-proof door locks. Although, Honda Sensing is available in the Thai-spec City RS Turbo. 
6. 2020 Toyota Vios 1.5 G CVT vs Honda City RS Turbo: Price and Variants
| | |
| --- | --- |
| Toyota Vios variants | Price |
| Vios 1.3 Base MT | Php 671,000 |
| Vios 1.3 Base MT 7 Airbags | Php 681,000 |
| Vios 1.3 J MT | Php 697,000 |
| Vios 1.3 J MT 7 Airbags | Php 707,000 |
| Vios 1.3 XE CVT | Php 747,000 |
| Vios 1.3 XLE MT | Php 791,000 |
| Vios 1.3 XLE CVT | Php 841,000 |
| Vios 1.3 E MT | Php 841,000 |
| Vios 1.3 E CVT | Php 891,000 |
| Vios 1.5 G MT | Php 997,000 |
| Vios 1.5 G CVT | Php 1,056,000 |
>>> Browse our second hand Toyota Vios for sale list for more affordable options
| | |
| --- | --- |
| Honda City variants | Price |
| City S | ฿ 579,000 or Php 904,282 |
| City V | ฿ 609,000 or Php 951,136 |
| City SV | ฿ 665,000 or Php 1,038,597 |
| City RS Turbo | ฿ 739,000 or Php 1,154,170 |
>>> Browse our second hand Honda City for sale list for more affordable options
7. 2020 Toyota Vios 1.5 G CVT vs Honda City RS Turbo: Conclusion
While we can be certain that both of these sedans are great in terms of usability and reliability, it is pretty obvious that the Honda made sedan has more in the way of on-board tech. Also, the new turbocharged engine, while still unproven to some degree due to its "newness" might also be more fun to drive.
Do note however that when you're buying a subcompact like the Vios or the City, your primary concern probably isn't whether it's fun to drive because all you'll want is a reliable, fuel-efficient car. This is where the Vios might have an advantage because despite the update, it still uses the same engine choices and the same platform that was used by the previous version. In other words, spare parts are readily available, more mechanics are able to fix it if something goes wrong, and it has already proven itself in Philippine driving conditions. There's also the point that some people will always prefer an inline-4 engine over an inline-3.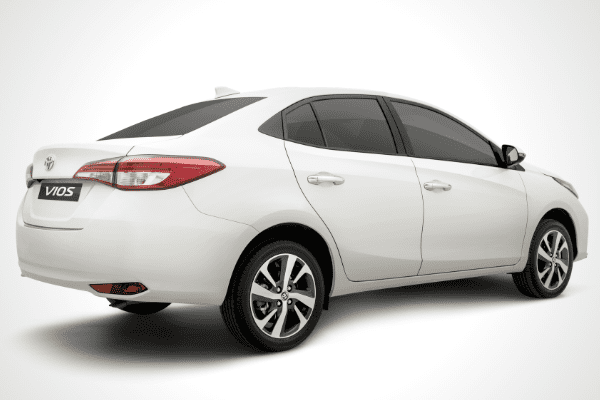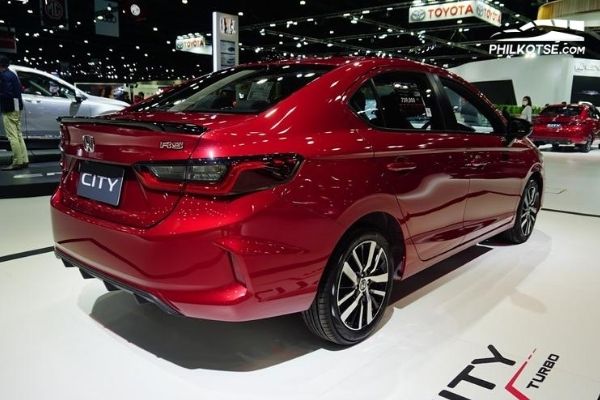 Which do you think is better looking from the side?
Do note also that there's that long-standing thing where you can't actually register a Honda product as a taxi, or even as a TNVS unit. So in that regard, the Vios has the Honda beaten, especially when you talk about unit sales. Speaking of which, the outgoing Toyota Vios was the best-selling car in the Philippines last year.  
So where does the City play into? Well, it might be targeting those with more liberal budgets or those who want a more tech-heavy vehicle. Although it can be argued that with a little more dough, the Vios can actually match the City.
In order to compare these two better though, we'll just have to wait for the all-new Honda City to get here. Until then, keep reading here on Philkotse.com.


Cesar G.B. Miguel
Author
Recent posts