You will no longer have to ditch your roomy ride for a small car. Try having a massive van like the Toyota HiAce Super Grandia.
If you want to know what cars we have a strong liking these days, we might surprise you by announcing that among the roadsters, crossovers, 
SUVs
, we're fond of the 
Toyota
 HiAce Super Grandia – one of the most sought-after vans in our country. The van is really humongous.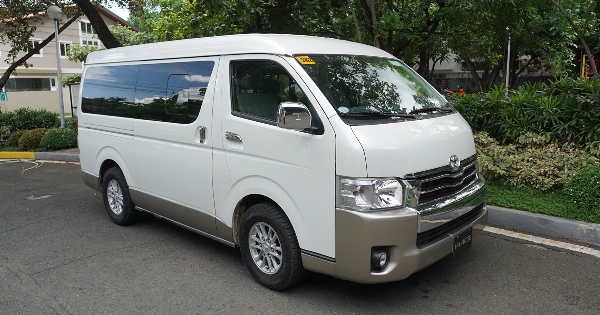 Toyota HiAce Super Grandia: An affordable, roomy ride
Many said that they knew the
Toyota HiAce Philippines
is indeed a strong transport car, but they didn't expect a comfortable and smooth ride from the car.   
The Super Grandia model can accommodate up to 11 full-size adults while the Commuter variant can take up 15 people in comfort. If you're looking for an action-packed city trip or a beach escape to travel alone, this Toyota van's cargo volume won't disappoint you as it offers a maximum of 6,000L of cargo for you to haul, which is respectable.
You think the HiAce Super Grandia is really big when you see it on the street, but when you're in the driver seat this feeling is magnified. This
van
is massive, and learning to move it comfortably in the narrow road and park it perfectly will enhance your driving skills.
Watch full the video to learn more about this favorite van of
Toyota Philippines' new car lineup
:  

The Hiace Super Grandia is a van fit for a big family
Know more about Toyota Hiace Super Grandia 2021

Toyota Motor Philippines finally launched the HiAce Super Grandia. It is the best vehicle for car shoppers looking for a corporate-level hauler but is not willing to spend more than Php 3.7 million for an Alphard. The Toyota Hiace Super Grandia is available in three trims with the price starting at Php 2.5 million. It is the top-spec version of the 6th generation HiAce in the Philippines. TMP turned the Toyota Hiace platform and turned the van into something grand. The Grandia and Commuter models are well-liked by the Filipinos, the 2020 Toyota HiAce Super Grandia will surely receive much-love as well. The Toyota HiAce Super Grandia has all the features that made the HiAce a staple on the country's roads but improved and given a breath of comfort and luxury. The all-new Toyota Hiace Super Grandia shares the same face with the current Toyota Hiace. However, it has a tweaked look that shows its figure as Toyota's highest-end model on offer. It gets a revised set of LEDs that can be found on both the front and rear end of the vehicle. These touches make the Toyota Hiace Super Grandia an upscale-looking entry into its segment.
Recent posts