This city car has two available variants.
For the 2023 model year, the Suzuki S-Presso received some big changes. Specifically, it received a new GL auto-gear shift (AGS) variant.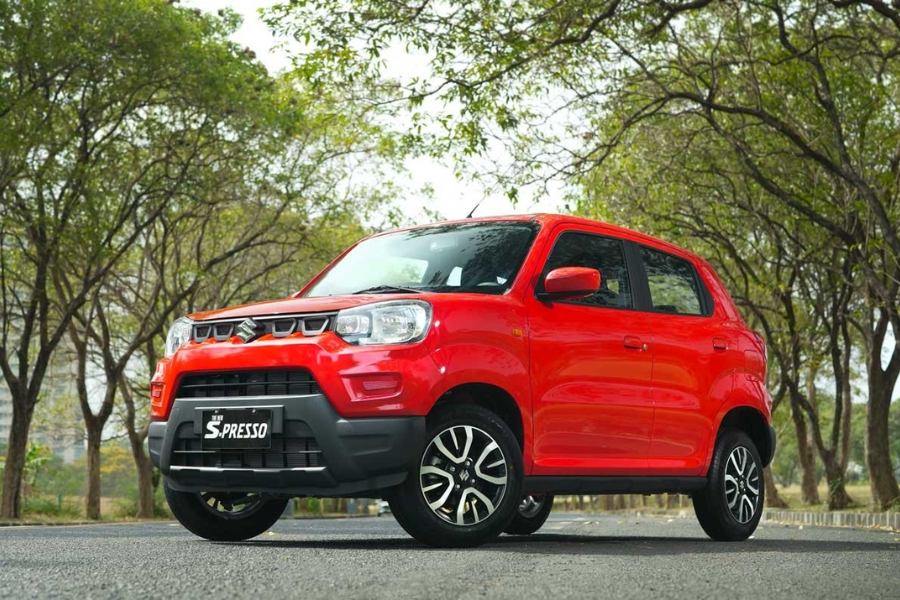 The 2023 Suzuki S-Presso
This means that Suzuki's city car now has two available variants for the Philippine market. The other one, of course, is the entry-level GL manual version.
So which 2023 Suzuki S-Presso variant is the right one for you? Well, let us help you answer that question.
Suzuki S-Presso Variant Guide: Exterior
To start off this guide, let's if there are any exterior differences between the two available S-Presso variants.
For both the S-Presso GL MT and the GL AGS, their front ends are both kitted out with halogen headlamps. Both also get a body-colored front bumper and a black-colored front grille.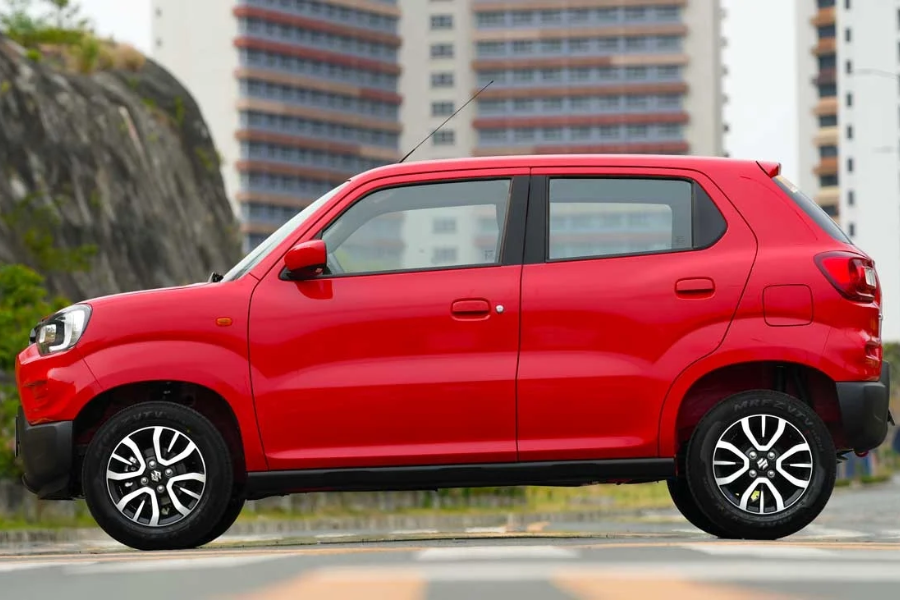 The S-Presso from the side
Their side and rear portions are likewise identical. Both are equipped with the same 14-inch alloy wheels, body-colored door handles, a black rear bumper, and a rear reflector.
The GL MT and GL AGS variants also come with the same dimensions. They are both 3,565mm long, 1520mm wide and 1,657mm in height. They also have a wheelbase length spanning 2,380mm.
Suzuki S-Presso Variant Guide: Interior
Step inside the S-Presso GL MT and GL AGS and one will find the exact same cabin arrangement.
For the front cabin though, the S-Presso GL MT gets a new gear indicator. While the latter feature is not present on the GL AGS, both do come with turnkey ignition systems, electric front windows, an analog gauge cluster, and a digital multi-information display.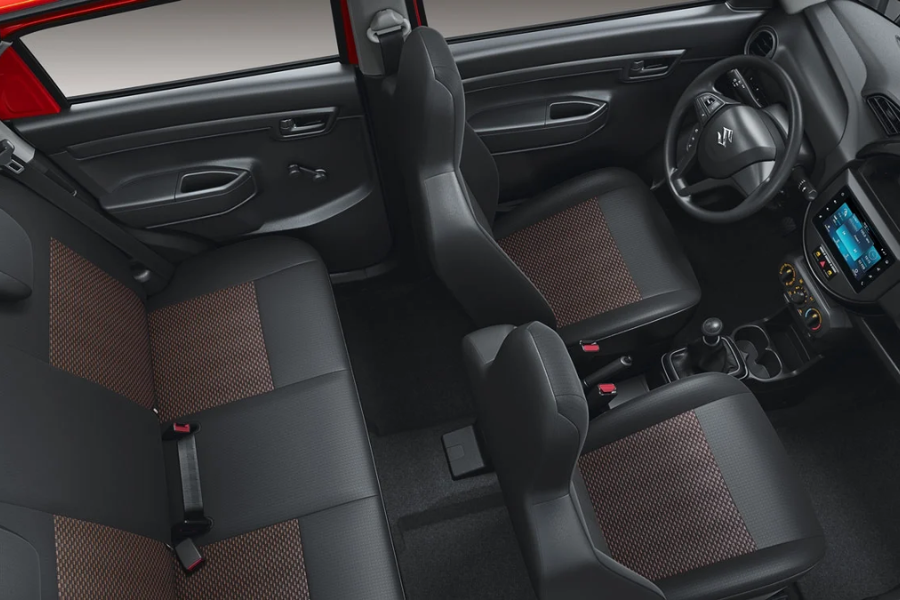 A peek inside the S-Presso's interior
Both trims have space good for up to five occupants, and both come with fabric seats. The occupants of both S-Presso trims are then kept cool by a manual air-conditioning system.
Suzuki S-Presso Variant Guide: Tech & Safety
Standard on the GL MT and GL AGS is a seven-inch touchscreen with Android Auto and Apple CayPlay. On both variants, this touchscreen is then linked to a two-piece speaker system.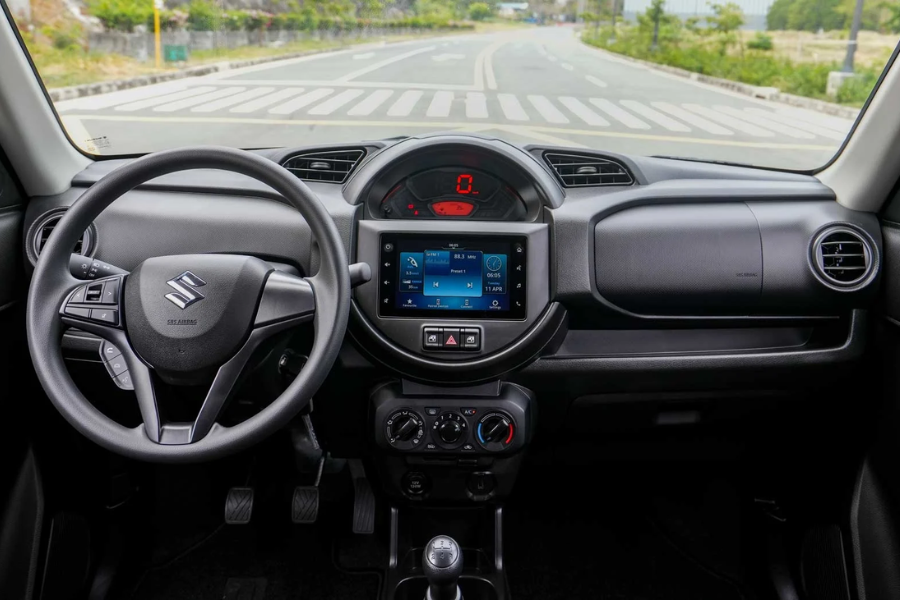 S-Presso's cockpit
The two S-Presso variants also get USB ports. Only the manual version, however, comes with an auxiliary audio jack.
Standard safety equipment on both the GL MT and GL AGS includes dual front airbags, anti-lock braking, electronic stability control, rear parking sensors, a seatbelt reminder, and an engine immobilizer. Only the AGS version is kitted out with a hill-hold control function.
Suzuki S-Presso Variant Guide: Engine
Under the hood of the GL MT and the GL AGS is a 1.0-liter inline-3 gasoline engine. On both trims, this three-banger can make up to 67 horsepower and 90 Nm of torque.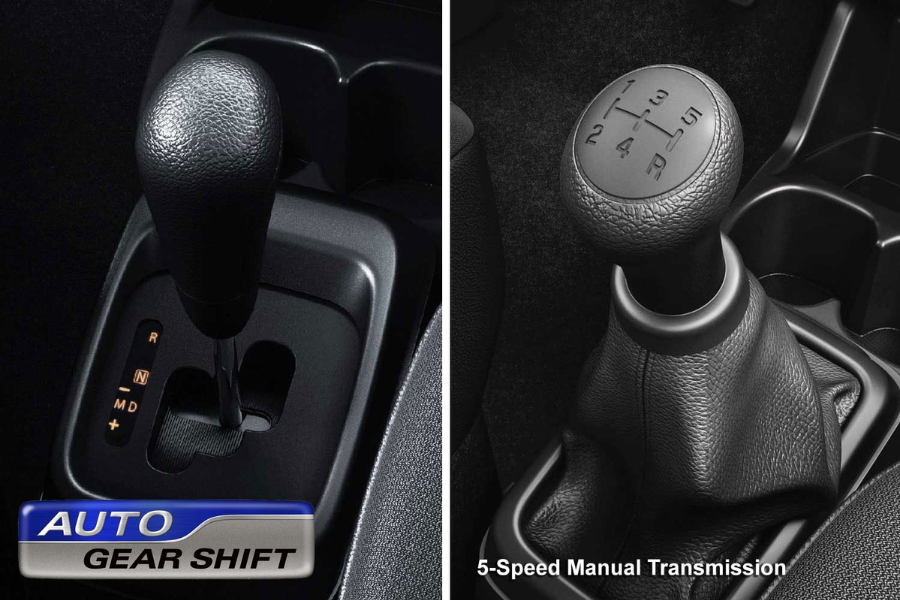 A side-by-side comparison of the GL AGS and the GL MT's gear shifters
As of 2023, the S-Presso has two different transmission options. There's the good ol' five-speed manual version that has been present since the car's initial launch, and there's the new five-speed AGS transmission. Both send power to the car's front wheels.
Note that the new AGS transmission affords the S-Presso an engine automatic stop/start (EASS) feature for better fuel efficiency. It also gets a creep function for low-speed maneuvering and a lever-controlled manual mode.
Suzuki S-Presso Variant Guide: Price
As of the writing of this article, the 2023 Suzuki S-Presso GL MT is priced at Php 620,000. The new S-Presso GL AGS meanwhile, retails at Php 660,000.
Suzuki S-Presso Variant Guide: Conclusion
Seeing that the only difference between the GL MT and the GL AGS is their transmissions, then choosing between the two all boils down to a driver's preference.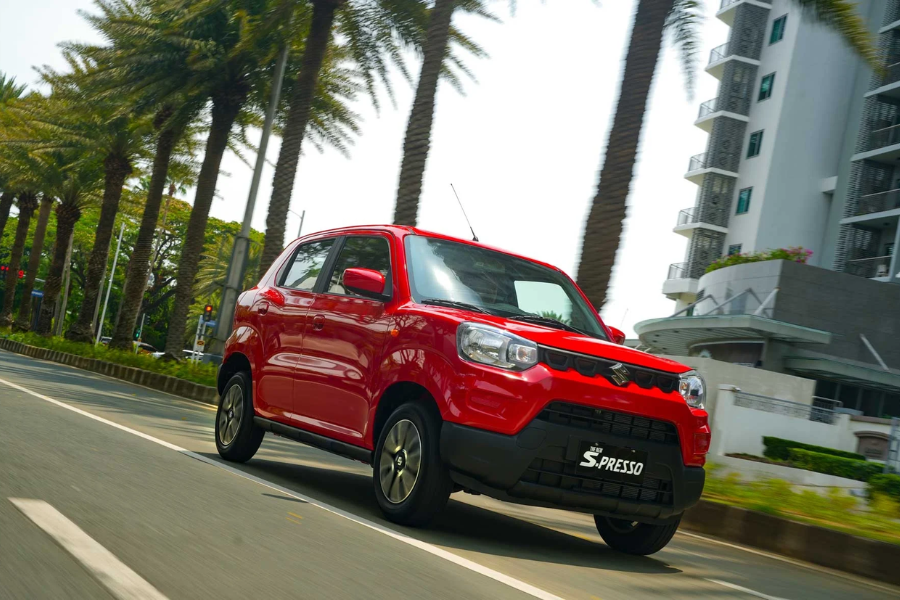 Regardless of variant, the S-Presso is great for dealing with tight city roads
Then again, the slightly pricier AGS does offer some advantages whether you prefer a manual gearbox or not. For starters, it may be more fuel efficient thanks to its EASS. Second, there's the fact that the GL AGS might be safer thanks to its hill-start hill-hold control function.
As with most of our car buying guides though, we urge you to take both variants out on a real-world test drive. Doing so will help a serious buyer to make a more informed decision after all.
For more car buying guides, keep it here on the Philippines' largest automotive portal.

Know more about Suzuki S-Presso 2023

The Suzuki S-Presso 2023 is a five-seater city car. In the Philippines, it has two available trims. These are the S-Presso GL 1.0 MT and the GL 1.0 AGS. The GL MT is priced at Php 620,000, while the AGS version retails at 660,000.
Size-wise, the S-Presso 2023 has a length of 3,565mm, a width of 1,529mm, and a height of 1,565mm. It also has a ground clearance of 180mm.
Locally, the S-Presso competes against the likes of the Toyota Wigo, Mitsubishi Mirage hatchback, Honda Brio, among others.

Cesar G.B. Miguel
Author