The modern Wrangler is every bit as tough as its ancestors inside, and out
Ah, the Jeep Wrangler. It has a reputation for having a very particular culture around it, and its history can be traced back to one of the darker moments of history: World War II. 
Jeep itself is aware of this. As such, the American carmaker intentionally designed the vehicle to look and function with a "battle-ready" mindset. Battle, as in the Wrangler is ready to wade, climb, rock crawl, and tow whenever you want it.
Jeep® Wrangler | No Snow Days
Nowadays and for most people however, we associate the word "battle" to the daily grind; the daily drive to deliver your little ones to school, then heading on to your place of work on the paved roads of Metro Manila, Metro Cebu, or Davao City.
Sure, you can do that on a calmer vehicle like an MPV, a sedan, or even a typical, modern midsize SUV. But then again, you want something to "reflect" your adventurous side.
And of course, you're now contemplating getting a Jeep Wrangler. So will its interior fit your daily needs? Well, let's take a closer look.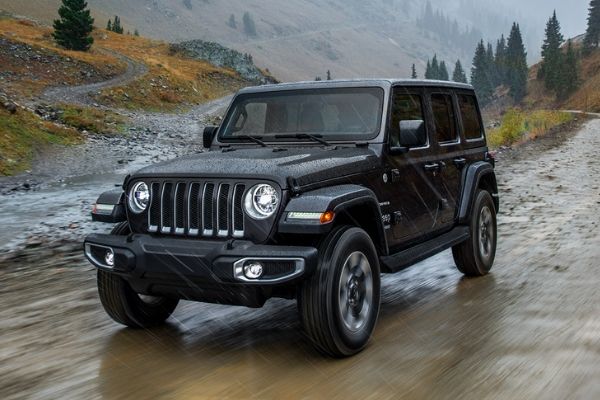 The Jeep Wrangler is definitely a manly looking vehicle
2020 Jeep Wrangler Interior: As rugged as barnacles
From the early CJ, or Civilian Jeep models, to the current Jeep Wrangler and Wrangler Ultimate, the idea behind its existence is the same: utilitarian toughness.
Sure, the surfaces inside are now relatively cushier and you get more safety features, but if you peeked inside a Wrangler, you'll find that its dashboard still has the same flat design.
Yes, it can be considered as belonging to the currently popular "retro-modern" fad, but there's no denying that the hard plastics and even the soft surfaces can take a lot of beating.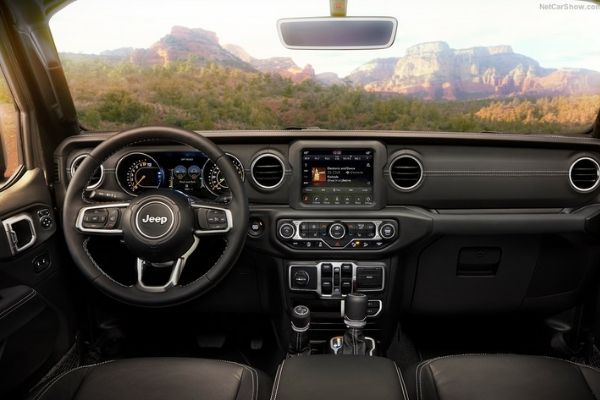 This is the Wrangler's dashboard. It's flat and simple, but its also rugged and easy to use
Another interesting note about the Jeep Wrangler interior is the presence of drain plugs plus the removable carpet. That means the interior can be washed out with water, which is useful if you're out in the boonies with passengers wearing mud-caked boots.
And yes, we cannot help but talk about the "modularity" of the Wrangler because you can easily remove the doors, the windows, the roof, fold down the flat windshield, and you can even order half doors, which are literally shorter, more rugged doors without power windows.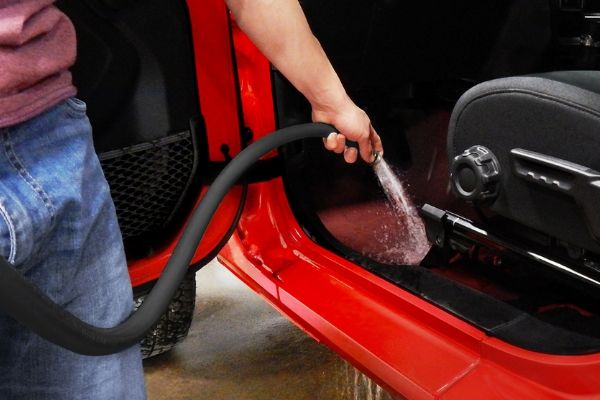 If your Wrangler's interior is full of gunk, remove the carpeting, open the drains, and simply spray away
Do note though that there are some caveats to the Wrangler's toughness. First, the interior, as some might call it, is rather too utilitarian for a lot of people. As in, there isn't that much to look at. Again, there are modern amenities, sure, but looks-wise, it will take getting used to.
Second, due to the brick-like design of the car and the flat windshield, you can expect a lot of road noise when getting up to speed on the highway. It's annoying, sure, but that's the price you pay if you want to look and feel like a tough mudder.
>>> Related: Jeep Wrangler 2020 Philippines Review: The perfect weekend getaway car
Jeep Wrangler interior: Onboard tech and convenience features
When it comes to onboard tech, the 2020 Wrangler Ultimate and the two-door Wrangler has automatic temperature control, and the UConnect multimedia system is great too.
It can take voice commands for the hands-free calling function, and buyers of the Wrangler can even choose the Mopar Premium Sound System which gives them a 552-watt amplifier and a set of Alpine speakers. And lastly, the Wrangler also has a USB port located on the center console, as well as Bluetooth and Apple CarPlay.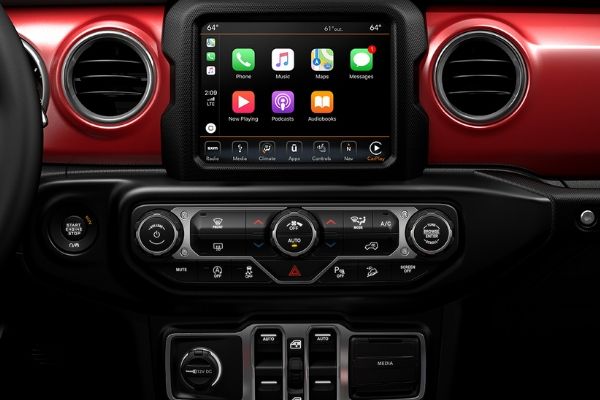 Despite simple, the layout of the Wrangler's gadgets makes them easy to use
And in talking about packages, the Wrangler has several available to it. Each is tailored fit to a customer's needs and wants and is quite varied.
There's the Recon Package with additional exterior and interior styling changes, the connectivity group which adds a tire pressure monitoring display, and many others.
Other useful features found inside the Wrangler is an optional remote keyless entry system, an optional auto-dimming rearview mirror, rear cargo, and front dome light as well as split-folding seats with self-articulating head restraints (Sport and Rubicon) and steering wheel mounted audio controls.
>>> Related: Jeep Wrangler Price Philippines 2021
2020 Jeep Wrangler interior: Safety Tech
When it comes to interior safety features, the Wrangler is as competent as any modern vehicle. It doesn't have that many driver-assist features, but it does come with a pair of advanced multistage driver and front passenger airbags, and side airbags are also supplemental.
The Wrangler also comes with an anti-lock braking system with hydraulic assist braking, as well as electronic roll mitigation, which is particularly useful since the Wrangler has a high center of gravity.
Also, rolling is one of the more dangerous, yet more common mishaps that can happen to you when you go off-roading.
2020 Jeep Wrangler: Will it work as a daily car?
To be completely honest, there are countless other vehicles out there that are better as a daily driver. As we've said, there are midsize SUVs, MPVs, crossovers, and minivans that ride high, and have a great road presence, if that's what you're after.
If what you're going for is either a tough-looking and/or a legitimate off-roader, however, then the 2020 Jeep Wrangler is a sure contender regardless of its spartan interior. But then again, we know that there are some of you out there who would rather prefer than in the first place.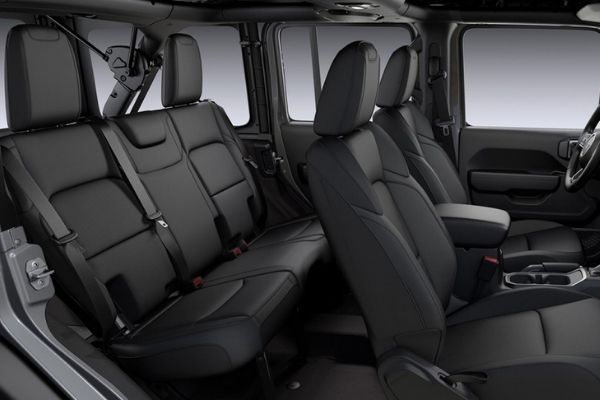 If you want more rugged seats, go for the leather ones
In short, do what you will. But again, be reminded that while the Jeep Wrangler interior has a comfortable passenger space, as well as a good interior cargo space of 900 liters (with the seats folded up). Also remember that the current version is hands down, one of the most utilitarian cars you can buy today.
For more car buyer's guides like this, keep reading here on Philkotse.com.

Know more about Jeep Wrangler 2023

The Jeep Wrangler 2023 is an off-roader SUV that is considered one of the most iconic in its market, with the 2-door as a compact SUV and the 4-door as a midsize. Jeep Philippines is offering this model with two variants, namely the Unlimited Sport and Rubicon. For Php 3,890,000, you can get the base Unlimited Sport, while the top-of-the-line Rubicon starts at Php 4,690,000 for the 2-door trim and Php 4,990,000 for the 4-door Unlimited Rubicon. Powering the Wrangler is a 2.0-liter inline-4 DOHC DI Turbo Engine with an Electronic Start Stop (ESS) function, making 268 hp and 400 Nm of torque. An 8-speed automatic transmission is connected to the engine as standard.
Dimensions-wise, the Wrangler is 4,785 mm long, 1,874.52 mm wide, and 1,869 mm high. This American SUV is competing against the likes of the Land Rover Defender and Toyota FJ Cruiser in the local market.

Cesar G.B. Miguel
Author
Recent posts