Yeah! The Benz for lively, wealthy, young market.
Auto Nation Group, Inc. (ANG), the official local distributor of Mercedes-Benz vehicles in the Philippines, brings the 2018 GLA-Class - a breath of fresh air to our market. Apart from its more good-looking appearance, this high-quality Mercedes embraces an enhanced cabin, better tech features, and improved safety package, among others.
>>> The Mercedes-Maybach Vision 6 Cabriolet embraces a bit of visual flair and can produce an output of 750hp. So, is it the Cabriolet to have?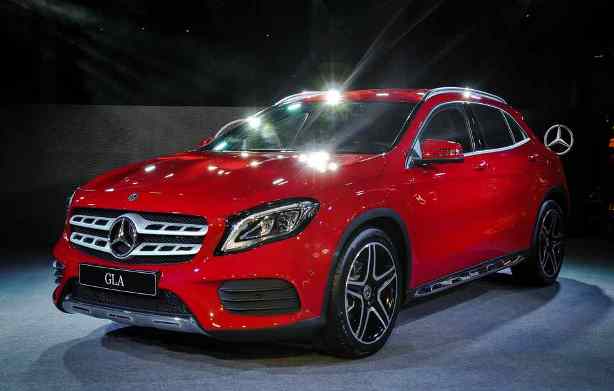 2018 Mercedes-Benz GLA-Class makes local debut 
The 2018 GLA-Class's attractive design language is now all set and ready to be pitted to go against most of its close rivals. Now in this latest model, it delivers more fresh-looking exterior. The new compact crossover is flanked by varied alloy wheels designs, reshaped bumpers and refreshed headlights. Also designed for the 2018 GLA-Class are the low power-consuming LED headlights which are aimed to boost the car's visibility on the road even during nighttime drives.
Stepping inside, the new GLA reaches an advanced level of craftsmanship thanks to new and quality amenities and materials. So for the high-end vehicle connoisseurs, the change worth mentioning is the cabin. This premium compact crossover flaunts a youthful interior vibe without veering away from the typical yet fashionable Benz interior. The 2018 GLA-Class doesn't scrimp on the luxury factors as it now comes with advanced silver chrome trim and sporty leather seats. But the coolest thing is the floating 8-inch free-standing media display which connects your smartphones via Apple Carplay and Android Auto.
>>> Click here for more detailed specs of the Mercedes-Benz V-Class RISE
NEW 2018 Mercedes GLA 260 - World Premiere
To meet Filipinos' specific tastes when it comes to performance and driving pleasure, the 2018 GLA-Class is available with 2 variants.
At the heart of the GLA 180 Urban is a turbocharged 1.6-liter engine churning out 120 horsepower and a pulling power of 200 Nm. This variant can be had for P2,790,000.
Meanwhile, the GLA 200 has a 1.6-liter turbocharged motor unleashing 156 horsepower and a torque output of 250 Nm. This version stickers at P3,090,000. 
>>> Is the Mercedes X-Class worth the extra money? Click to find out.