This is actually a good use of the current downtime.
It's been almost a year since the Jeep Gladiator midsize pickup made its debut here. Considering that it came in the middle of a pandemic lockdown, Gladiator owners have likely had very few opportunities to explore their machine's capabilities.
The Jeep Gladiator's Features
The good news is, there's no need for idle hands. You might not be able to take your rig out for a spin just yet, but you can still work on it if you're looking for something to do. A number of owners are making good use of the current downtime to modify and customize their Gladiators, in anticipation of the day when quarantine restrictions will finally be lifted.

Even if the Gladiator already comes with an imposing exterior, it wouldn't hurt to add your own touches on it, and Jeep Philippines has some suggestions on how to make your truck look even more impressive than stock.     
Stick with monochrome colors 
Just like with clothes, a well put-together ensemble on a vehicle comprises involves having a consistent shade or hue. For instance, metal gray and olive gray might look the same to the casual observer, but they actually belong to different areas of the color scale.
If this isn't possible, an option would be to go for complementary colors, with accents and proportions of the color variants carefully placed for balance.
Experiment with patterns
Breaking up the color monotony with different prints and textures can be fun, and a better look can be achieved if the elements belong in the same color block.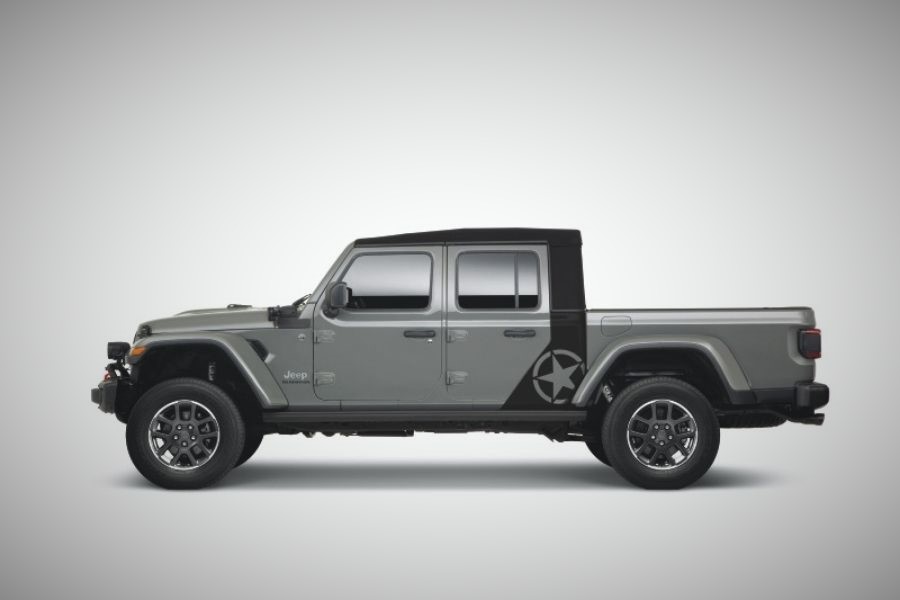 Additional prints can make or break a vehicle's aesthetic
Your Gladiator might end up looking tacky if you go overboard, but a well-planned design enhances the vehicle's rugged aesthetics. The Gladiator's stock form already has little easter eggs for customers to find and post on Jeep Philippines' social media channels.
Accessorize
Seemingly minor touches like fender lifts, front air deflectors, and skid plates can already make your Gladiator stand out. Not surprising since it's the only customizable trail-rated pickup in the market. If you want to take this route, Jeep Philippines has exclusive custom sets for the Gladiator. The Basic version comprises running boards, 7-inch LED headlamps and 4-inch LED DRL fog lamp, all at a suggested retail price of Php 162,000.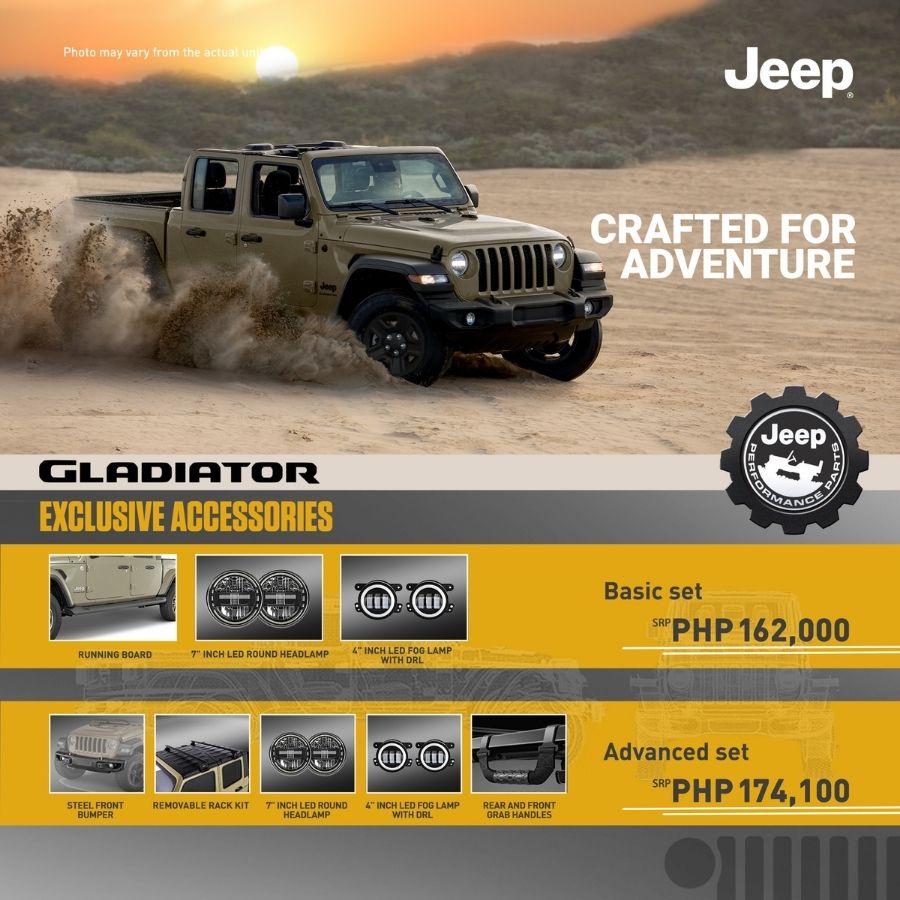 Jeep Philippines is offering two ways to customize your Gladiator
Meanwhile, the Advanced set offers all these plus front and rear grab handles, a steel front bumper, and a removable rack kit. The premium is pricier at a suggested Php 174,000, but we reckon they'll go a long way towards letting you enjoy an adventure-filled weekend on the trails.
Jeep Philippines recommends that these accessories be purchased and installed at authorized dealerships, as they come with a one-year warranty. The sets are available at Jeep outlets in Greenhills, Clark, Pampanga, Alabang, and Cebu, so book an appointment with the dealer nearest you.   

We've got stories to spruce up and enhance your industry knowledge at Philkotse.com.
Know more about Jeep Gladiator 2021

The all-new Jeep Gladiator is the company's first pickup truck offering after over three decades of focusing on their acclaimed SUVs. The Wrangler-based vehicle is built not only for city or rural driving, but it can deliver an impressive performance on extremely rough terrains. Also, with its truck capabilities, it can carry up to 720kg of load in its bed or tow 3,470kg making it an ideal utility vehicle. In the Philippines, it is offered in two variants: the Jeep Gladiator Sport and the Jeep Gladiator Rubicon. It comes in Bright White, Black, Granite Crystal Metallic, Sting-Gray, Billet Silver Metallic, Punk n' Metallic, Firecracker Red, Hydro Blue, Gator, and Gobi.

Joseph Paolo Estabillo
Author
Recent posts