A stepping stone for the brand towards carbon neutrality. 
Volkswagen announces that it will be using recycled materials to produce the interiors of its ID. series of electric vehicles. One cited example for the said materials will be plastic Polyethylene terephthalate (PET) bottles.  
The ALL GREEN ID. Buzz - Eco-friendly materials
The brand will be sourcing the said PET bottles from those found floating in the ocean. As such, this is their way to pitch in to preserve marine life and our seas in general. According to the United Nations Educational, Scientific and Cultural Organization or UNESCO, 80 percent of all marine pollution comprises plastic waste.  
The plastic from the said bottles, for example, will be used for much of the Volkswagen ID. Buzz's interior. These bottles will be processed into PET granules and will then be used to make specific VW materials like Seaqual yarn and ArtVelours Eco.  
This recycling measure likewise helps the brand in reducing its emissions as well. Seaqual Yarn that's made from recycled marine debris can help reduce CO2 emissions from production by 32 percent as compared to using conventional materials.  
Plastic PET granules will be processed from plastic bottles collected from the ocean
This decision to use recycled materials thus contributes to the brand's mission to cut carbon emissions by 40 percent by 2030, and a climate-neutral balance by 2050.
While the brand will be turning to recycled materials for car production, it also assures that the aforementioned recycled materials will have comparable durability to conventional ones. Furthermore, these will also look and feel the same as the conventionally made interior pieces as well.  
Other bits of the ID. Buzz will likewise be made more environment-friendly. In fact, VW will replace the chrome finish with a liquid paint that uses a bio-based binder. The said paint will then be used for the vehicle's door trims, instrument panel, and steering wheel.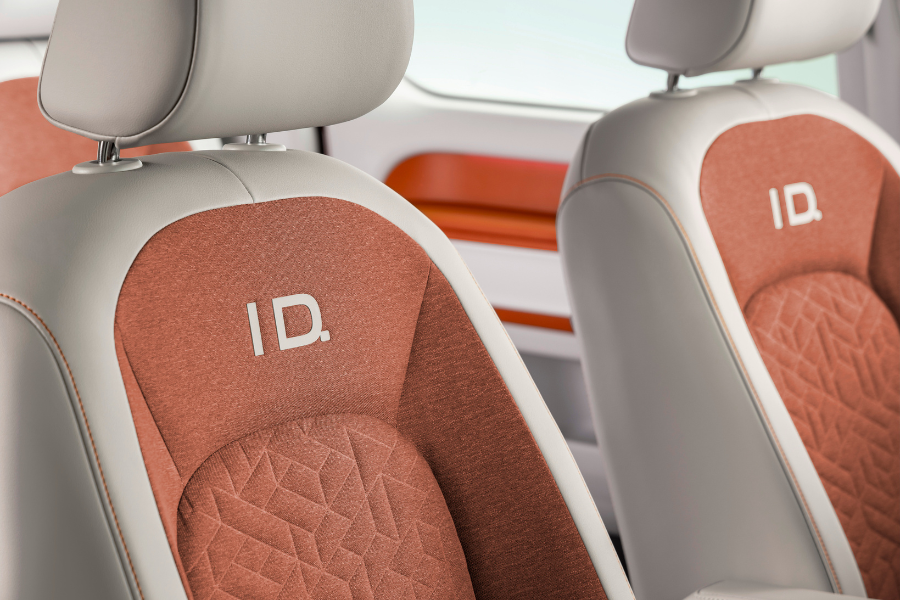 The seats made from recycled materials will be as durable as the ones made from conventional materials
As mentioned above, these recycled materials will be used on other ID. vehicles. So besides the ID. Buzz, the innovative use of recycled PET bottles will find its way to the ID.3 electric-powered subcompact hatchback, the ID.4 and ID.5 compact crossovers, and the upcoming ID.7 sedan.  
For more car news and automotive industry updates, keep it here on Philkotse. 

Know more about Volkswagen

Volkswagen 2023 Philippines' current lineup includes a range of sedans to crossovers. More popular models in the market right now are the VW Santana, Lavida, Lamando, Tiguan, and the recently launched Santana GTS. Find the latest Volkswagen Philippines updates and special promotions on Philkotse.com. Learn more about your preferred car brands and models through in-depth reviews, prices, and specifications that you can find here. find out which will best suit your lifestyle.

Cesar G.B. Miguel
Author