It's a bold move from Vietnam's homegrown car brand.
Vietnam isn't quite in the league of the world's biggest economies just yet, but it's one of the most dynamic in the East Asia region. Proof of this is having its own motoring brand, VinFast, established by the country's first billionaire Pham Nhat Vuong in 2017 as part of his VinGroup conglomerate. Formerly known as GM Vietnam, VinFast leverages technologies from its partners including BMW and Bosch, producing sedans and hatchbacks using locally-manufactured components.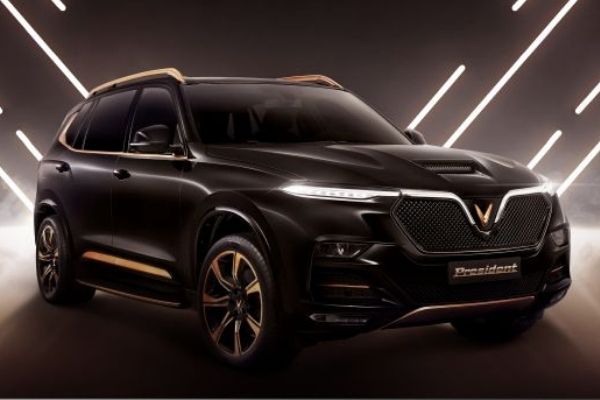 The gold trim on the VinFast President SUV could use a little toning down, but otherwise, it doesn't look bad
Now, Vietnam's national auto champion is entering luxury territory with its latest offering, an SUV called the President. It's a rather grand title because VinFast has some lofty aspirations for this machine. The vehicle builds on the LUX SA2.0 SUV, one of the carmaker's first models which itself was based on the BMW X5. But while the carmaker's initial efforts were towards efficiency and practicality, the President is much more indulgent in terms of both opulence and performance. Check out the walkaround video below to see the VinFast President in the metal. Of note, the video is in Vietnamese.
Vinfast President - Luxury SUV
>>> Related: Vietnamese-made SUV & Sedan - VinFast LUX SA2.0 & LUX A2.0 debut in Paris
For starters, it brings a 6.2L gasoline V8 to the game, rumored to be sourced from GM, and packing 420 hp and 624 Nm of torque. This is linked to an 8-speed automatic transmission delivering power to all four wheels. VinFast claims that the President takes only 6.8 seconds to reach 100 km/h from a standstill, with a top speed of almost 300 km/h.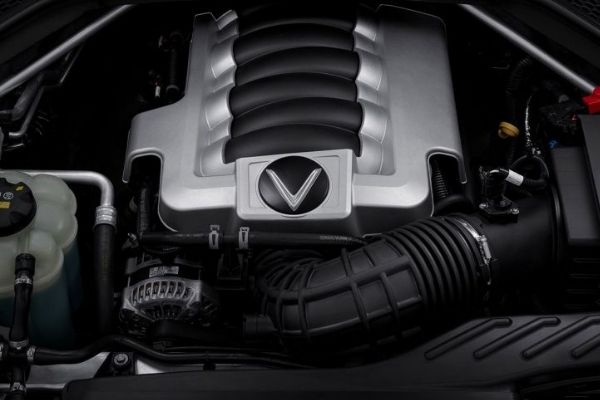 Its 6.2L gasoline engine kicks up 420 hp and 624 Nm of torque
In terms of looks, the President has quite the athletic exterior, although the fascia is a little busy. The sculpted hood features a large vent near the leading edge, sitting atop a diamond mesh grille bordered on either side by ultra-slim LED daytime running lights, with the actual headlamps positioned a little lower toward the bumper. The high beltline rises towards the C-pillar in a nod to the President's Teutonic roots and underpinnings, while the LED tail lamps are fairly reminiscent of those on a certain American pony car. Customers can choose between gold, copper bronze, gunmetal, or silver as colors for the exterior accents.
Space was a primary consideration when the cabin was designed
The President's 3,133 mm wheelbase will likely yield a spacious cabin, complemented by wide-opening doors to aid in ingress and egress. Seats are wrapped in premium Nappa leather, and in the interior trim will be rendered in Italian wood veneer, with distinct grains ensuring that each President is exclusive from its brethren.
A 7-inch multi-function display serves as the instrument panel, while onboard entertainment is via a tablet-type 12.3-inch touchscreen patched to a premium 13-speaker array.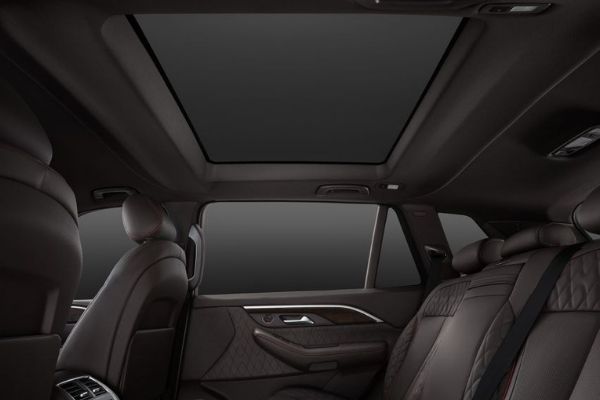 The roof' comes with UV-resistant glass panels
Despite its powerful engine, the President will be reined in by a host of safety technologies to keep it composed on the road, including anti-lock brakes with electronic brakeforce, brake assist, traction control, hill start assist, and rollover-mitigation. A 360-degree camera system and blind-spot warning places eyes on all sides of the vehicle, while occupants are protected by six airbags.
The President will be priced at VND 4.6 billion (Php 9,644,107) and will be limited to 500 units (all exclusive to the Vietnamese market), with VinFast offering a special price of VND 3.8 billion (Php 7,967,107) to the first 100 customers.
At a time when car sales in Vietnam fell by 30 percent in the first half of 2020, the carmaker is embarking on a bold venture with the President. Only time will tell if the gamble pays off.
Visit Philkotse.com to get more scoops on the latest models.   

Joseph Paolo Estabillo
Author