The tariffs range from Php 78,400 to Php 123,200.
Toyota Motor Philippines (TMP) announced that it will be implementing provisional cash deposits on certain models within its lineup beginning March 1, 2021. This is in compliance with Department Administrative Order (DAO) No. 20-11 issued by the DTI, mandating a provisional safeguard duty on imported vehicles.
According to the public advisory issued by TMP, all authorized Toyota dealers nationwide will collect a conditional cash deposit for purchases of brand new units of the following Toyota passenger cars, which amounts to Php 78,400:
86
Wigo
Avanza
Camry G
Rush
Corolla
Corolla Cross
Yaris
FJ Cruiser
Fortuner V and G variants
RAV4
Meanwhile, the following Toyota models will require a conditional cash deposit of Php 123,200:
>>> Related: Isuzu PH announces additional deposit due to safeguard duty tariff
The cash deposits are inclusive of VAT, on top of the vehicle's suggested retail price (SRP).
DAO 20-11 was issued in light of a petition by the Philippine Metalworkers Alliance (PMA) to protect local car assembly, which has reportedly suffered from the influx of imported vehicles in the Philippine market.
The Bureau of Customs (BoC) has released a Customs Memorandum Order imposing this on all new vehicle shipments starting February.
The provisional tariffs will be in place for 200 days pending the outcome of an investigation by the Tariff Commission. If the probe yields no substantive proof that the tariffs are necessary, the cash deposits shall be returned to customers. Otherwise, the deposit will be treated as additional payment for the vehicle.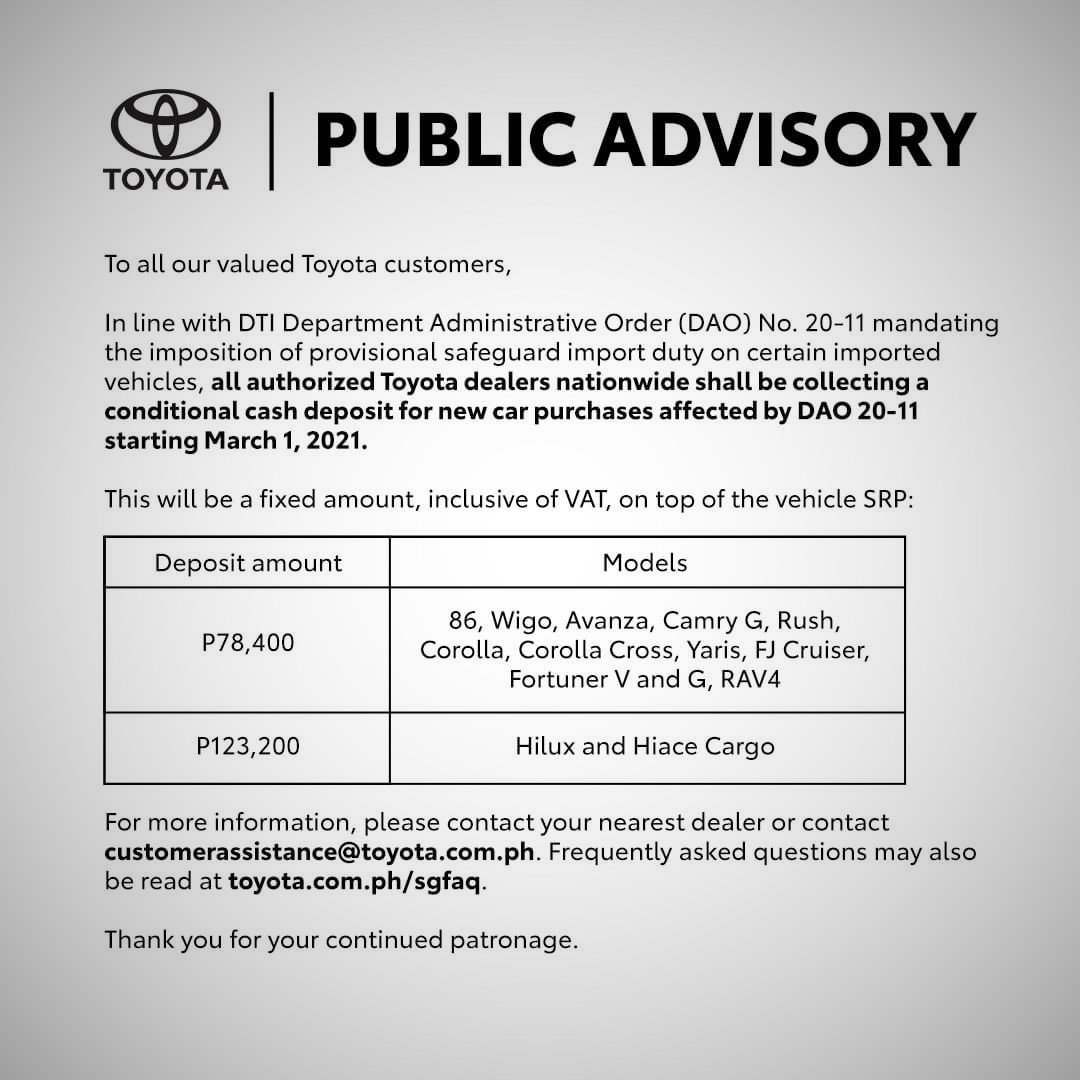 Select models will require a conditional cash deposit
>>> Related: DTI amends list of countries exempt from safeguard tariffs
According to Trade Secretary Ramon Lopez, the safeguard duties will prevent local car manufacturers from leaving the country. The closure of a number of auto assembly plants locally has made an impact on local jobs and the Philippine economy.
The DTI cites figures of passenger car imports increased by an average of 35 percent between 2014 and 2018. Furthermore, imports exceeded locally-produced cars from 295 percent in 2014 to 349 percent in 2018.
Meanwhile, imported light commercial vehicles increased from 17,273 units in 2014 to 51,969 units in 2018.
More industry updates at Philkotse.com.
Know more about Toyota

<p>Toyota leads the local automobile industry, distributed by Toyota Motor Philippines. It has a staggering total of 73 dealerships all over the country. It has 27 dealerships in Luzon, 15 in the Visayas, 11 in Mindanao, and 20 in Metro Manila, including Lexus Manila, Inc. for its service centers and sales distribution. TMP has the most extensive car lineup in the country, with its current range consisting of 20 vehicles in total. See the latest price list of Toyota vehicles in the Philippines here.</p>

Joseph Paolo Estabillo
Author