Take a sneak peek at the alleged Hyundai Elantra EV
This is the very first time we've heard about and Hyundai Elantra EV!
The high performance Hyundai Veloster N's debut at this year's Detroit Auto Show was quite a sweet surprise to car enthusiasts worldwide. And now, the Korean carmaker has proved that besides high-powered cars, they are still working hard on building green vehicles with an alleged electric version of the popular Elantra. This Hyundai Elantra EV (electric vehicle) was spied while testing on a snowy lake bed in Canada.
Hyundai Elantra will probably be the new-generation Ioniq Electric from Hyundai
As can be seen from the quick shots and according to spy photographers, although wearing lots of concealment, the spied Elantra still reveals some hints of a future EV, not to mention its quiet and smooth operation during the test. Firstly, the camouflaged Elantra was spotted with the same set of wheels found in other Hyundai EVs. Secondly, if taking a closer look at the lower right fender, you can notice a hidden exhaust which could simply be a decoy but also possibly indicates a plug-in hybrid engine to be equipped.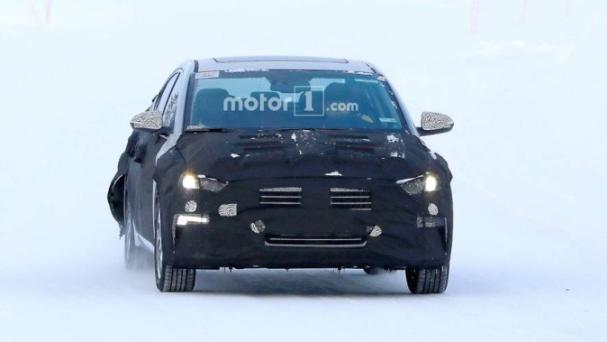 The supposed Elantra EV seems to receive redesigned front fascia with a more distinctive look
The spy shots not only unveils some EV-inspired details but also suggest a number of new styling cues that probably come as standard across the Elantra lineup. Those are the redesigned front fascia with a more distinctive look and a slightly revised tail lamps.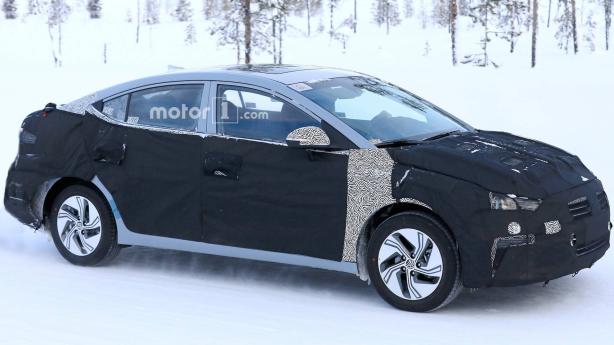 The spied vehicle features the same set of wheels found in other Hyundai EVs
Since this is the very first time sneak peek of an alleged Hyundai Elantra EV has surfaced, there is not much of information to go on at the moment. However, if it's built resembling the 118 hp Ioniq which has been claimed to reach 119 km range, the electric Elantra should go toe-to-toe with competitors such as the Tesla Model 3, the Chevrolet Bolt, and the new Nissan Leaf.
>>> You might like to read: 2018 Nissan Leaf on display at Singapore Motor Show
Currently, the regular Elantra still features a gasoline engine option. While the lower-end model delivers 128 hp, this figure for the top-of-the-line Sport variant is 201 hp.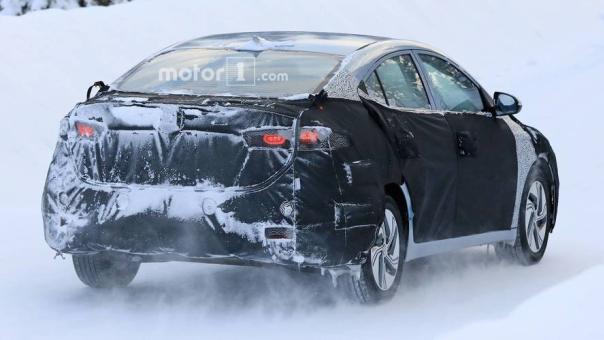 The heavily-camouflaged Elantra is said to operat very smoothly
>>> Have a deeper insight into the Hyundai Elantra 2018 through our full-scale review on Philkotse.com