Subaru Forester 2019 tail lights teased ahead of New York launch
The next-gen Subaru Forester 2019 will make its public debut on March 28.
Recently, Subaru has made an announcement that the next-gen Subaru Forester 2019 will soon be launched at the forthcoming New York Motor Show 2018. In detail, the car will be revealed on March 28 and released to the market as a 2019 model year. Besides, the car manufacturer also disclosed the future Subaru Forester's rear end via a teaser photo.
This statement of Subaru comes as a pretty surprise because the company's plans for a new Forest had been kept secret for so long. In fact, the Forester has spawn over six years of production since its first launch in 2012. Now it's time to give the model a significant revision.
According to the teaser shot, the fresh tail lights now have a more perpendicular design (like the Levorg's), as put in a comparison with the more rectangular and taller units of the on-market models. Like all models in the Subaru current range, the Forester 2019 also features a more distinctive C-shaped element.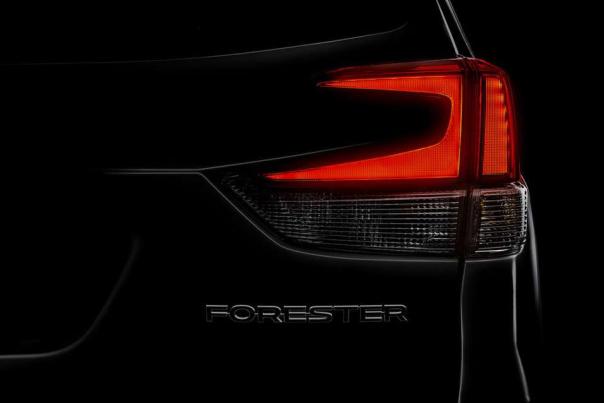 The fresh tail lights now have a more perpendicular design (like the Levorg's)
>>> Read also: Subaru Forester 2018 & Subaru EyeSight tech to be launched in the Philippines next year
No word on the engine but it is expected that the car will be powered by the iconic boxer engine of the Japanese carmaker and come equipped with Subaru symmetrical AWD system. Still, it remains unclear whether the new Forester will be armed with the 2.0L turbocharged flat four or the 2.0 L naturally aspirated flat four of the current model.
Speaking of the SUV design, the Subaru Forester 2019 is predicted to be inspired by the Viziv Future Concept introduced at the Tokyo Motor Show 2015.  It would probably be a toned down variant of the concept and also have some similarities with the out-going Subaru models like the Outback, XV and Impreza.
In the Philippines, the Subaru Forester 2018 is priced at P2,048,000 for the top-spec variant, while the base model can be had at P1,548,000. The 2018 price range has experienced an increase by up to P100,000 due to the new excise taxes.
>>> Click here to catch more newest and coolest car concepts worldwide