Too ugly to live, too weird to die.
Most are no doubt familiar with the Porsche Cayenne. It is the German sports car maker's first ever crossover SUV, and it is one of its top-selling models. And now in 2022, the nameplate is celebrating its 20th anniversary. But did you know that this high-performance crossover was supposed to have a top-down model?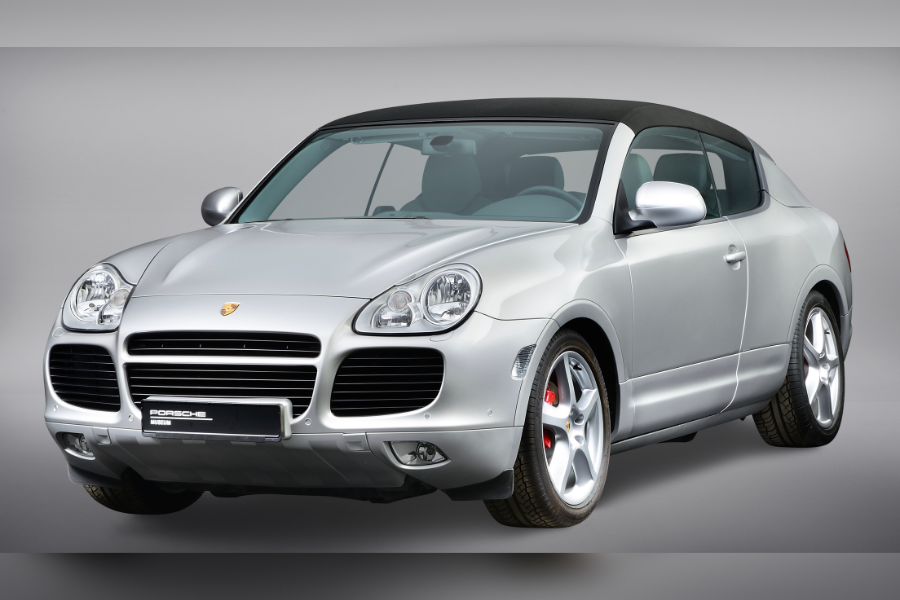 The Porsche Cayenne Convertible Targa-top
From the get-go, Porsche was planning on building a Cayenne two-door model with a top-down coupe-like design based on the first-generation Cayenne. The rear end itself would also look different to accommodate the targa top. This was necessary as it was supposed to fold down and take a portion of the vehicle's rear cargo section. Moreover, the top would have had a similar mechanism to the Z-pattern folding type system on the Porsche 911 Targa.
The Stuttgart-based brand also built a rolling shell prototype for this concept. It even had interior bits. Officially, this was designated as a Package Function Model or PFM. The aforementioned roof mechanism never got past the computer-based design, however. And as a PFM, none of its on-board systems ever worked. It didn't even get an engine.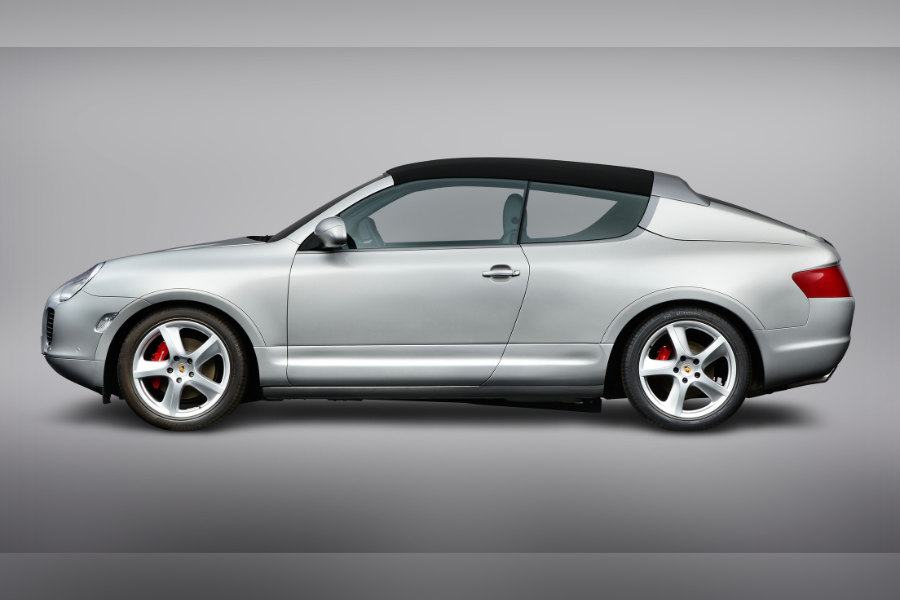 The PFM with the top up
Going back to its rear section, this PFM bore two completely different designs. These two different rear sections were literally tacked on the right and left sides of the same rolling shell's rear end. This was because the engineers at Porsche at the time didn't exactly agree on which of these were going on the final product.
One had a sleeker pillar, while the other had deeper lines for its license plate section. One also had its taillights positioned a bit lower than the other. Aside from that, other differences between the regular first-gen Cayenne and the targa-top variant is the latter's massive doors. Specifically, these were a staggering 200mm longer than the regular model's doors.  Curiously enough, the top-down prototype's interior also featured a smaller touchscreen.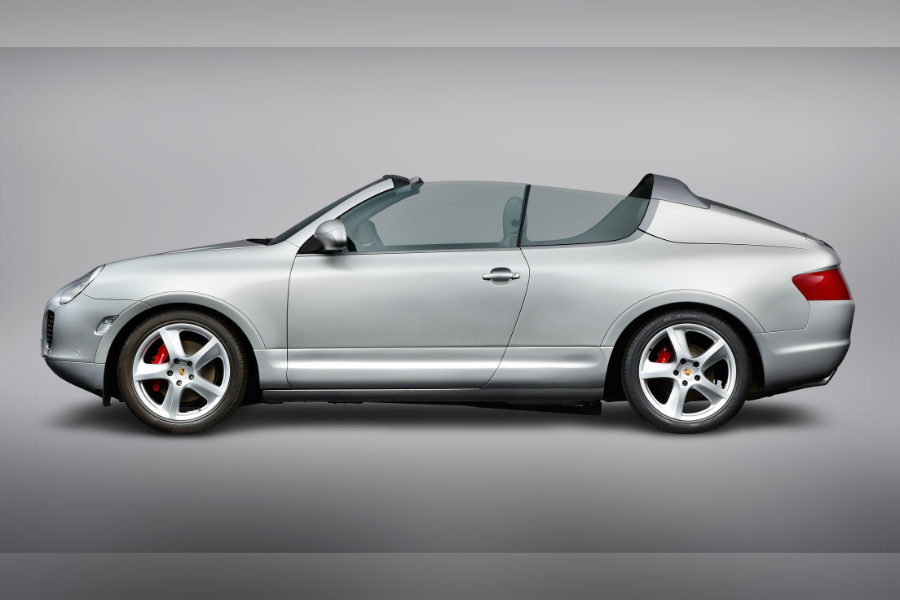 With the top down
The decision to develop a top-down convertible Cayenne took place way back in 2002, that's 20 years ago. So again, it marks the 20th anniversary of this curious targa-top Cayenne as well as the Porsche Cayenne itself.
Unfortunately, (or fortunately) the Porsche management at the time decided not to push through with this design as it was described as "having very strange shapes." It was, after all, a heavy-set crossover SUV, and designing it to be pretty and sleek was an outright challenging prospect.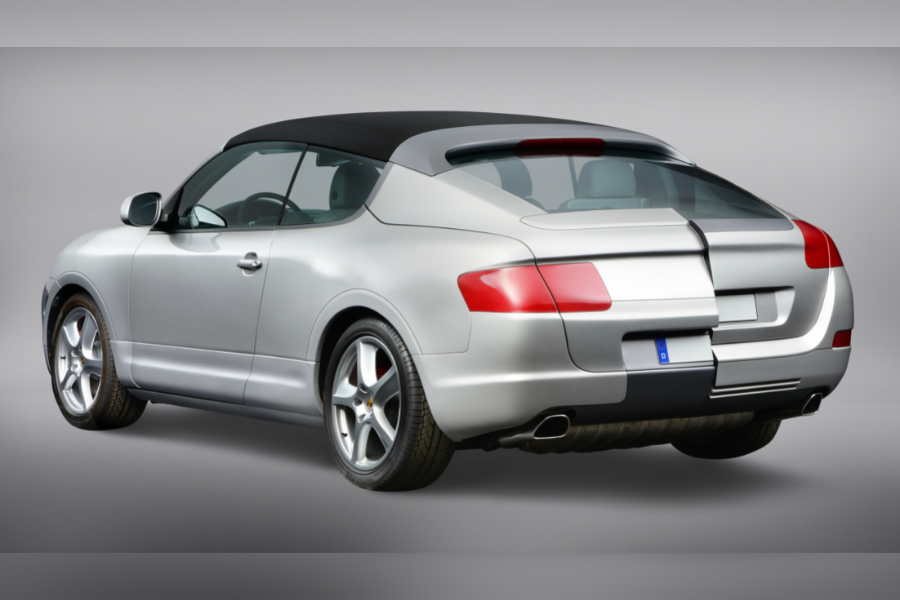 Check out that nutty-looking rear end
Then again, the PFM rolling shell of the Porsche Cayenne still survives to this very day, and it is kept in storage at the Porsche Museum in Stuttgart, Germany.
So what do you think? Would this interesting Cayenne have changed how this model was received?
For more automotive industry news, keep it here on the Philippine's largest automotive portal.

Know more about Porsche Cayenne 2022

The Porsche Cayenne 2022 is a luxury midsize crossover that has been in the German automaker's lineup since 2002. It is offered in the Philippines in six variants, while the pricing is available upon request. Under the hood, Porsche Philippines is offering three engine options. First is the 2.9-liter V6 Biturbo good for 434 horsepower and 550 Nm of torque, while the second option is a 3.0-liter turbocharged V6 that makes 336 horsepower and 450 Nm of torque. Lastly, a 4.0-liter twin-turbo V8 is offered, which delivers maximum power of 631 horsepower and 850 Nm of torque. Both the 3.0-liter V6 and 4.0-liter V8 engines can be paired to a 100 kW electric motor for the hybrid variants. All of which are connected to an 8-speed automatic transmission.
Dimensions-wise, the Cayenne measures 4,918 mm long, 1,997 mm wide, and 1,696 mm high. Meanwhile, the Coupe version is 4,931 mm in length, 1,997 mm in width, and 1,676 mm in height. In the local market, the German luxury midsize crossover competes against the likes of the BMW X5, Audi Q8, and Mercedes-Benz GLE-Class.
Price available upon request
Explore

Cesar G.B. Miguel
Author
Recent posts