This is just the latest in a string of Nissan's engagements with the community.
The devastation brought about by typhoons Rolly and Ulysses has compounded problems for a country that's still battling the COVID-19 pandemic. Fortunately, there's no shortage of those willing to extend a helping hand, among them Nissan Philippines.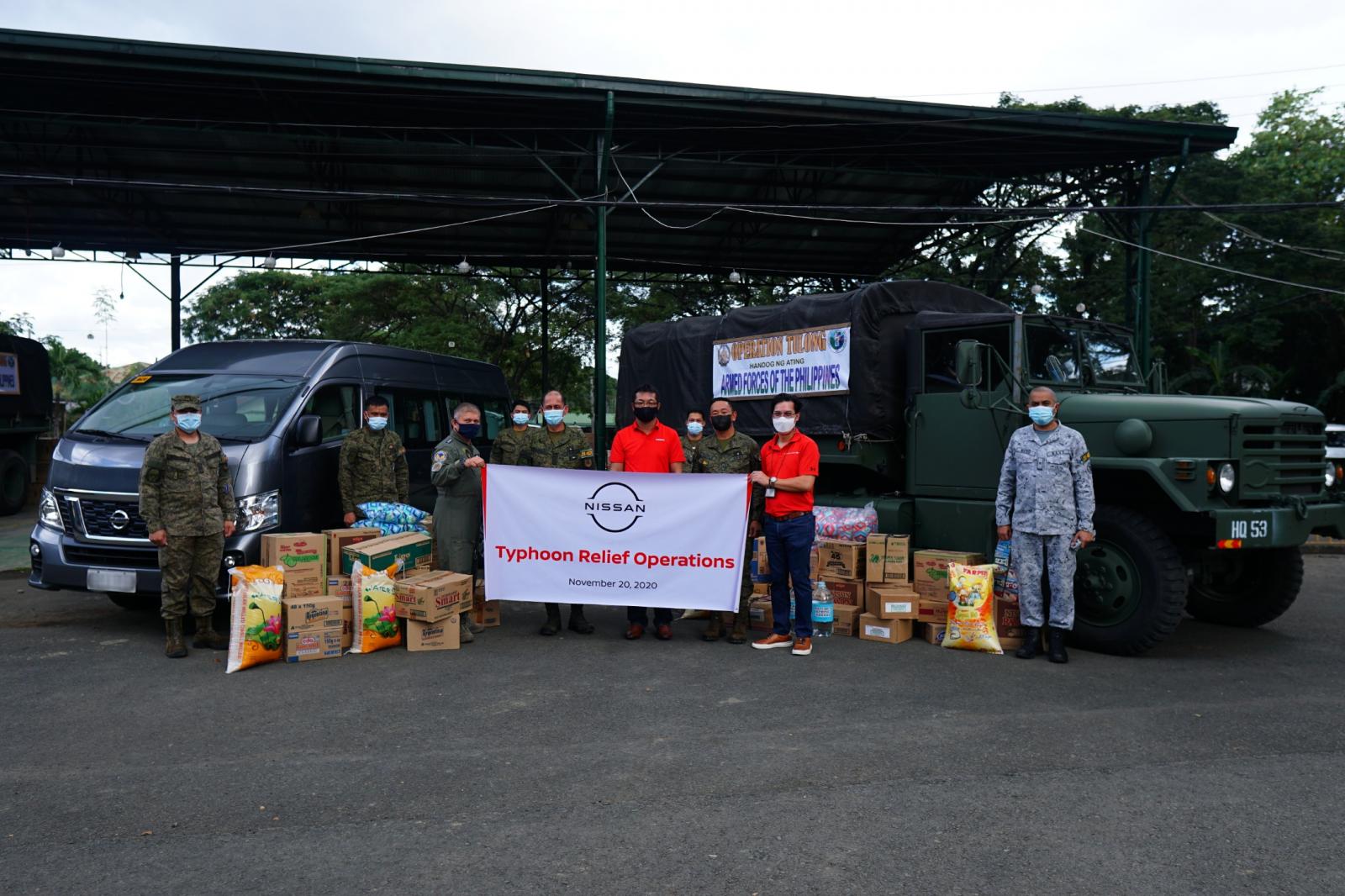 Nissan Philippines President and COO Atsushi Najima (red, center) leads the turnover of donations
The carmaker recently donated relief goods that will benefit some 800 families belonging to communities in the Bicol and Cagayan regions, two provinces that were the hardest-hit by the typhoons. These goods were turned over to the Armed Forces of the Philippines' Joint Task Force-National Capital Region, which is conducting relief operations in the said areas.
"Reaching out to communities in need, especially in times of calamity, is part of Nissan's commitment to support communities and enrich people's lives. We hope our contribution brings hope and respite to families in Bicol and Cagayan, as well as inspire others to do the same," said Atsushi Najima, Nissan Philippines President and Managing Director.
>>> Related: Nissan PH shows support for RITM frontliners by donating 1,100 meals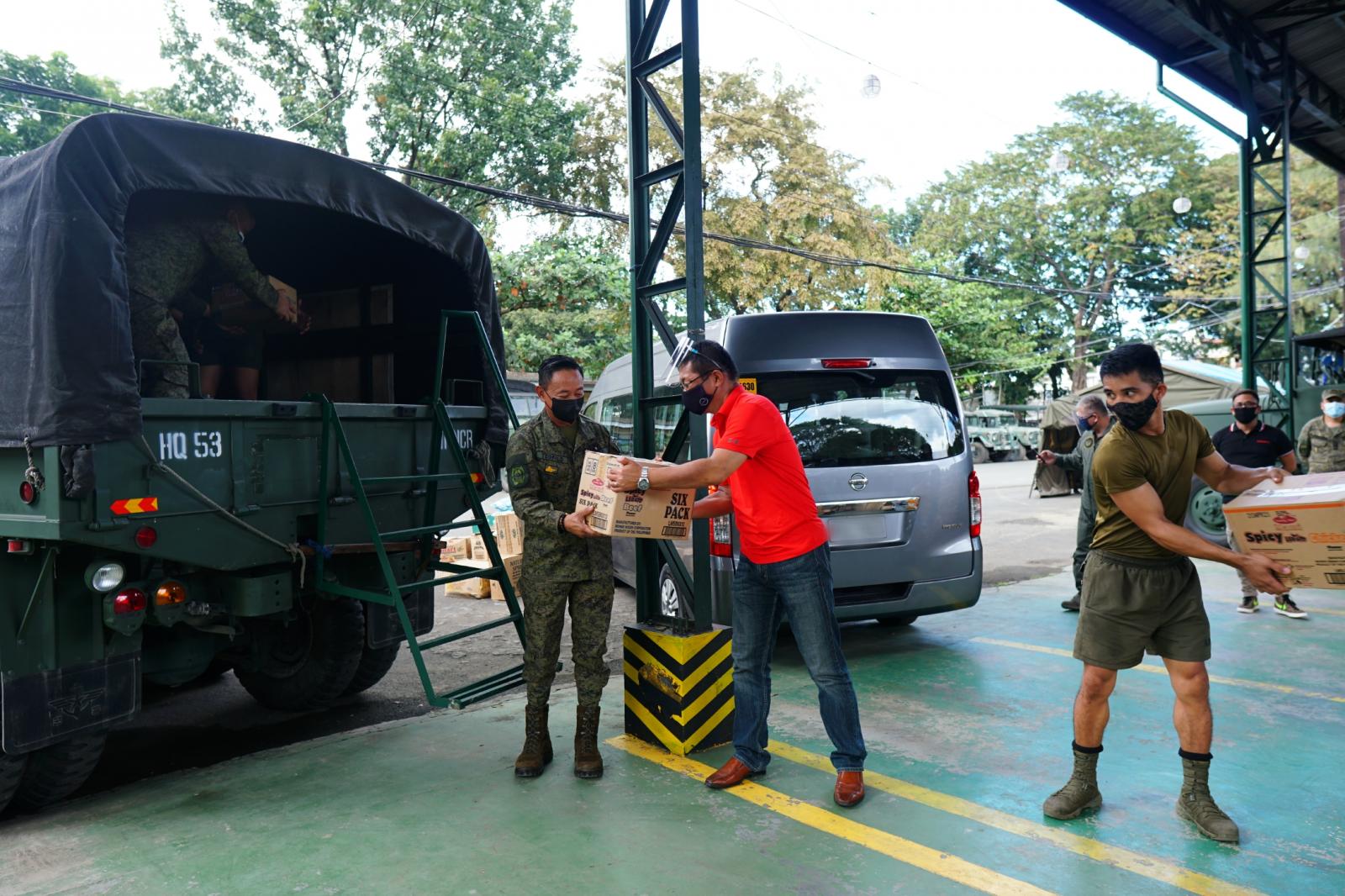 The relief goods will be distributed to some 800 families affected by the recent typhoons
This isn't the first time that Nissan has contributed to the country's disaster efforts. Earlier this year, the company handed over three units of its Navara midsize pickup to the Philippine Red Cross, in response to the eruption of Taal Volcano. Forty more units were donated through the Lipa City local government to its barangays, to further enhance pandemic response in the area.
Medical frontliners working to fight the COVID-19 pandemic in various hospitals within Metro Manila also benefited from meal donations from Nissan, among them some 1,100 meals delivered to the staff of the Research Institute for Tropical Medicine (RITM).
The carmaker has also recently joined forces with the DOT on the Safe Trips campaign, which aims to promote safe and responsible land travel to various tourist spots in the Philippines. Under the project, educational and promotional content covering responsible travels will be produced and distributed through social media channels. 
See what your favorite carmakers are up to at Philkotse.com.
Know more about Nissan

Looking for a convenient way to browse Nissan automobiles online? Philkotse.com offers the widest selection of available Nissan cars in the Philippines today. You may also enjoy exciting promos and deals, as well as get the most updated Nissan price list in the Philippines today. Also, know the latest news, reviews, and information about your favorite Nissan vehicle.

Joseph Paolo Estabillo
Author
Joseph has been a member of various car clubs since he got his driver's license in 2004 – old enough to remember riding in taxicabs with analog meters, but his fascination with cars goes way back. After nearly two decades of working in broadcast media, he shifted gears by coming on board as Philkotse's first Filipino member and staff writer in 2017.
Apart from his role in Philkotse, Joseph has written episodes for Drive, which has been airing on CNN Philippines for five seasons running. He has also delivered content for various car dealerships based in the U.S., spanning multiple brands such as Alfa Romeo, Maserati, Jeep, Dodge, among others.
Keeping his hopes high and his revs low, he dreams about owning a Kei car when he retires. Hates slow parkers.