Let's us have a look at what the next-gen Toyota Crown has to offer.
Those of us old enough to call to mind the Ford Edsel's commercial failure will cast our mind back a Toyota's stately vehicle -  the Crown as a top pick for folks back at that time. These cool vehicles were for people that desired for showing the public they've owned the sedan yet still keep a low profile. Perhaps this thing might just alter because the Japanese automotive giant Toyota is ready to unveil its all-new flagship sedan - Toyota Crown at Tokyo 2017.
NEW Toyota Crown 2017
Being underpinned by the automaker's New Global Architecture, the stately vehicle is expected to be sleeker and sharper in terms of handling. Plus, the new Toyota Crown impresses with its high level of ride comfort. Comfortable and fun ride is still a main attribute.
According to latest car news, while no information has been revealed about engines ahead of its show debut, the popular car manufacturer did state that connected maneuverability will be at the heart of the 15th-gen Crown. The high-end sedan, which was first seen passing Japan roads in 1950s, leaps forward into the future with many tweaks including the "Data Communication Modules" (DCM) to relieve gridlock while minimizing the risk of potentially dangerous driving situations, by informing its drivers and the rest of the road network about congested areas.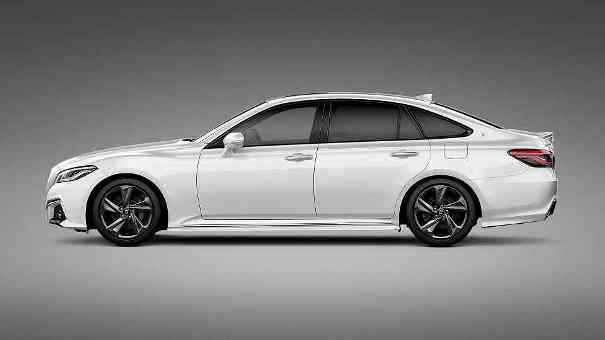 Being underpinned by the automaker's New Global Architecture, the stately vehicle is expected to be sleeker and lighter in terms of handling                 
In detail, owing large data, the Toyota Crown will share the information with other road users via the new piece of kit. Driver assist features and a host of safety features will be provided as well. With the cutting-edge DCM installed, the newest Crown will help drivers avoid driving accidents that are always lurking every time they get behind the wheel.
Catch the all-new Toyota Crown and a sea of cool models at the 45th Toyota Motor Show from Oct 15 - Nov 5, 2017.
>>> Click here to update with latest car releases worldwide
Know more about Toyota Crown 2023

The Toyota Crown is a successful series of midsize luxury sedans marketed in Japan and other Asian countries. The series is the legendary Japanese automaker's longest-running passenger car model and is their first vehicle to be exported in the United States. It features a premium exterior designed with gorgeous curves, sleek chrome trimmings, and razor-sharp edges. Inside, it is packed with luxurious driver and passenger amenities meant to provide a safe, convenient, and comfortable riding experience. The Toyota Crown is available in three engine options: a 2.0-liter turbocharged engine and two hybrid engine units paired with an electric motor.