If in doubt, refer to this flood gauge. 
As most are aware of, the Philippines is now in the rainy season. And with that brings the recent foul weather we've been experiencing. In many regions of the country especially Metro Manila, this of course is a recipe for floods.  
To this end, the Metropolitan Manila Development Authority (MMDA) released a flood gauge for motorists.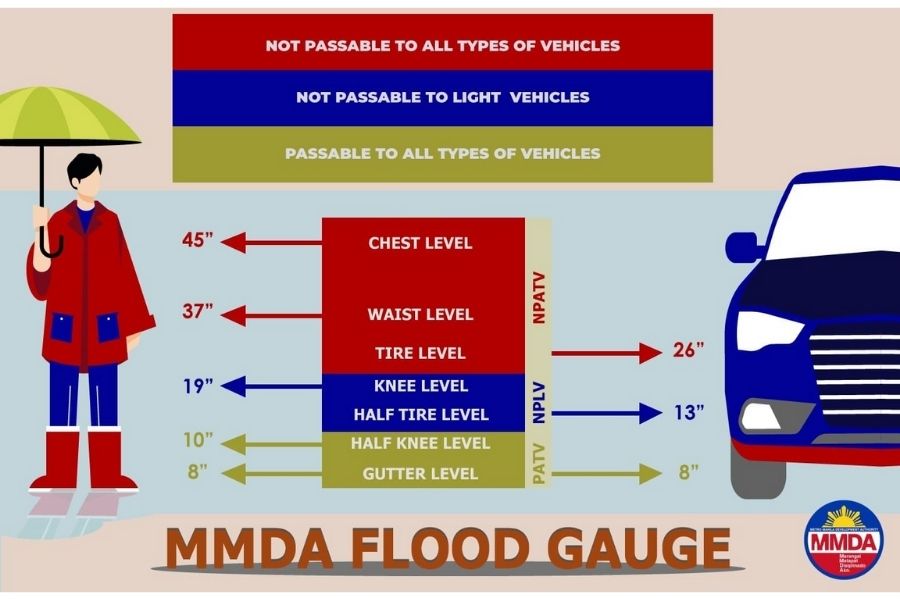 The MMDA flood gauge
According to the photo, the depth of a flooded area is separated into three categories. These categories are equated to the height of an average person, and the height of the average motor vehicle.  
Eight to 10 inches of depth (color yellow) or gutter level to half knee level are still passable by cars. At 13- to 19-inches (color blue) of water depth or knee level or half tire level, a road is classified as "not passable to light vehicles. From 26-inches to 45-inches (red color) or from the waist and chest level is not passable to all types of vehicles. 
To further stress this out, the chart offers an approximation of how deep a flood is in relation to a height of a vehicle. Different models and vehicle classes after all usually come with different ride heights and so will have differing abilities to deal with floods.  
Then again, fording and driving to floods safely and effectively can take a bit of know-how and experience to perform. This is regardless of whether you're using an SUV, sedan, pickup truck or whatever. As such, it is recommended to follow this guide because it's better to be safe than sorry. 
Also, note that Waze users can report flooded areas as road closures. Be sure to be aware of that feature on your Waze app to complement the MMDA's provided flood gauge. 
For your benefit, the following is a list of the flooded roads and areas in Metro Manila right now. Of note, these are the ones classed by the MMDA as "not passable by light vehicles as of July 28. To this end, this list might change as flood levels rise or recede.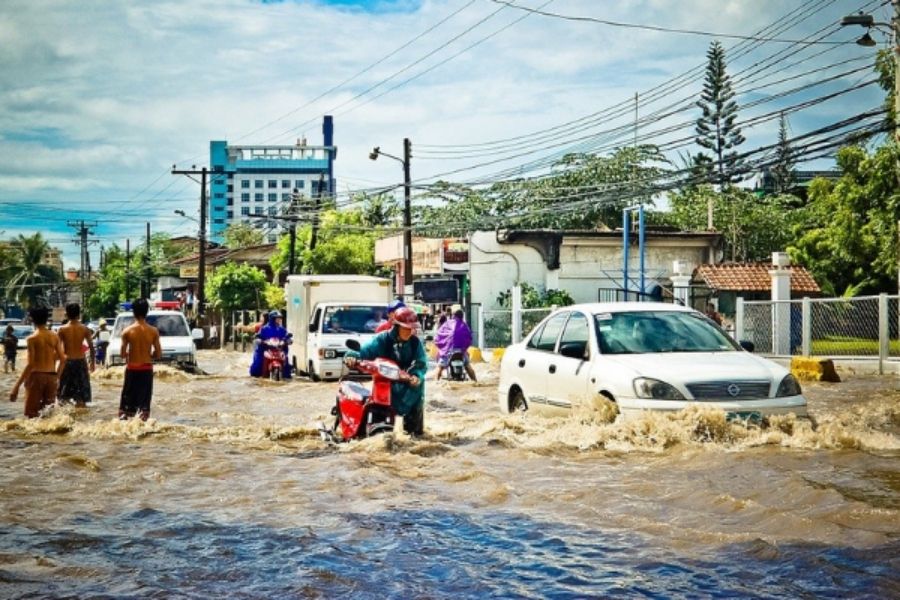 Also, pay attention to the MMDA alerts of social media channels for flood reports
City of Manila 
Vito Cruz LRT 
Quirino – Taft 
UN Taft (both directions) 
Padre Faura – Taft (both directions) 
Taft – NBI 
Malvar – Adriatico 
Pedro Gil – Taft 
Taft – PGH 
Kalaw to Roxas Blvd. 
Nakpil – Taft
Quirino - Leveriza 
Pedro Gil – Peñafrancia 
Abad Santos cor. Solis 
Rizal Ave. Tambunting 
Recto cor. Rizal Ave. 
Tayuman – Abad Santos 
Quezon City 
Quezon Ave. area 
Bgy. Tatalon – Araneta Victory 
Araneta – Quilantad 
Sto. Domingo Barangay Hall 
Bgy. Bagong Lipunan – Liberty St. 
3rd to 4th Ave. – South Road 
Maceda to Dapitan 
Aurora – Dimasalang 
Dapitan Stretch 
España Stretch 
Mandaluyong 
Haig Extension 
Bgy. Old Zaniga – J. Vicencio 
Pasay 
Bgy. 177 
Bgy. 180 
Bgy. 181 
Valenzuela 
⦁    Vicente Riyales 
For more car news, and car reviews, keep it here on Philkotse.com. Stay alert, and be safe out there folks.

Cesar G.B. Miguel
Author
Recent posts