Have your alternate routes ready if these are on your path.  
The Philippines only has two seasons: dry and wet, with the latter bringing its own set of hazards to consider. Thunderstorms such as the ones we've been experiencing for the past week or so carry the risk of flooding, especially in low-lying areas.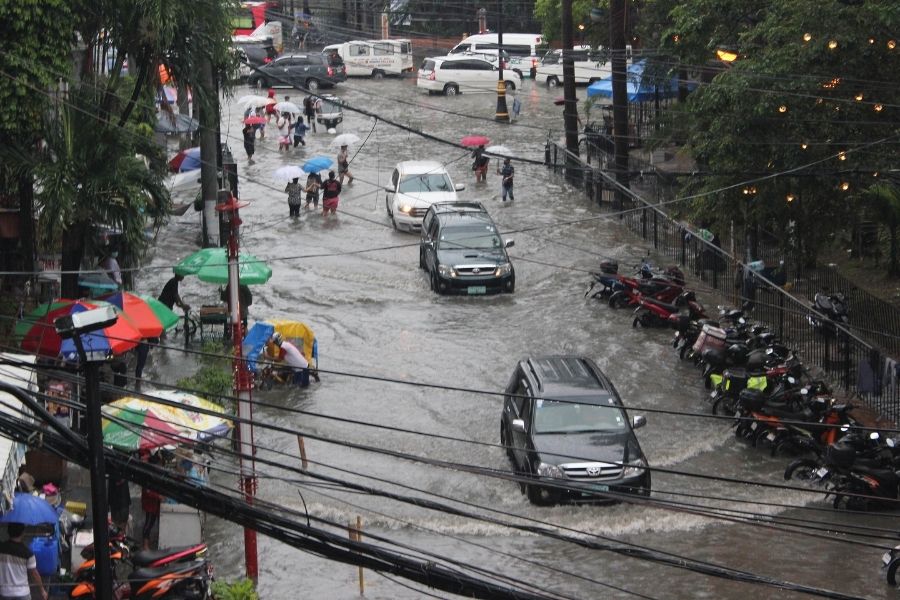 Floods are an inevitable part of the rainy season in the Philippines
Even in these pandemic times, there are instances when venturing outside is necessary, such as when it involves getting essential supplies or attending to emergencies. Adding to the challenge is having to deal with flooded streets which not only puts your car at risk, but also increases your chances of getting sick, whether it's from COVID or otherwise.       

The Metro Manila Development Authority (MMDA) has released a list of areas prone to flooding that residents and travelers around the metropolis would do well to avoid, particularly if the weather forecast warns of continuous rains for the day. 
Manila (not advisable to pass through with 6-10 inches of floods)
Vito Cruz LRT
Quirino – Taft
UN Taft (both directions)
Padre Faura – Taft (both directions)
Taft – NBI
Malvar – Adriatico
Pedro Gil – Taft
Taft – PGH
Kalaw to Roxas Blvd. 
Nakpil – Taft
Quirino - Leveriza
Pedro Gil – Peñafrancia
Abad Santos cor. Solis
Rizal Ave. Tambunting
Recto cor. Rizal Ave.
Tayuman – Abad Santos
Quezon City (unpassable for light vehicles due to waist-deep floods)

        ⦁    Quezon Ave. area
        ⦁    Bgy. Tatalon – Araneta Victory
        ⦁    Araneta – Quilantad
        ⦁    Sto. Domingo Barangay Hall
        ⦁    Bgy. Bagong Lipunan – Liberty St.
        ⦁    3rd to 4th Ave. – South Road
        ⦁    Maceda to Dapitan
        ⦁    Aurora – Dimasalang
        ⦁    Dapitan Stretch
        ⦁    España Stretch
Pasig (with gutter to knee-deep floods at 2 to 8 inches)
        ⦁    Bgy. Rosario
        ⦁    Bgy. San Joaquin
        ⦁    Bgy. Pinagbuhatan
        ⦁    Bgy. Manggahan
Mandaluyong (unpassable to light vehicles due to knee-deep flooding)
        ⦁    Haig Extension
        ⦁    Bgy. Old Zaniga – J. Vicencio
Pasay (unpassable to light vehicles due to knee-deep flooding)
        ⦁    Bgy. 177
        ⦁    Bgy. 180
        ⦁    Bgy. 181
Malabon

        ⦁    Ma. Clara – Bgy. Acacia (3 to 4 inches)
        ⦁    M.H. del Pilar – Maysilo (gutter-deep)
        ⦁    Don Basilio – Panghulo (3 to 4 inches)
        ⦁    C. Arellano Bgy. Baba (5 to 6 inches)
        ⦁    Rizal Ave. Bgy. San Agustin (2 to 3 inches)
        ⦁    F. Sevilla Market (5 to 6 inches)
Valenzuela (unpassable to light vehicles)

        ⦁    Vicente Riyales    
Parañaque
 
        ⦁    Bgy. San Isidro uts 5 San Dulo (breast level)
Las Piñas

        ⦁    Viaduct Bgy. Zapote (gutter deep)
Makati

        ⦁    Pasong Tamo Pio Del Pilar, Dela Rosa going Javier (5 to 6 inches)
        ⦁    Vito Cruz / Pasong Tamo (5 to 6 inches)
Navotas

⦁    H. Lopez Northbay from C3 going to Tondo (gutter-deep)  
You might want to consider alternate routes in lieu of passing through the areas mentioned. Better yet, if the trip can wait, it would be best to just stay safe and dry at home.   
We bring the latest traffic updates at Philkotse.com.      

Joseph Paolo Estabillo
Author
Recent posts