The most important tool that your ride will need.  
These days, few objects are as impressive and indispensable as the smartphone you're likely reading this article with. That palm-sized device on your hands is capable of more than just making calls, after all.
If you own a Mitsubishi vehicle, you probably surfed the internet on your phone to research your preferred model. It's likely that you used the built-in camera to take pictures of (and selfies with) your pride and joy as soon as you picked it up from the dealership.
On your daily drives, there's a good chance that you stream music and multimedia through your device to liven up journeys, apart from keeping the phone charged on the go.
But beyond indulging your appetite for fun, your smartphone also helps you look after your precious set of wheels. Mitsubishi Service Connect (MSC) is a mobile app that's available for both iOS and Android devices, serving as an online platform for a more complete Mitsubishi ownership experience.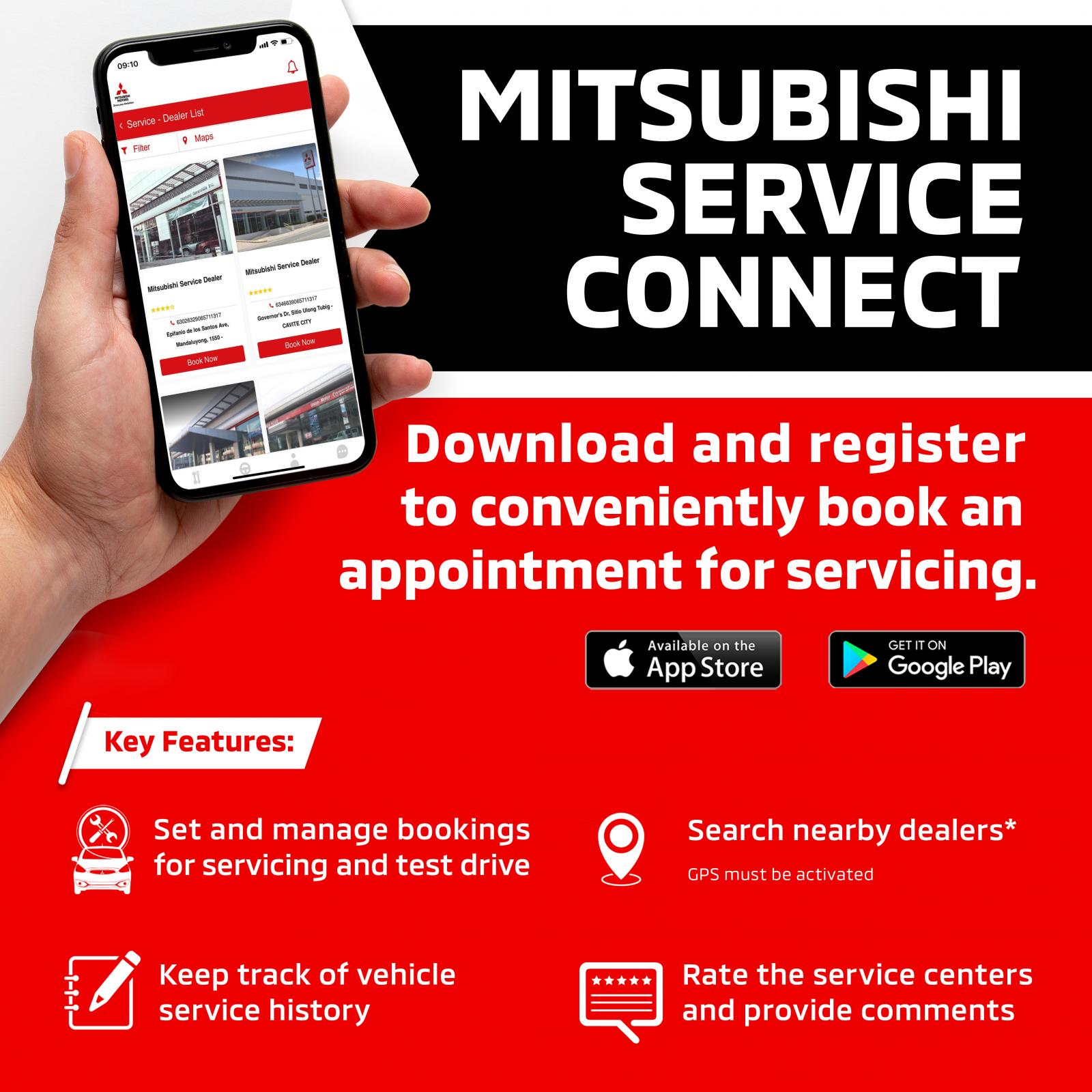 The Mitsubishi Service Connect app is available for Android and iOS devices
MSC adds convenience to scheduled vehicle servicing and maintenance. Creating a unique user profile is as easy as registering your email address or linking your Facebook account, then enter your personal information and your Mitsubishi vehicle's details.
To avail of a service appointment, just choose your preferred Mitsubishi dealership from the list or use your phone's GPS settings to search for the branch closest to your location.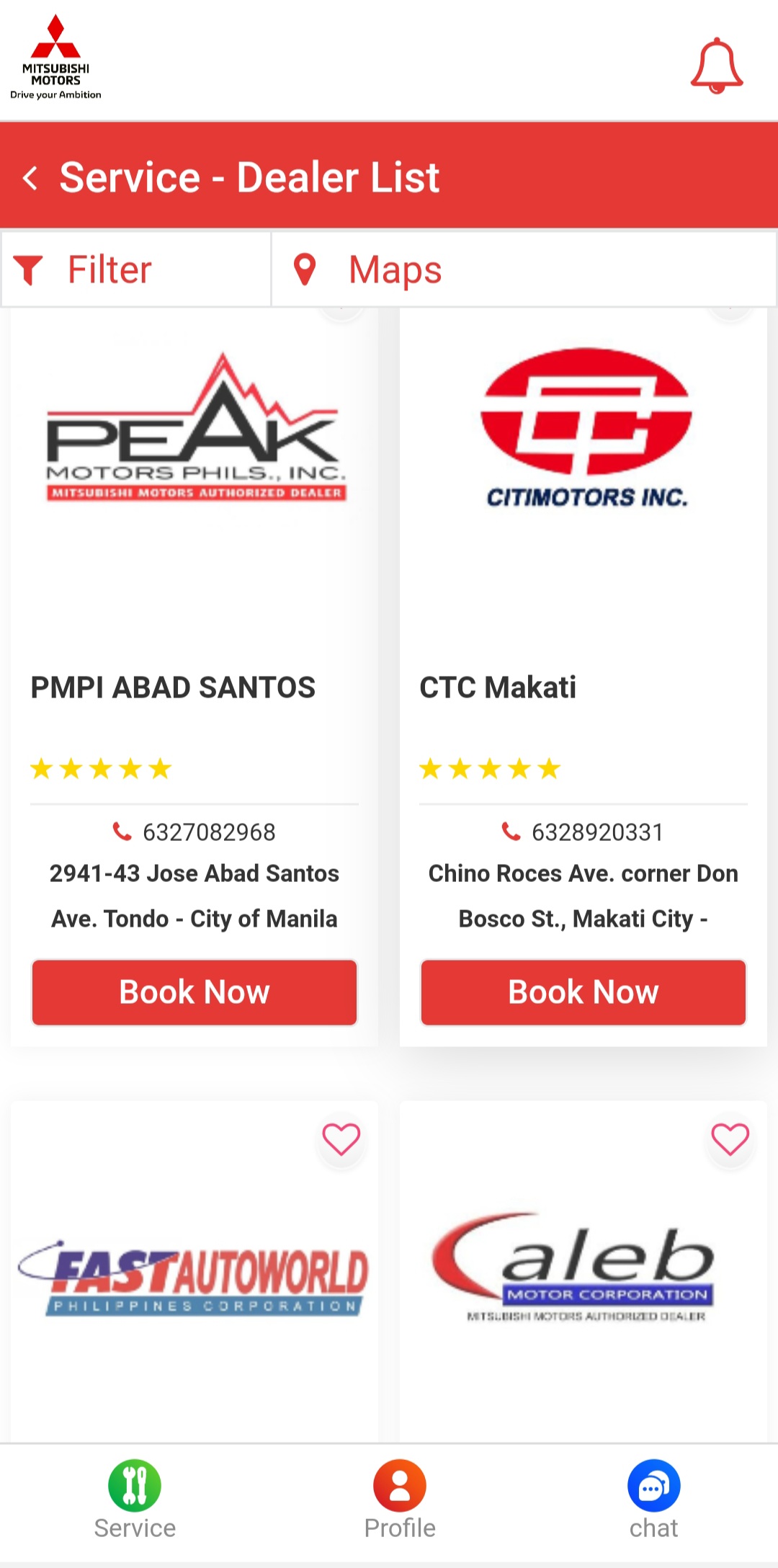 Choose from a list of 53 authorized Mitsubishi dealers nationwide
Tap "Book Now" and provide the necessary information on the vehicle to be brought in, with available services ranging from preventive maintenance service and general repair, to body and paint repair. You can specify the date, time, and even the service advisor at your selected dealership.
If you have more than one Mitsubishi in your garage, the app allows for multiple vehicles to be saved under your profile. A record of the service history will be saved for each vehicle, making it easier for you to stay updated on your Mitsubishi's upkeep and total maintenance costs. Plus, the app lets you give feedback by way of ratings and reviews for each appointment. 
>>> Related: How far can your Mitsubishi Mirage go? This one racked up over 660,000 km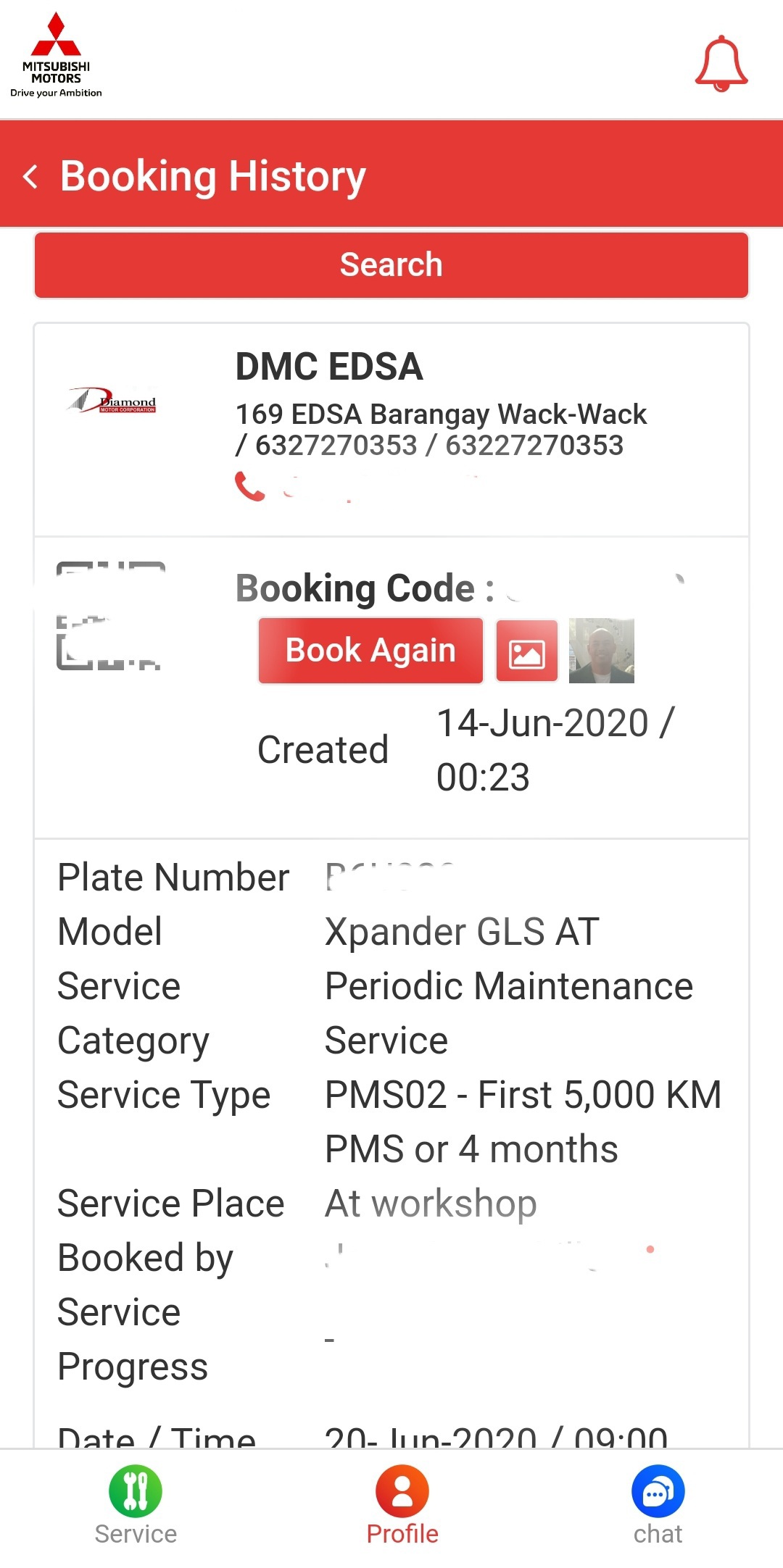 The app stores your vehicle's service records for easy monitoring and reference
>>> Related: Mitsubishi PH revamped its website to provide better online experience
"MMPC puts a high premium to the time spent by its customers to care for their cars," says Mr. Mutsuhiro Oshikiri, President and CEO of Mitsubishi Motors Philippines Corporation (MMPC).
"Time has always been a commodity of extreme value to our customers, especially now, during this pandemic. That is why we are introducing a feature-rich mobile application that makes servicing their vehicles safer, more convenient and completely transparent."
When it comes to taking care of your Mitsubishi, count your smartphone among the standard tools that it needs, with Mitsubishi Service Connect.
The latest developments on the country's top car brands are just a few taps away at Philkotse.com.
Know more about Mitsubishi

<p>The most in-demand models of Mitsubishi in the Philippines are the Mitsubishi Xpander, Mitsubishi Mirage, Mitsubishi Mirage G4, Mitsubishi Pajero, Mitsubishi Montero Sport, Mitsubishi Strada, and Mitsubishi L300. You can browse Philkotse.com to learn more about Mitsubishi models, the latest prices, and available promos, as well as the latest news, reviews, updated specs, and other information.</p>

Joseph Paolo Estabillo
Author