LTFRB fined Uber and Grab with Php 5 million fine for various violations.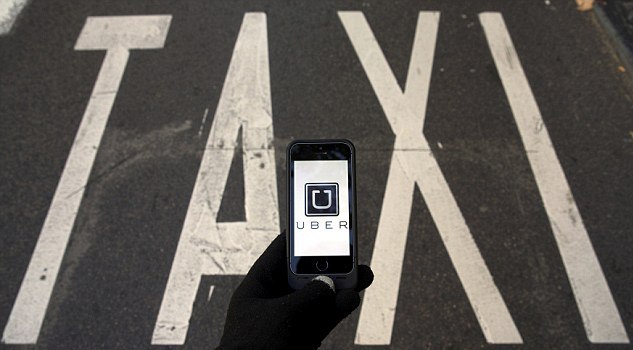 A report by CNN says Uber's accreditation is set to expire in August this year while Grab's accreditation was due to expire on July 3
>>> 
How much can you earn per month as a Grab/Uber driver in the Philippines? Philkotse has come up with an estimation.
LTFRB Chairman Martin Delgra as quoted as saying: "It appears that TNCs are not without fault for transport network vehicle services (TNVS) to be operating illegally and eventually apprehended. We need to be mindful of our responsibilities not only as TNVS but also as TNCs because you as owners of this digital technology that brings the riders and driver together has the equal responsibility as of those who have secured franchises under the public transportation service."  
Official also found many discrepancies in Uber/Grab's records. The names of some of Uber/Grab drivers were not being the same to those listed with the LTFRB database and their application forms. Moreover, both companies failed to screen driver applicants before endorsing them to the board.  
The two firms have admitted to these mistakes.  
Delgra further explained: "We note also the candidness of the parties concerned Grab and Uber in admitting the fact that they are privy to having the situation which brought about the colorum operation of TNVS in their system."  
The LTFRB did not suspend properly Uber/Grab's accreditation so the two firms can still go on doing their business. Commuters will still be able to book a ride on Uber/Grab apps.    
LTFRB board member and spokesperson Aileen Lizada shared: "We respect the right of the riding public to avail of TNCs like Grab and Uber. However we cannot let go of the violations. As the enforcing body of the government, we must put things into order."
>>>
If you are planning to earn your living from taxi services, here are our top choices for the 10 best Uber/Grab vehicles.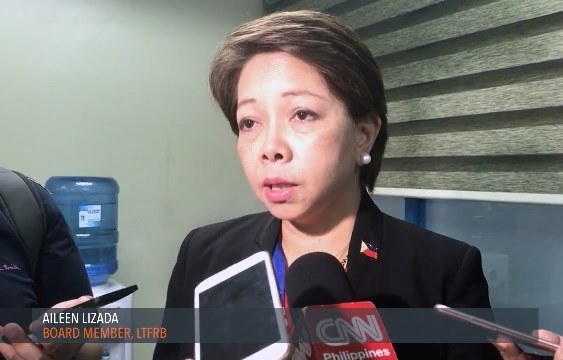 LTFRB board member and spokesperson Aileen Lizada
"We aim to set a ceiling on the total number of TNVS to be deployed to address the needs of the riding public and what is appropriate for the TNCs to sustain their operations especially during the peak times," she added.  
Our country is among the very first countries in the world to legalize TNVS operations such as Uber and Grab and always tighten rules governing such services.  
The LTFRB issued several specific guidelines, regulations and policies that ensure TNVS must secure a 1-year Certificate of Public Convenience before they can offer their services. Both TNVS and TNC are required to be registered with the
Bureau of Internal Revenue
(BIR) to ensure that all fees and taxes are paid.
Under the LTFRB rules, TNVS are also required to display the trade dress; this has not been complied with by most operators.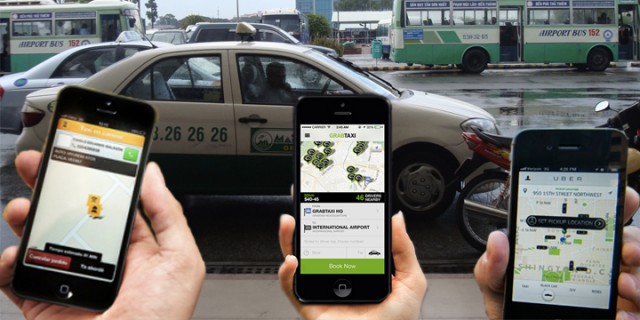 Uber and Grab were penalized by the LTFRB with Php 5 million each
 
Netizens on Facebook could now help by sharing what they feel about this Php 5 million fine. A survey was conducted on the use of TNVS and TNC to determine the popularity of such services among Filipinos. According to the survey, an overwhelming proportion of 99.7% (equivalent to 52,863 votes) said that Uber and Grab were much more adequate, safe, convenient, environment-friendly, reliable alternative mode of transportation than the regular taxis.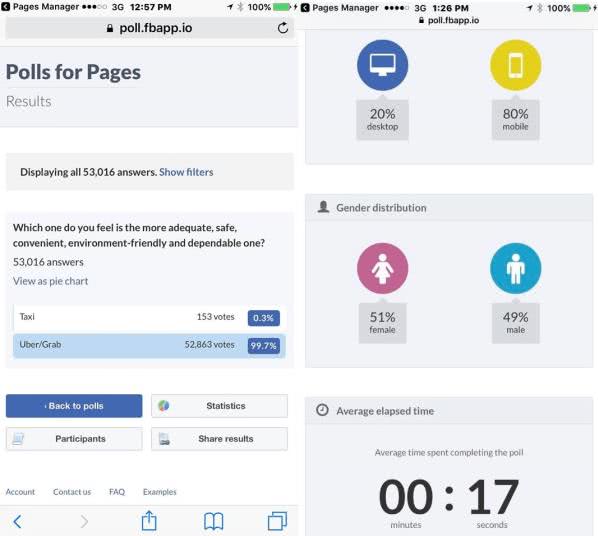 The poll on facebook is conducted to see how Filipinos think about Uber, Grab and regular taxis
 
Let's see how facebook users share their thoughts on this topic: 

"I don't see how Uber and Grab cause traffic as they promote ride sharing. And to those who think the companies will not be held liable in accidents because they have no PUV franchise: these units are used as common carriers and therefore subject to the heavy liabilities under the transportation code." - Joseph Rinoza Plazo.

"The old "taxi" business model is already outdated. This government agency needs to recognize a feasible alternative when they see one. And with obvious markers or indicators, they should not turn a blind eye. What they should be doing is making the commuter's lives easier by not squeezing Uber/Grab for more juice, and it is the old taxi "system" that they should be overhauling." - Eric De Jesus Picar.

"Can someone enlighten me of which benefits I can have with taxis that I don't have with Uber/Grab?" - R-alpha Zamoranos.

"At 99.7% approval rating, I think even taxi drivers voted for Grab/Uber." - Jaymark Cruz.

"Maybe you can also have a poll on:

1. Uber/Grab riders who previously uses a taxi on a regular basis
2. Uber/Grab drivers who have their own cars but became riders because of the convenience and does not want to deal with the traffic

Maybe this is one way we can see if Uber/Grab is adding to traffic or otherwise. Personally I fall under number 2 and I think a lot of riders are in the same boat as I am." - Jao Lucas.

Accreditation ng Grab at Uber, dininig ng LTFRB