LTFRB's new policy starting April 9 allows PUB drivers to drive only up six hours per trip.
The Land Transportation Franchising and Regulatory Board (LTFRB)
issues a new policy that limits the daily driving hours of public utility bus (PUB) to six hours per trip instead of 8 or even 12 hour ride before. The memo started Sunday April 9, 2017.  
Under the memo, the LTFRB said an alternative driver should be on standby to take over for trip exceeding six hours. The agency further stated that the bus conductors cannot be allowed to drive in order for him to provide continuous assistance to the passengers of the PUB.  
The LTFRB explained this policy aims to prevent driver fatigue, which is one of the factors that cause road accidents. "Driver fatigue is a serious problem resulting in many road mishaps", the Board said in the memo.  
The LTFRB said the new policy would have the following penalties:
First-time offenders will be fined Php5,000
Second offense will cost the bus operators a fine of Php10,000 and a 30-day suspension
Third offense, a penalty of 60-day suspension will be imposed
If a vehicular accident resulting in loss of lives, physical injuries or damage to property is caused by non-compliance to the memo, the LTFRB will investigate detail and facts surrounding the accident as "aggravating circumstance" to be able to impose the proper penalty.  
All in all, the memo came in time for the forthcoming
Holy Week
, when passengers flood bus terminals to travel back to their provinces, with some journeys taking more than six hours on the street.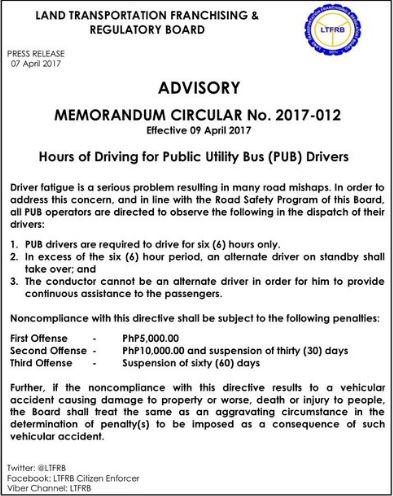 Advisory Memorandum Circular: Hours of Driving for Public Utility Bus (PUB) Drivers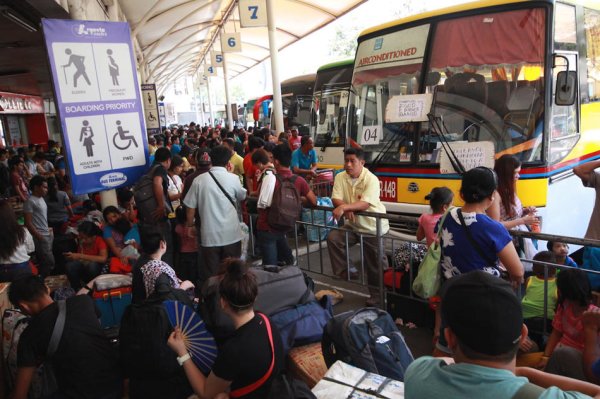 Driver fatigue is a serious problem resulting in many road mishaps