Mainly, prices climb to a new peak.
Recently, Honda Cars Philippines has officially announced the latest Honda car price list for 2018 model lineup. The new prices has already included new excise taxes under Republic Act 10963 or the Tax Reform for Acceleration and Inclusion (TRAIN) which has been kicked off the effectivity since January 1, 2018.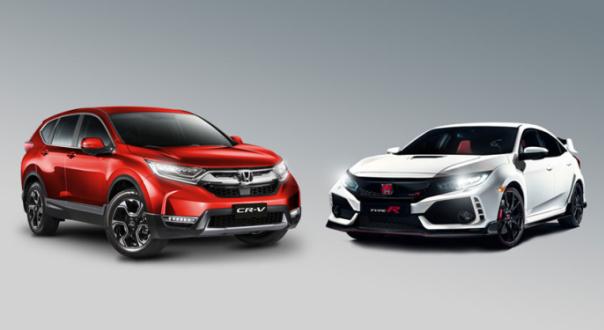 On the whole, the prices record slight increases from P8,000 to P121,000
The suggested retail prices (SRP) of 2018 Honda models are zigzagged, but on the whole, the prices record increases from P8,000 to P121,000.
For starters, the pricing for Honda's hot-selling models, which are the BR-V and CR-V, moderately goes up. You are really lucky if you already brought the 7-seater Honda CR-V in 2017, to be honest.
Seeing an upsurge in prices is the Honda HR-V and Honda Civic. Their prices soar up by P121,000, especially in high-end variants.
While most of the models in the range are pricier, the price of Honda Odyssey EX-V Navi CVT sinks to new low point: P2,433,000 (decreases by P16,000). Not only that, that of the Honda Legend, Honda Pilot and Honda Civic Type R remains static.
Now, let's look through the 2018 Honda car prices under the new excise taxes in the table below.
Honda car price list in the Philippines 2018 with the new excise taxes
 Models
2017 Price
2018 Price
Difference
Honda City 2018 price in the Philippines
Honda City 1.5 E MT
P770,000
P820,000
P50,000
Honda City 1.5 E CVT
P810,000
P875,000
P47,000
Honda City 1.5 VX NAVI CVT
P920,000
P958,000
P38,000
Honda City 1.5 VX+ NAVI CVT
P1,010,000
P1,041,000
P31,000
Honda Civic 2018 price in the Philippines
Honda Civic 1.8 E CVT
P1,115,000
P1,138,000
P23,000
Honda Civic 1.5 RS Turbo CVT
P1,425,000
P1,546,000
P121,000
Honda Civic 1.5 RS Turbo CVT Modulo
P1,472,000
P1,587,000
P115,000
Honda Civic 1.5 RS Turbo Modulo Sport
P1,537,000
P1,643,000
P106,000
Honda Civic 1.8 E CVT Modulo
P1,170,000
P1,188,000
P18,000
Honda Civic Type R 2018 price in the Philippines
Honda Civic Type R 2.0 MT Turbo
P2,980,000
P2,980,000

0

Honda Accord 2018 price in the Philippines
Honda Accord 2.4 S Navi
P1,809,000
P1,884,000
P75,000
Honda Accord 3.5 SV AT V6
P2,309,000
P2,317,000
P8,000
Honda Jazz 2018 price in the Philippines
Honda Jazz 1.5 V MT
P799,000
P847,000
P48,000
Honda Jazz 1.5 V CVT
P849,000
P893,000
P44,000
Honda Jazz 1.5 VX Navi CVT
P949,000
P985,000
P36,000
Honda Jazz 1.5 RS Navi CVT
P1,029,000
P1,058,000
P29,000
Honda CR-V 2018 price in the Philippines
Honda CR-V 1.6 SX Diesel 9AT AWD
P2,049,000
P2,086,000
P37,000
Honda CR-V 1.6 S Diesel 9AT
P1,759,000
P1,835,000
P76,000
Honda CR-V 1.6 V Diesel 9AT
P1,569,000
P1,671,000
P102,000
Honda CR-V 2.0 S CVT
P1,539,000
P1,648,000
P109,000
Honda HR-V 2018 price in the Philippines
Honda HR-V 1.8 E CVT
P1,249,000
P1,260,000
P11,000
Honda HR-V 1.8 E CVT Modulo
P1,309,000
P1,430,000
P121,000
Honda HR-V 1.8 EL CVT
P1,359,000
P1,480,000
P121,000
Honda HR-V 1.8 EL CVT MUGEN
P1,526,000
P1,634,000
P108,000
Honda HR-V 1.8 E CVT MUGEN
P1,416,000
P1,537,000
P121,000
Honda BR-V 2018 price in the Philippines
Honda BR-V 1.5 S CVT
P998,000
P1,030,000
P32,000
Honda BR-V 1.5 V Navi CVT
P1,128,000
P1,149,000
P21,000
Honda BR-V 1.5 S CVT Modulo
P1,044,000
P1,072,000
P28,000
Honda BR-V 1.5 V Navi CVT Modulo
P1,194,000
P1,210,000
P16,000
Honda Legend 2018 price in the Philippines
Honda Legend 3.5 Sport Hybrid SH-AWD
P4,385,000
P4,385,000

0

Honda Mobilio 2018 price in the Philippines
Honda Mobilio 1.5L RS Navi
P1,029,000
P1,058,000
P29,000
Honda Mobilio 1.5L E
P829,000
P874,000
P45,000
Honda Mobilio 1.5L V
P909,000
P948,000
P39,000
Honda Odyssey 2018 price in the Philippines
Honda Odyssey 2.4L EX-V Navi
P2,449,000
P2,433,000

-P16,000

Honda Odyssey 2.4L EX CVT
P2,039,000
P2,317,000
P40,000
Honda Pilot 2018 price in the Philippines
Honda Pilot 3.5 EX-L AT
P3,385,000
P3,385,000

0

Honda Brio 2018 price in the Philippines
Honda Brio 1.3 S MT
P619,000
P631,000
P12,000
Honda Brio 1.3 S AT
P659,000
P671,000
P12,000
Honda Brio 1.3 V Navi AT
P739,000
P791,000
P52,000
Honda Brio Amaze 2018 price in the Philippines
Honda Brio Amaze 1.3 E MT
P639,000
P651,000
P12,000
Honda Brio Amaze 1.3 S AT
P699,000
P712,000
P13,000
Honda Brio Amaze 1.3 V Navi AT
P779,000
P828,000
P49,000
>>> Click to keep updated with latest updates in auto industry