These are Cummins-powered PUJs with plenty of amenities.  
Foton Philippines has just handed over several F-Jeepney F29 units to the Grotto-Novaliches Transport Service Cooperative (GNTSC). This will serve to bolster the group's fleet of public utility vehicles.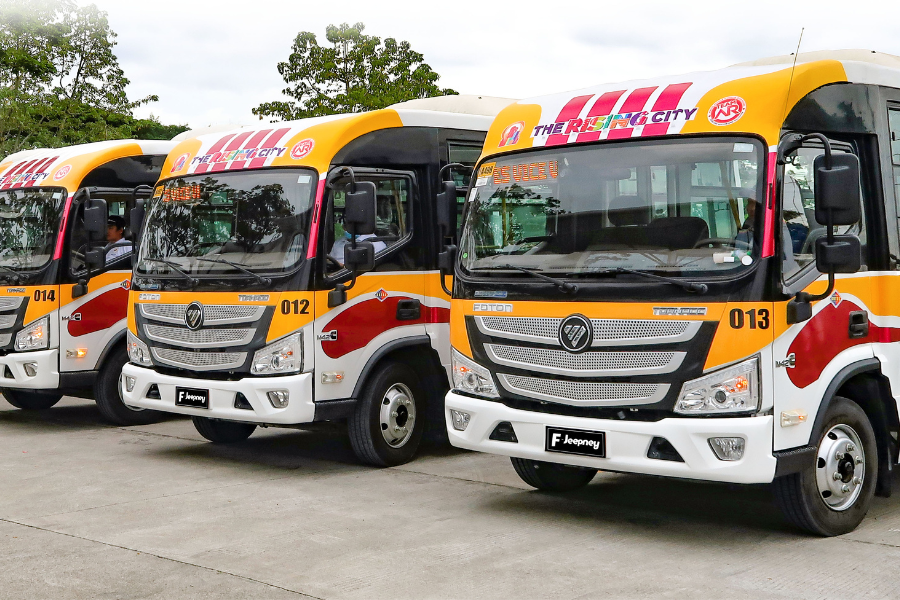 GNTSC's brand new Foton F-Jeepney F29 units
Among those present at the turnover ceremony were City of San Jose Mayor Arthur B. Robes, Vice Mayor Efren Bartolome, GNTSC Chairman Jayson Valerio, and Foton Philippines President Errol Duenas who led other Foton PH executives during the event.  
Spearheading this partnership with GNTSC was the Foton Marilao dealership. GNTSC chose the Foton F-Jeepney F29 as they are designed to meet the rigors of being daily driven on urban and provincial roads. 
The engine that the said model uses is also known to come with an "outstanding shelf life" according to Foton. This of course is a requirement for public utility vehicles. To be more specific, it's an American-made 3.8-liter Cummins ISF turbodiesel engine paired to a six-speed manual gearbox, with power sent to the rear wheels. 
At the maximum, this Cummins mill can produce up to 154 horsepower and 500 Nm of torque. This particular engine is also compliant with Euro IV Emissions Standards. 
The F-Jeepney itself also comes in two forms. There's the Class 3 F-Jeepney which can seat up to 26 occupants, and the F11 F-Jeepney which can carry up to eleven passengers. For its part, the F29 specifically features better safety as well as convenience for passengers. It is kitted out with a security camera and location tracker as well as an automatic fare collection system.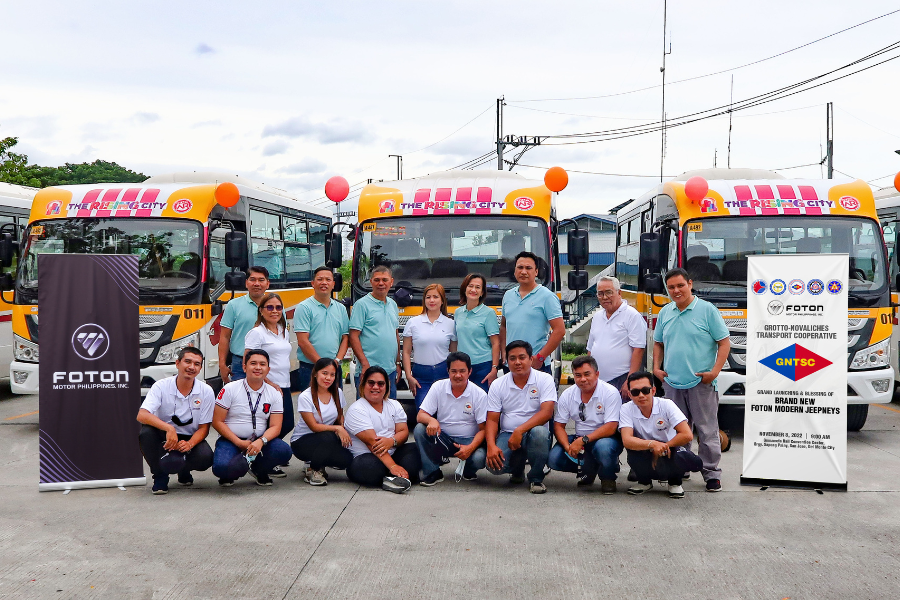 Members of the GNTSC together at the turnover ceremony
Also present on this model are a passenger stop button, anti-lock braking, automatic adjusting brake clearance system, and electronic signages for better visibility. It is also equipped with air-conditioning and has provisions for on-board WiFi connectivity. Another thing about the F-Jeepney F29 is that Foton Philippines offers it with a three-year or 100,000-kilometer warranty, whichever comes first.  
For more transport news and the latest car industry updates, keep it here on Philkotse.  

Know more about Foton

Foton Philippines has a wide range of reliable vehicles including passenger and commercial vehicles for 2023. The cheapest Foton vehicle is the Foton Gratour which starts at Php 520,000, while the most expensive unit is the Foton Toano with a flagship price of Php 2,338,000. In the Philippine lineup, the Chinese automaker has four commercial vehicles (CVs), namely the Harabas Series, Gratour Series, Tornado Series, Hurricane Series, and EXT-N Series. A total of three Foton vans are available in the local market which includes the Foton Toano, Foton View Transvan, and Foton View Traveller. Lastly, the car brand has an SUV and pickup entry which are the Foton Toplander and Foton Thunder, respectively.
Philkotse.com provides complete information on your favorite Foton vehicle models and the latest price list. Browse through the website to find the latest promos, news, and car reviews to get the best deals on your vehicle purchase

Cesar G.B. Miguel
Author