Lanes will be closed from 11 p.m. to 5 a.m. due to MRT-LRT station construction. 
If you're like the hundreds and thousands of motorists who regularly travel along Epifanio de los Santos Avenue (EDSA), be aware that several southbound or northbound lanes along the North Avenue and West Avenue corners are temporarily closed. The said lane closures started on July 9, 2021 and will last for 80 days, from 11 p.m. to 5 a.m.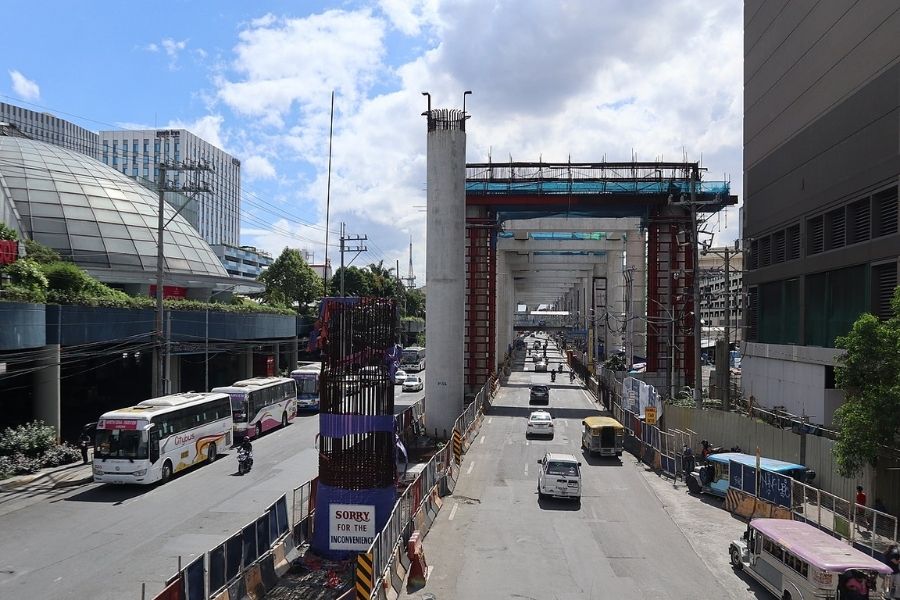 A portion of the new MRT 7 on North Ave. leading to the Common Station. [Photo Source: Patrick Roque, March 2021]
Apart from being scheduled in the evening to the wee hours of the morning, three lanes for southbound and northbound routes will remain open during the said closures.  
This update was announced by the Metropolitan Manila Development Authority (MMDA), and it was decided upon for the continuing construction of the MTR-LRT Common Station. Of note, the said project and lane closures are within the jurisdiction of the Quezon City Local Government.  
To ensure safety amid the lane closures, the MMDA will also be putting up traffic barriers, road safety signs, and directional traffic signs on key areas. A traffic enforcer will also be on duty in the said area to monitor the flow of traffic. 
Regardless of the said safety measures, the MMDA reminds road users to be careful. They are also asking for the general public's patience in light of the aforementioned lane closures. 
For those unaware, the MRT-LRT Common Station, or North Triangle Common Station, is a rapid transit terminal and transport hub that's part of the future Metro Manila Subway network. As of May of this year, the said project is already 51 percent complete. 
The said project is a collaboration between multiple entities. Building Area A (station facing EDSA, LRT1) of the station is the BF-Corporation-Foresight Development and Surveying Company. Meanwhile, Area C (MRT7 platform) is currently being built by the San Miguel Corporation.  
Currently, Area B which was built by the Ayala-owned North Triangle Depot Commercial Corporation has already been completed.  
For more car news, car reviews, and car maintenance tips, keep it here on Philkotse.com. 

Cesar G.B. Miguel
Author
Recent posts