The developer calls it a hyperscooter.
E-scooters have grown in popularity to the point that a number of Filipinos choose to use them for their commutes. It is easy to use and environmentally friendly as it doesn't need fuel to run. With the growing demand for e-scooters, London-based personal recreation vehicle company D-Fly is presenting its own take with the Dragonfly.
This is the world's first hyperscooter
The Dragonfly Hyperscooter comes with a comprehensive build that takes e-scooters to the next level. For the suspension, the Dragonfly has a 4-wheel dual independent damped suspension setup, which can help the e-scooter drive even in off-road conditions. Its unique four-wheel carbon fiber platform and full-tilt steering set the Dragonfly apart from the rest.
Powering the Dragonfly are two 550-watt motors that can produce a peak power of 1,650 watts. The e-scooter comes with three drive modes, namely the D1 (15 km/h), D2 (25 km/h), and D3 (40 km/h). It also comes with a reverse ride mode that has a maximum speed of 5 km/h.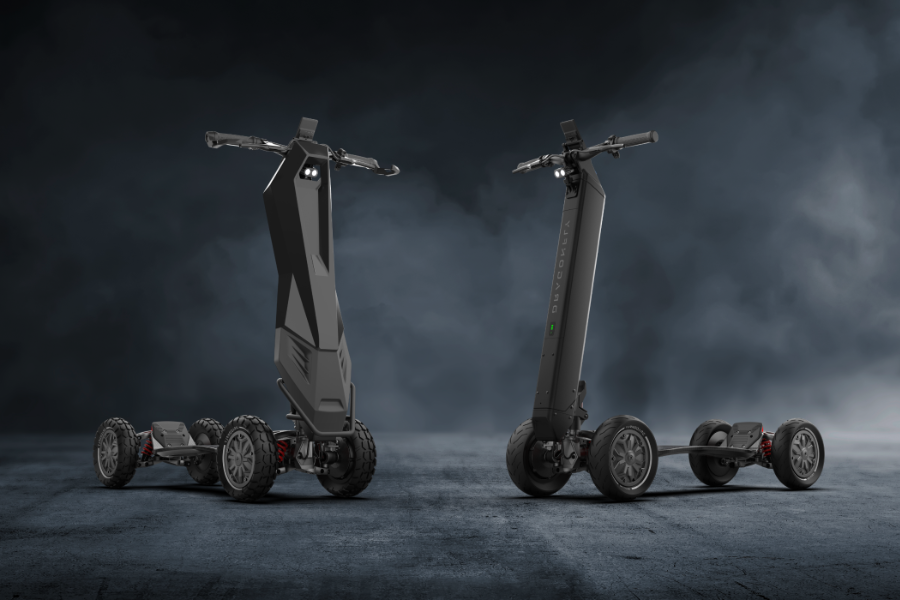 D-Fly Dragonfly
All of these features offer a smooth, safe and comfortable ride. Moreover, the Dragonfly can provide you with a spirited riding experience as D-Fly built the machine to give riders the confidence to go fast even on rough roads. Once you're done, the e-scooter can be conveniently folded for easier storage in your car's trunk or luggage compartment.
"The urban mobility industry is burgeoning, and we realized a need for a more advanced, high-quality product that would usher in a new era of e-mobility. With Dragonfly, we are confident that we have created something truly special that will change the way people move around cities and not only today but forever," said D-Fly Group CEO Jez Williman.
This is one versatile e-scooter
The Dragonfly is available in two variants, namely the DF and off-road-ready DFX. You can check out the Dragonfly's listing page to see the latest pricing including shipping availability. For your reference, here is the list of specifications of the Dragonfly:
| | |
| --- | --- |
| Motor | Two motors. 1000w total (500w each). 1650W Peak Power |
| Ride Modes | D1, D2, D3 |
| On Board Display | 3.5-inch digital screen |
| Audio | On-board ride sounds, spoken navigation, and electric horn with the accessory sound pod |
| Autonomy/Charge Input | 48V |
| Tires | 10-inch pneumatic tires |
| Charging Time | Three hours (80 km range) |
| Weights | 16.8 kg |
| Lights (forward) | Automotive grade twin headlights, pulsing LED side-light turn indicators |
| Lights (rear) | LED light bar with turn signals indicating lights, braking, and turn signals |
| GPS tracking security system | If someone tampers with the scooter, it sends an audible alarm. It can also detect the scooter's current location |
| Smart locker | Four-digit pin |
Philkotse.com brings the latest news in e-mobility innovations.


Rex Sanchez
Author
Recent posts