Titan Surfcamp 2018 - Your ultimate beach getaway buddy.
With all the stress and the hassle that almost everyone goes through every single day, it's no surprise that most would make time, one way or another, to find a quick escape from reality every rest day or weekends. While some choose to stay at home to just rest and sleep, most of the people I know would want to drive out to the province to breathe some fresh mountain air and take into a relaxing dip in some hot spring resort or get some vitamin sea by hitting the nearest beach.
Speaking of beach, I noticed in the past few years that people have developed a greater sense of adventure. So, nowadays, it's not just sitting or lying on the beach, under the sun with cold beer in one hand – people now choose to practice active lifestyle while enjoying the sun, sand and sea. The best way to do this? Surfing!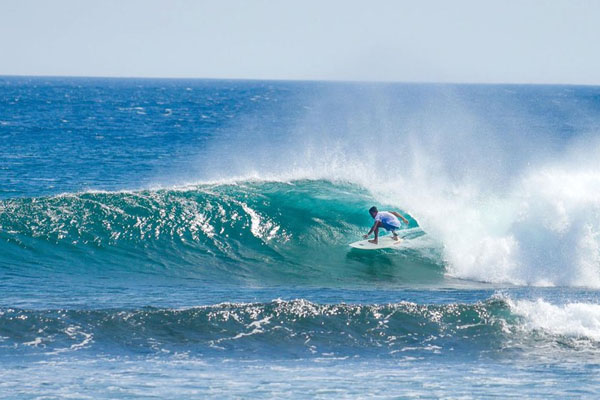 Surfing has become increasingly popular in the Philippines recently
Surfing has become increasingly popular in the Philippines recently that people would drive long roads just to get to the nearest, popular surfing spots. Some would even fly to other provinces to get a good surfing wave. These popular surfing spots include provinces in Northern Luzon such as Baler in Aurora, San Juan in La Union, San Antonio in Zambales, Liw-Liwa in San Felipe Zambales.
These surfing spots are easy to drive to as with the new highways, it may only take around a couple of hours or so to arrive at the surfing destination. Besides these, there are other popular surfing spots in the Philippines that you need to travel by air to experience – most popular is Siargao Island in Surigao Del Norte. This is where the Red Hot Chili Peppers' Anthony Kiedis flew over to just to surf in "Cloud 9." 
Definitely, with all the rush and excitement, surfing is sure one good way to let out all those stress away by riding through the waves. However, when you are a surfer, you will need a good travel buddy that could hold all your equipment and be your own personal surf campsite while you're on the beach.
Interestingly, Nissan has come up with a major revamp on its Titan Series that will surely cater and answer all the needs of an adventurous spirited surfer. Let's take a look at the new Nissan Titan Surfcamp 2018.
1. Nissan Titan Surfcamp 2018: Ultimate Surfing Mobile Campsite
Upon reading the news about this, I am totally impressed. Just by the sound of the name, one could totally get ecstatic on what this Nissan lifestyle concept vehicle has to offer.
Nissan customized its already awesome Titan pick up and geared it up with a highest level of personalization by putting efficient features for surfers, fishing enthusiasts and the likes all in one vehicle. The new features will definitely turn a stay at home person into someone who's ready to go beachin' at any given time.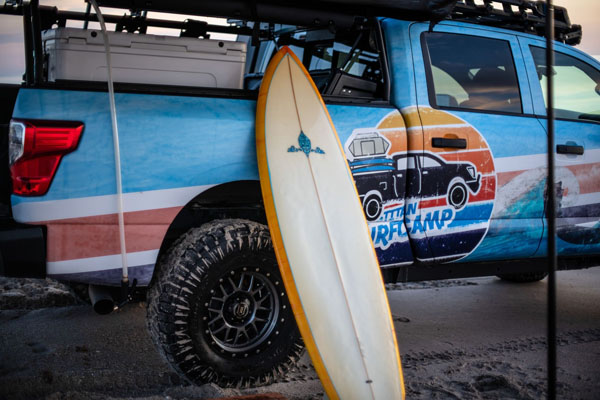 The Nissan Titan 2018  could totally be your best surfing vehicle
2. Nissan Titan Surfcamp 2018: Upgrades
The Nissan Titan Surfcamp 2018 upgrades include the following:
To start off, Nissan's base is the Titan XD Diesel Midnight Edition Crew Cab modified with an Icon suspension lift. This kind of modification is factory authorized and can be done in any of its dealers.
Also includes a Big Nitto off-road tires designed to conquer whatever kind of road you're in – sandy, terrain, muddy, you name it.
3. Nissan Titan Surfcamp 2018: Additional Features/Accessories
Alongside with the upgrades come new and impressive features/accessories that would surely fit anyone who loves the sun, sand and sea. The new features/accessories include:
Fishing pole provisions on the Fab Four Vengeance Series front bumper
Having these provisions, a fisherman or anyone who is a fishing enthusiast would be delighted as they don't have to hold the fishing pole manually while waiting for a good catch. This would allow them to move freely, do some other things or even relax while waiting.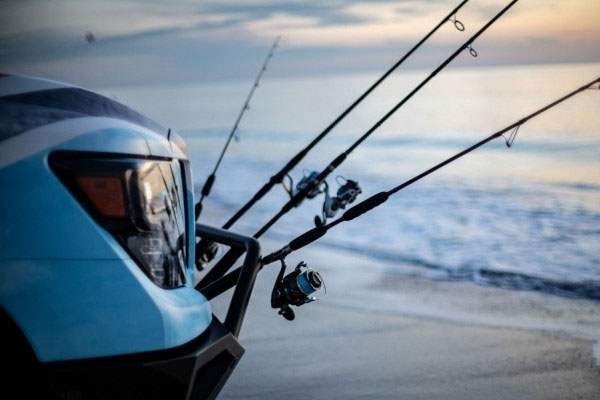 Fishing pole provisions can be equipped on the Fab Four Vengeance Series front bumper
Roof Rack
This feature will surely delight the surfers and beach bums. This is not your ordinary roof rack. It's like Hermione's little bag that can accommodate a whole lot of things. The Nissan Titan Surfcamp 2018's roof rack can accommodate surfboards and fishing poles. Not only that, it also is the base for other awesome features of this amazing vehicle which we will list below.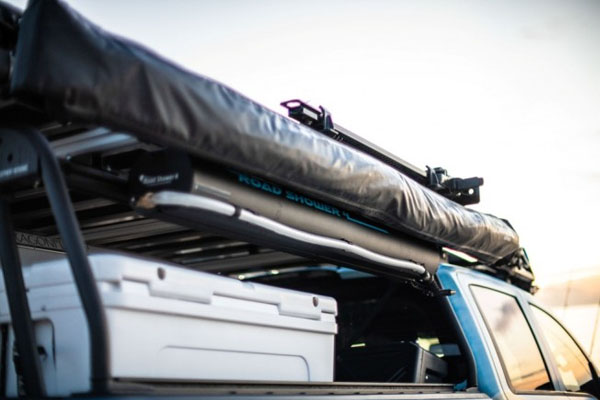 The roof rack is like Hermione's little bag that can accommodate a whole lot of things
Retractable Awning
The roof rack, besides holding surfboards and fishing poles also incorporates retractable awning to provide shade should the sun gets enraged at some point in the day. Surely a good way to rest in the comfort of your vehicle, without the need to stay inside.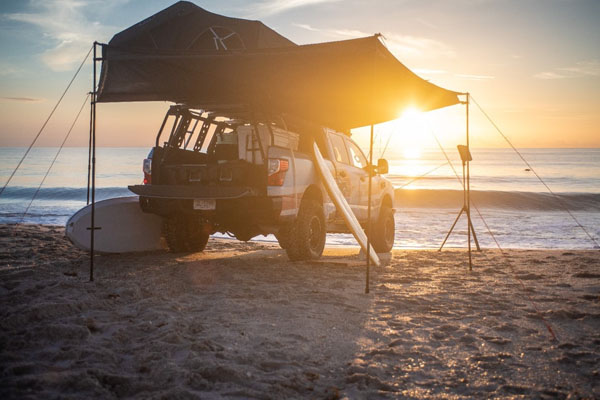 This is a beautiful way to hide from the scorching heat of the sun without staying inside the car
Solar Shower
You think that's all? No, there's more – one of the amazing features of this new Nissan Titan Surfcamp 2018 is its solar shower. This accessory will definitely make one's life easier as after basking in the sun and gathering sand all over, you don't need to walk or even fall in line just to take a shower or find a running water to wash off. What a relief to have a shower so conveniently installed in your own vehicle!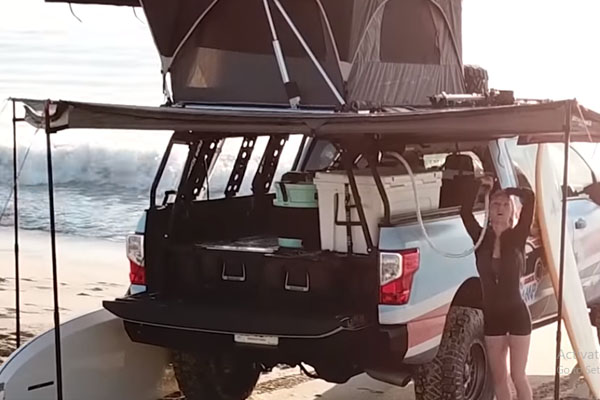 Also, there is a shower available to wash off at the comfort of your own vehicle
Requisite Tent
Another great feature of this vehicle is a requisite tent that you can access from the roof rack through a ladder. This will allow anyone to take a good rest without having leg stretch limitations on top of the vehicle.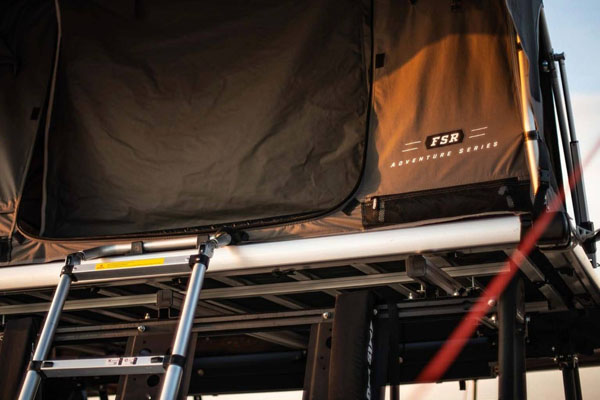 A tent on top of a pick up truck? Why not!
Utili-track Bed Channel System
With this vehicle, Nissan makes use of Utili-track Bed Channel System to give you abundant storage to squeeze all your camping/surfing/getaway essentials.
Yeti cooler
Little feature that is sure to make your cold drinks or anything that needs cold storage covered for days.
Off Road Lights
This vehicle is also equipped with forward mounted off road lights that will provide you necessary lighting at night.
2018 Nissan TITAN XD Surfcamp
Wetsuit-like Seat Covers & Rubber Floor Mats
These features are definitely necessary since the user of this vehicle would most likely be almost always wet and sandy. Having a water proof and sand proof seat covers and floor mats is such a relief as cleaning the interior won't be as difficult anymore compared with normal vehicles.
Retro-inspired Exterior Wrap
The cake topper. Given all the nice features of this Nissan Titan Surfcamp 2018, it also sports good exterior with the retro-inspired exterior wrap inspired by the 60's beach culture.
Interested? Please take note that one cannot just order the exact when he or she walks into a Nissan showroom. However, Nissan mentioned that the components are readily available for anyone who would like to create a customized Titan.
>>> Click here to keep updated with latest car news worldwide


Ivy Kristia Padura
Author
Recent posts