If you're looking for a large, luxurious seven-seater that won't kill you with boredom, then the Mazda CX-9 2020 Philippines won't let you down.
In this review...
Introduction

Exterior

Interior

Engine and Performance

Safety

Price & Specs

Conclusion
1. Mazda CX-9 2020 Philippines Review: Introduction
The Mazda CX-9 is a mid-size crossover SUV made in Japan since 2006. For all versions distributed internationally, including the Philippines, the CX-9 either uses a front-engine, front-wheel-drive or an all-wheel-drive layout.
While it's assembled in the Hiroshima Prefecture, the CX-9 isn't exactly being sold in Japan. It is after all too large a vehicle for Japan's annual road tax. What's sold in Japan instead is the smaller CX-8.
Experience the latest Mazda models: Mazda CX-9, CX-30, CX-5, CX-8 & more
Originally, the CX-9 used A 3.5-liter V6 engine made by ford. Later, it was fitted with a 3.7-liter mill.
This is because the first-generation Mazda CX-9 was actually based on the Ford CD3 platform and was a result of the Ford/Mazda partnership in the early 2000s.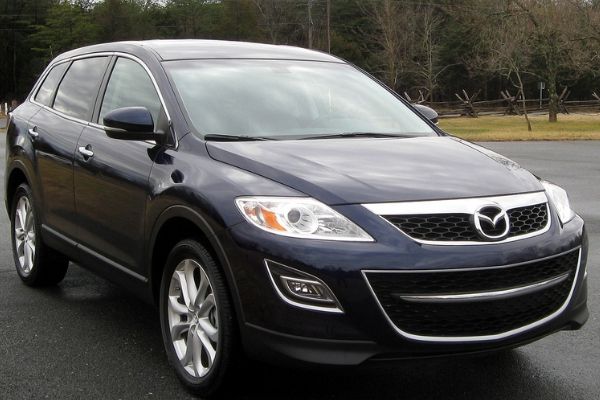 The first-generation Mazda CX-9
With it's second-generation (designated as the TC) which was introduced in 2016, the Mazda CX-9 matured into a graceful looking crossover thanks mainly to Mazda's Kodo design language.
Since this generation, it also uses many of the proprietary Mazda Skyactiv technologies. So let's take into this luxurious seven-seater SUV in our in-depth Mazda CX-9 2020 Philippines Review.
>>> Latest update: 2021 Mazda CX-9: Expectations and what we know so far
2. Mazda CX-9 2020 Exterior
The Mazda CX-9 is an attractive vehicle in our opinion is a very attractive vehicle. This is thanks mainly to the Mazda Kodo-Soul of Motion design which is very noticeable from the vehicle's lack of character lines, how vehicle's very prominent grille, and the very long hood.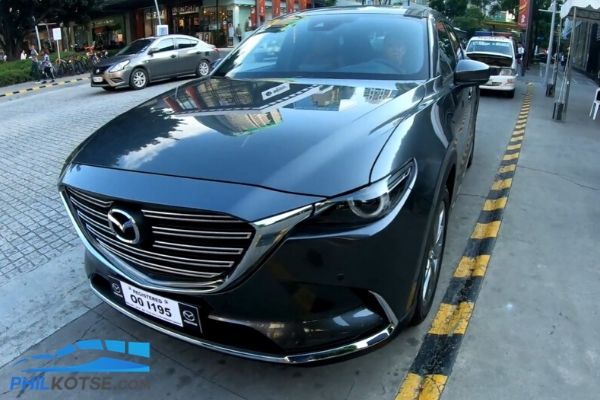 Here's the 2nd-generation, 2020 Mazda CX-9's very striking front end
As observing the 2020 Mazda CX-9 exterior, we also noticed how the light dances around its body. This of course gives it this bio-mechanical look…an illusion that makes it look alive.
This compensates for the lack of said character lines anywhere on the vehicle.
The one thing that stood out for us is the plastic surrounding the wheel arches. It somewhat breaks the uniformity of the CX-9's smoothness and the Kodo design's uniformity.
This is a nit-picky statement though because the rest of the vehicle just wins you over with its presence.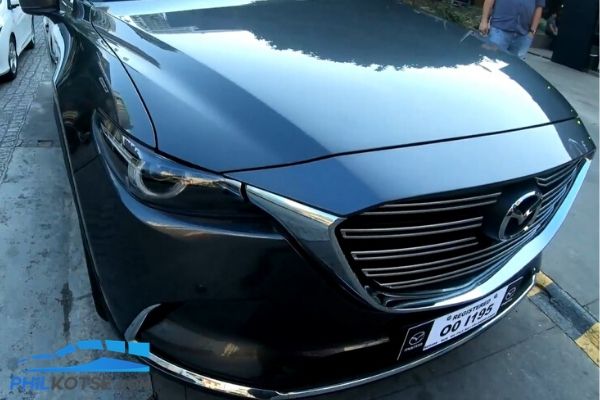 Despite being a sleek and slender vehicle, the CX-9 has this road presence that you cannot deny
Despite being large, the CX-9's Kodo design turns it into a sleek, elegant and perfectly proportioned vehicle that definitely stands out in its market segment.
If we compared the CX-9's two variants available here in the Philippines, there isn't much difference externally though. Both measure at a length of 5,075 mm, is 1,960 mm wide, is 1,716 mm high, and has a wheelbase of 2,930 mm. And both mostly have the same stuff save for the power liftgate which is found only on the more expensive Signature variant.
>>> More car comparisons in the same segment for further reference:
YOU MAY WANT TO READ
Model Price Philippines
₱ 1,179,000 - ₱ 1,373,000
Model Price Philippines
₱ 1,368,000 - ₱ 1,885,000
Model Price Philippines
₱ 998,000 - ₱ 1,332,000
3. Mazda CX-9 2020 Interior
When it comes to first impressions, the 2020 Mazda CX-9 interior is definitely very premium. Almost everything is clad in leather, and there's isn't a lick of cheap-looking plastic anywhere inside the vehicle. From the dashboard down to the center console, everything looks premium.
If you aren't familiar with Mazda interiors and Mazda cars in general, then you'll be surprised at how wealthy the Mazda CX-9 is in terms of features. It comes with an 8-inch LCD monitor that is capable of connecting to your smartphone via Apple CarPlay, Android Auto, Bluetooth, and USB. It also has a whopping 12-speakers which no doubt produces excellent quality.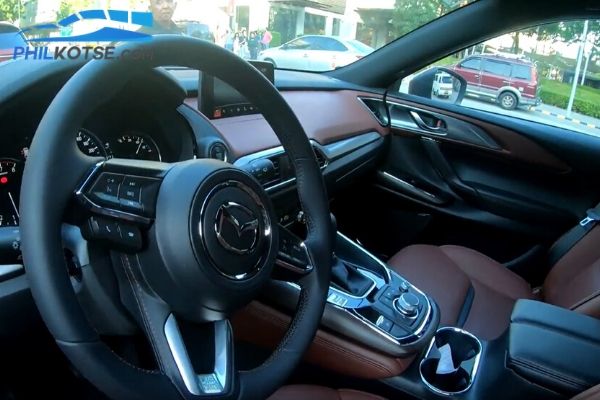 Literally everything is a soft-touch surface
Despite being large, the CX-9's triple-zone auto climate control system does a swell job in terms of cooling down the seven-seater crossover. Trunk capacity is also good at 198 liters with all the seats in use.
For the CX-9's driver, goodies include an eight-way electronically adjustable seat, cruise control, and a very legible heads-up display that only the driver sees.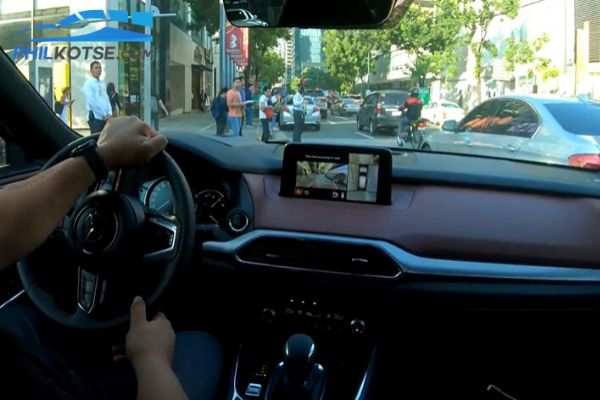 Like most current Mazda models, the LCD is positioned this way. And yes, there's an option to switch it off
It's indeed for certain that the Mazda CX-9, despite being a luxurious people carrier, is a very driver-oriented vehicle. It doesn't even have the traditional touchscreen that's found on vehicles common today. Instead, it is controlled via a commander control which as the name implies controls every facet of the CX-9's infotainment system.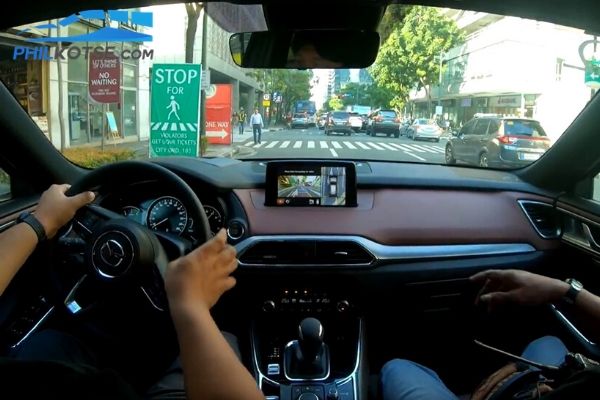 The test driver of this CX-9 is a big and wide boy but despite that, the driver's seat fits him just fine
>>> Daily-updated auto listings for your reference: Cars for sales in the Philippines
4. Mazda CX-9 2020 Philippines: Engine and Performance
For the Philippine version of the CX-9, there's one engine option; a 2.5-liter inline-4 Skyactiv-G engine which can produce up to 231 horsepower and 420 NM of torque. The said beefy gasoline engine is paired to the Skyactiv-drive 6-speed automatic transmission that comes with a semi-automatic sport mode.
On the road, the Mazda CX-9 is a smooth-shifting driver's crossover. And despite its size and its intended purpose, it actually comes with Mazda's G-Vectoring technology making it capable of optimizing load control, better grip on corners, thus making it a large-ish, albeit still corner carving crossover. And thanks to its perfectly bolstered seats, a driver and his/her passengers are guaranteed to be kept in their places.
Also, the CX-9's interior is un-godly good in terms of reducing NVH levels. This also comes vice-versa in that the sound the 12-speaker system creates is not audible from the exterior of the vehicle. This makes it the ideal vehicle for cruising around at night whilst listening to your favorite metal songs in maximum volume.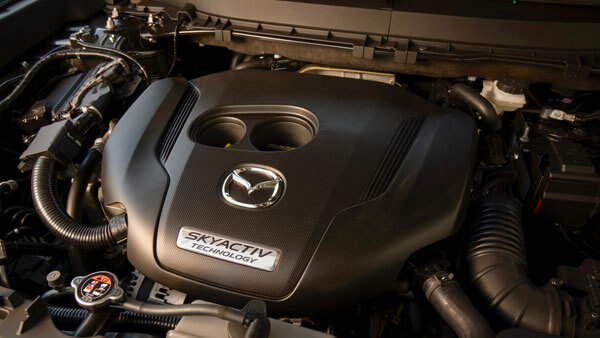 2.5-liter inline-4 Skyactiv-G engine is equipped under the hood of the Mazda CX-9
5. Mazda CX-9 2020 Review Philippines: Safety
Both variants of the Mazda CX-9 are pretty well equipped in terms of passive and active safety. What stands out to us and is probably a very necessary for the CX-9's size is its 360-degree view monitor. It's very responsive to the outside world and is definitely a must-have for tight maneuvering on Metro Manila's streets.
So yes, the Mazda CX-9 2020, while being a driver-oriented car, is definitely a premium with a competent safety kit fit to service your family on the daily and on long rides.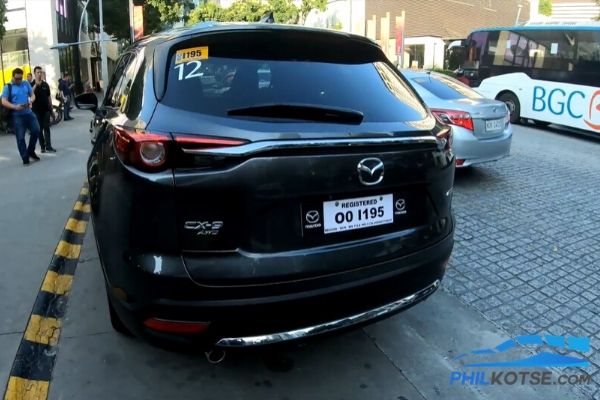 And oh, here's the CX-9's delicious looking rear end
6. Mazda CX-9 2020 Philippines Price & Specs
Overall

Model

Mazda CX-9

Year

2020

Class

Crossover, 5-door

Layout

Front-engine, front-wheel-drive/all-wheel-drive

Dimensions

5,075 mm X 1,960 mm X 1,716 mm

Seating

7

Engine

2.5-liter Skyactiv-G Inline-4

Transmission

6-speed automatic

Safety Features

Driver's airbag, front passenger airbag, side airbag, curtain airbag, knee airbag,

ABS with EBD

Stability control

Lane departure warning

Blind-spot detection

Other Features

Leather upholstery

Push to start

Electronically adjustable steering

Triple-zone aircon

Heads up display

Power liftgate

cruise control

Price

CX-9 2.5 Sport Touring FWD

Php 2,380,000

CX-9 2.5 Signature AWD

Php 2,950,000
7. Mazda CX-9 2020 Philippines Review: Conclusion
If you're currently in the market for a luxurious, cushy, safe but still very fun to drive family vehicle, then we'd definitely recommend the Mazda CX-9.
Note also that Mazda has the Yojin-3, a preventive maintenance service program which provides an all-inclusive PMS package covering labor and parts costs for 60,000 kilometers or three years. That great deal eliminates all the hassles of owning a car and will definitely worth it in the long run.
So, do you like the Mazda CX-9 like we do? Let us at Philkotse.com know your opinions by leaving a comment.


Cesar G.B. Miguel
Author