Check this out if you want to learn more about oil filters.
As discussed before in our previous articles about filters, a car needs those to sift out unwanted elements from the air, and damaging substances from fuel. Another type of liquid that flows in your car however is oil, and sometimes, it too can carry contaminants that might be detrimental to the health and performance of your engine.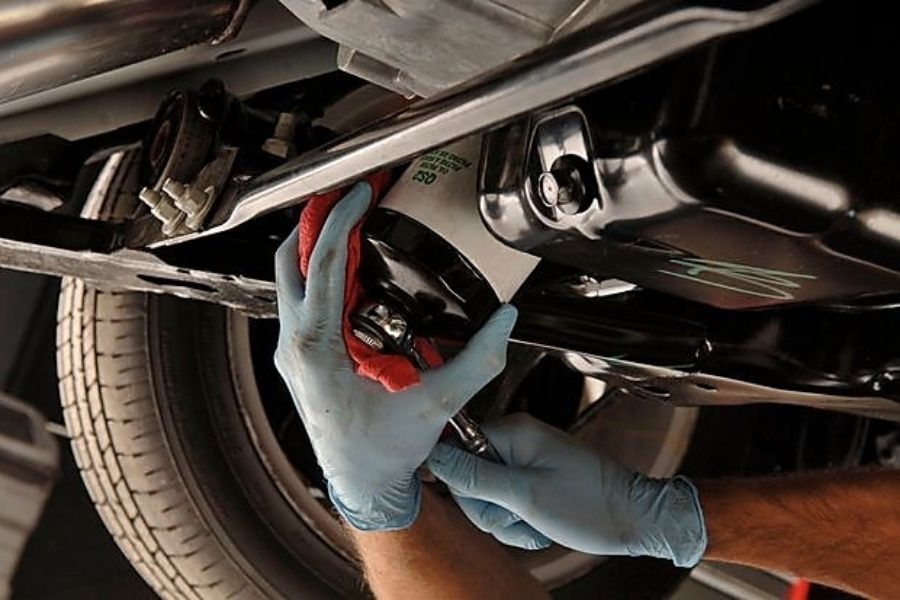 A mechanic replacing a car's oil filter [Photo: Pennzoil]
So how do oil filters work? Well before answering that, let's talk about how it looks. That's important because some of you might want to get into maintaining your cars by yourselves in the future.
Moreover, it's one part that we recommend changing whenever you do an oil change. As such, you should know how to spot it, and be able to tell it apart from the other parts of your car.
WIX Filters - Oil filter animation (EN)
>>> Related: 3 basic ideas about car oil and oil filter
What does an oil filter look like?
Basically, an oil filter looks like a metal cylindrical device that contains a filtering element inside. It is sealed and is equipped with a gasket on the threaded side. If you peek inside it, you'll spot a wire-backed media that's usually made out of cellulose or synthetic media.
This is the business end of the filter which is responsible for sifting out the dirt and contaminants from the engine oil.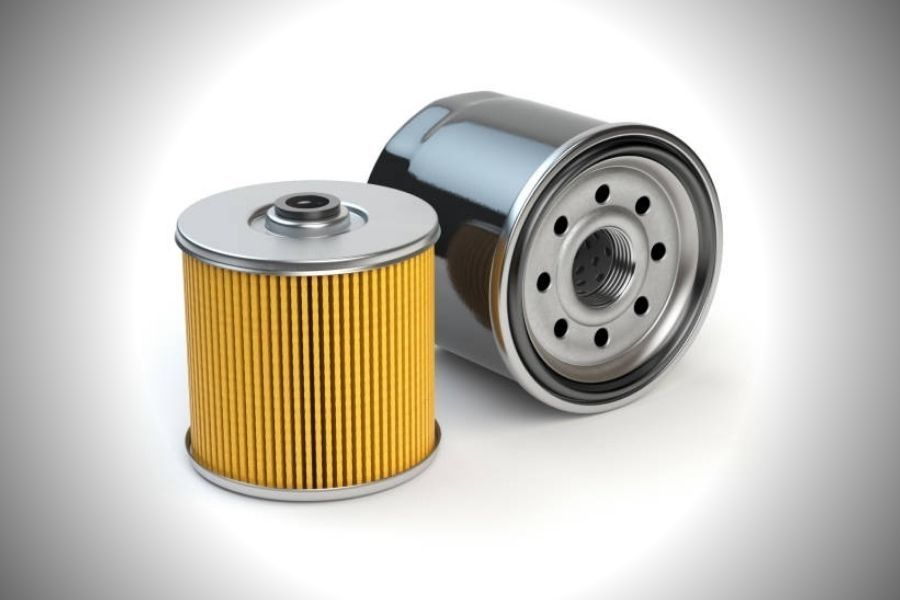 A typical car oil filter. The yellow-colored part is the filter medium inside the black colored cylinder
In terms of position, an oil filter can often be accessed from below the car. As such, you'll either need to lie down or raise the car. Usually, it is attached to the engine block. It might be to the side of the block or smack in the middle, or in front of the block. The position depends on the engine, and some are easier to access than others.
To remove it properly and safely, you'll need a good oil filter wrench. If you screw up the removal and/or installation of an oil filter, you might damage the threads that are responsible for holding the filter.
Locally, a good oil filter wrench can be bought for Php 150 to Php 700 or more. The more expensive ones are universal oil filter wrenches, which can accommodate larger oil filters.
How does an oil filter work? 
Modern car engines are equipped with an oil pump. This directs oil into the filter. The filter has holes on its base plate which allows the oil to enter. During this process, oil is pushed through to the filter media, and back again out of the central opening. After which, it re-enters the engine block.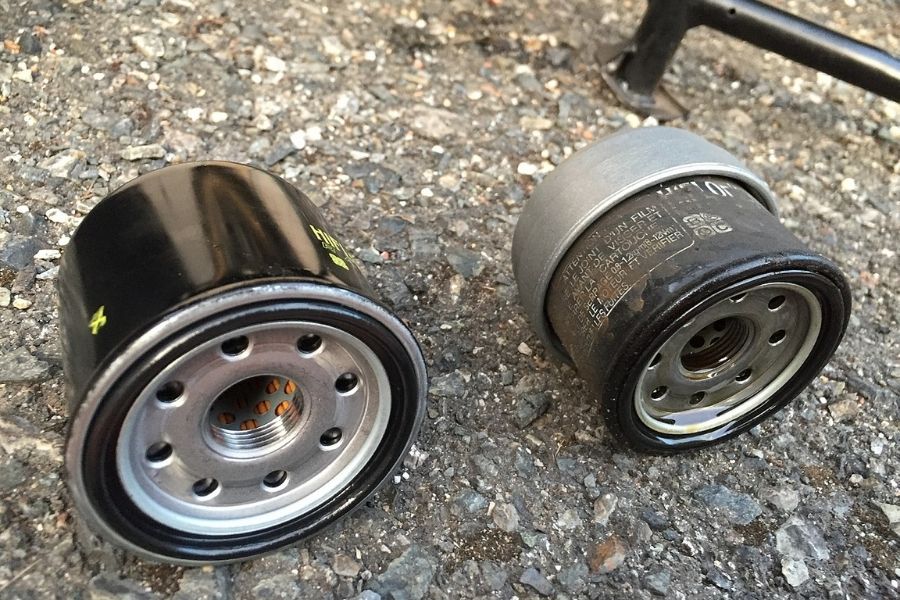 A new (left) oil filter compared to a used oil filter (right)
In due time, an oil filter's media will collect all sorts of gunk and contaminants. The more gunk it has collected, the less effective the flow is. This can affect overall engine performance, and the less efficient filtering might cause damage to the engine in the long run.
How do I keep an oil filter in tip-top shape?
There are some types of oil filters that can be cleaned, which are usually the high-performance ones that are washable. One of the most well-known brands that offer this type of oil filter is K&N. All you need to do to maintain it is to wipe all the components, soak them with a cleaner, rinse with water, then leave them out to dry.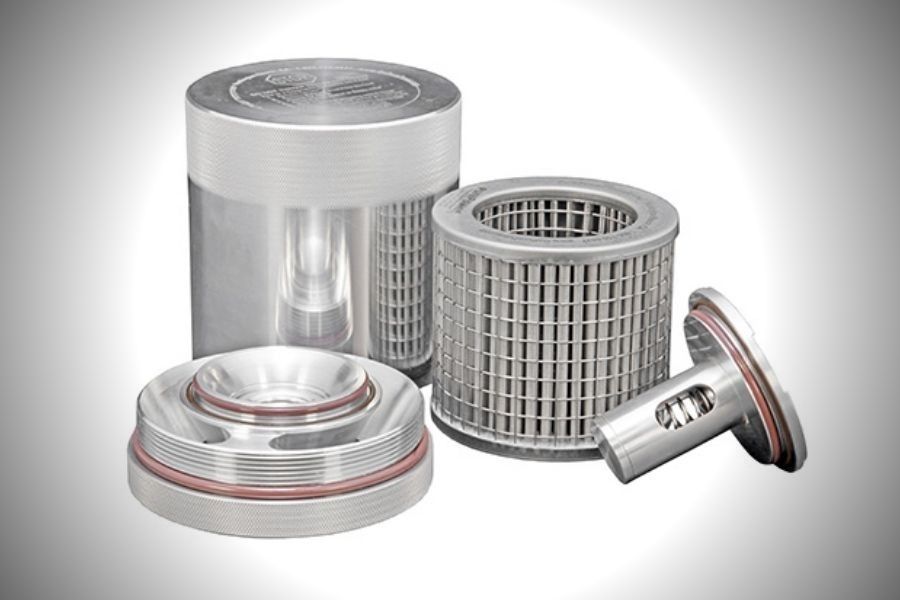 A K&N washable oil filter [Photo: K&N]
For normal air filters, however, we do not recommend reusing them. Instead, you should purchase a new one every time you get an oil change.
>>> Related: Car Engine Oil Analysis: What's your Engine Oil Telling You?
Different types of oil filters 
1. Full-flow oil filter – As the name implies, a full oil filter is designed for a high flow of oil. It allows oil to move more freely, and thus keeps effective flow even when temperatures drop.
2. Cartridge oil filter – Unlike modern oil filters, these don't come with their own housing. Instead, they use permanent housing that's mounted on the engine. These are common on early engines in the mid-1950s, but more and more manufacturers are using this type once again since they generate less waste, and are easier to replace.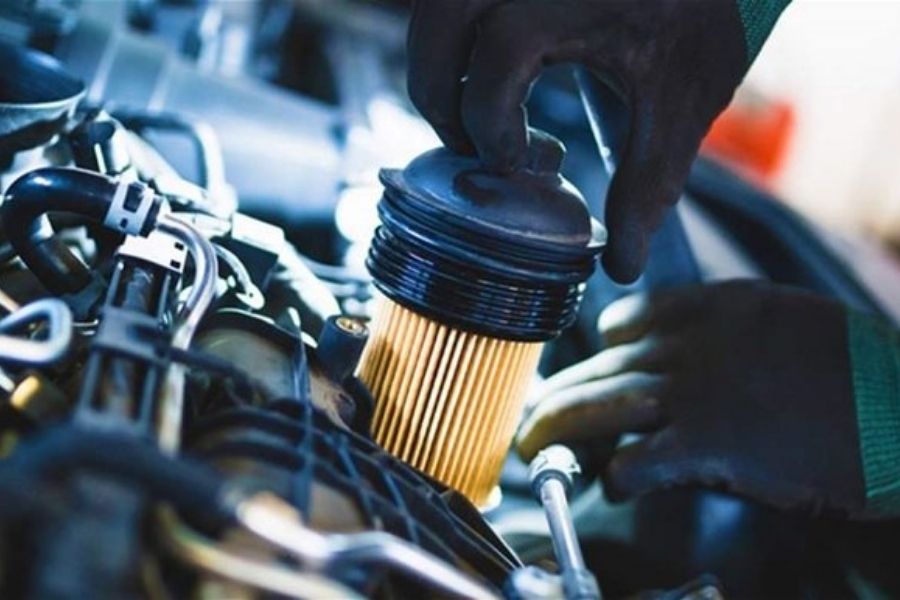 A cartridge type oil filter
3. Magnetic oil filter – A magnetic oil filter is a type of filter that rids the engine oil of metallic contaminants. It uses a magnet, and oftentimes these work in conjunction with a full-flow oil filter.
4. Spinner oil filter – Like magnetic oil filters, a spinner oil filter is also a secondary oil filter. Unlike the aforementioned type, it uses centrifugal force to spin thus trapping sediment and other contaminants. These are effective in trapping microscopic gunk and dirt.
For more useful guides on car maintenance, general car knowledge, and the latest car news, keep reading here on Philkotse.com.
Oil filter: FAQ 
1. When do I replace my car's oil filter?
Answer: We suggest replacing your car's oil filter every time you get an oil change. Of note, if you're using fully synthetic engine oil, the recommended interval to get an oil change is around 10,000 km or after 1 year, whichever comes first. If you're using mineral oil, the average would be at 5,000 km or six months, whichever comes first. The 5,000 km interval is also advised for older cars.
2. What are the symptoms of a failing oil filter?
Answer: You know an oil filter is bad when your exhaust is dirty, your car's engine is sputtering, poor engine performance, or when you have low oil pressure.
3. How much is a replacement oil filter in the Philippines?
Answer: The price of a replacement oil filter in the Philippines depends on the make and model of a car. For example, a Mitsubishi Adventure's oil filter can cost somewhere around Php 370, while a Ford Ranger 2.2-liter can be had for Php 232. Cars with smaller engines typically have cheaper oil filters. An oil filter for a 2014 Mazda 3 for instance only costs about Php 178.
4. How much is an oil filter wrench in the Philippines?
Answer: A good, universal/adjustable oil filter wrench can be brought in the Philippines for around Php 600 to Php 700 and above.
5. Can I drive with a dented oil filter?
Answer: Yes, you can drive with a dented oil filter as long as it isn't leaking oil or isn't totally crushed.


Cesar G.B. Miguel
Author