Organizing your car interior will become easier than ever with the following instructions!
Have you ever felt awkward with people who try to hitch a ride with you because of how the inside of your car looks? No, not the synthetic leather upholstery, we're talking about the clutter. If you're used to seeing your car this way then this might not bother you at all.
However, anyone who may not be aware of your preference in car interior may be surprised once they see once inside, but don't worry. Here are the best tips to guide you on how to organize your car. Don't forget to share these car tips & advice with your friends after applying it to your own ride.
1. Keep plastic bags in one place
Plastic bags are a necessity when it comes to shopping and other errands, as well as emergencies. Some people simply cannot spare not having one or two plastic bags in their vehicle. If you are one of those people and you're having trouble keeping them from getting all over the place, then it might be the time to consider organizing them.
You can use an old tissue box to store small plastic bags for later use. If you find one available, you can also utilize a resealable bag and store all those smaller plastic bags in there. Not only are your small packets of plastic out of sight but they are also free from dirt and dust - especially if you need them for food-handling purposes.
Bigger plastic bags used for other purposes like trash and wet clothes should have their own place in your car too. This makes it easier for you to grab whichever you need without making too much of a mess from trying to separate the small plastic bags from the larger ones.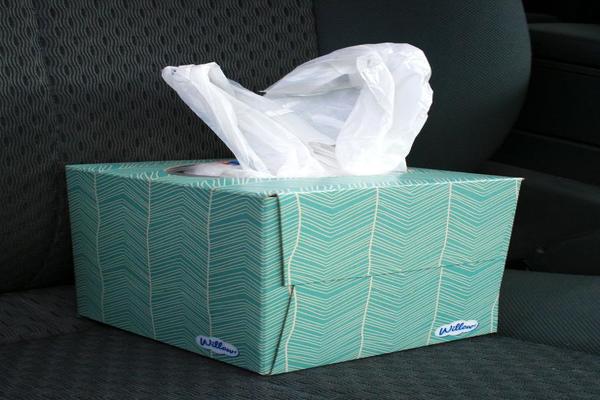 You can use an old tissue box to store small plastic bags for later use.
2. Snack Organizer, Anyone?
We're Filipinos and we like to eat whenever and wherever we may be, as long as we feel hungry or just have the urge to munch. However, even with that said, you can either be the person who is ok with people eating inside the car or is just plain annoyed at those who take their munch inside.
Regardless if indoor snacks are ok for you or not, you'll surely say yes to this to space-saving trick that includes snacks. This is favored mostly by vehicle owners who have families and often take their kids on a drive - because kids love snacks.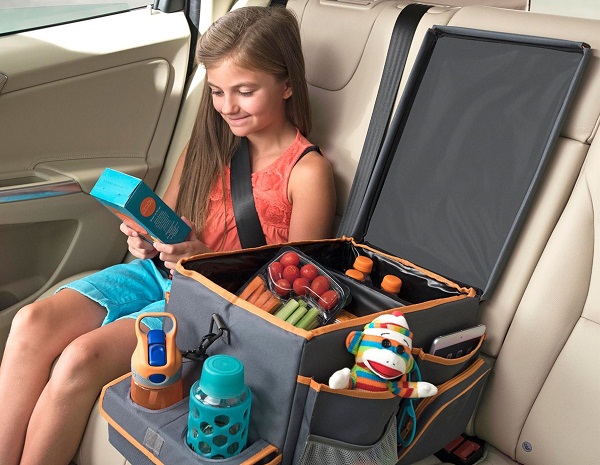 Get a snack organizer for your car 
You may be used to just carrying snacks when necessary, or at least when you feel like it will be necessary. However, you can never really tell when you're going to need a bag of baked biscuits. Our solution? Forget the oversized boxes and unnecessary bags to carry your snacks in and get a snack organizer for your car instead. You can have a homemade snack organizer or you can opt to buy one at the closest merchandise store where you see one.
Once you get your snack organizer, check if it fits under the car seat. Position it where you feel is the most convenient for you, our advice? Choose the seat where you can reach it the easiest. You can now start stacking up on pretzels, cookies, potato chips, candy bars, and juice drinks; kind of like a mini pantry.
3. A Specific Diaper Bag
Nope. We're not referring to the bag that you carry around wherever you go with your toddler. What we're trying to say is that you should have a designated diaper bag in the car. One bag that contains clean diapers, wet wipes a waterproof changing mat, bags for the dirty diaper and maybe a few pieces of clean pants and baby or toddler wear.
This bag should stay in the car to fully satisfy its goal. It saves you from bringing an extra bag on your back or shoulder when you'll just end up changing the baby's diaper in the car. If you've experienced having to bring a bulky, bright-colored diaper bag with tons of things in it every now and then, then you'll definitely appreciate this tip.
All you have to do is refill the diapers once the bag is almost empty and dispose of the dirty diapers once you come across a garbage can.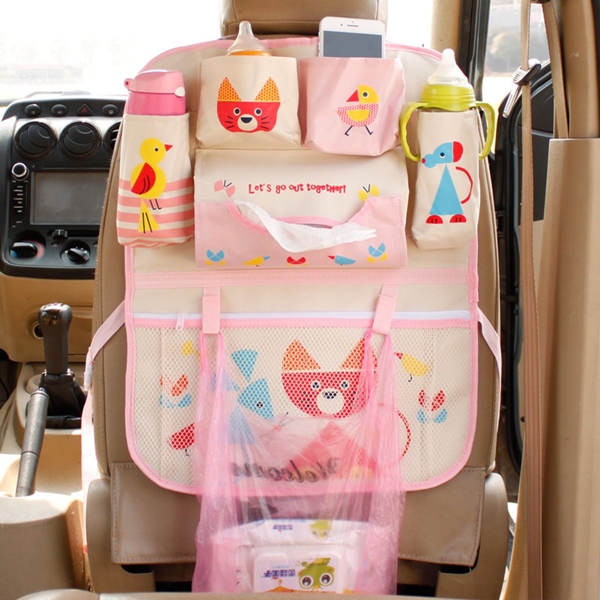 You should have a designated diaper bag in the car.
4. Keep your glove compartment tidy
When you're driving and you come across a piece of paper that you feel like you'll need in the near future, where do you put it? We bet 8 out of 10 of you readers put it in the glove compartment since it provides the easiest access to the driver's seat. Receipts, bills, envelopes, recipes, grocery and shopping lists, contact information notes and so many other types of information on paper are all assorted and packed up in the glove compartment by habit.
Start having a more organized glove compartment; it won't only keep your important pieces of paper but it will also keep it in a way that you'll find what you need easier. Achieving this is easy and only requires that you get cardboards or folders that you can label and put inside the glove compartment securely. This will separate your shopping list from your contact information notes and receipts that you keep.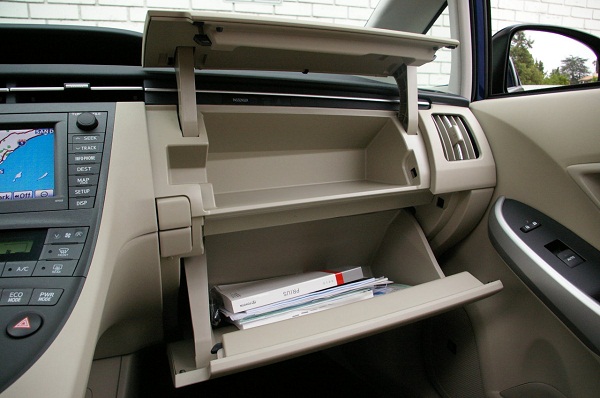 Start having a more organized glove compartment
>>> You also want to read: 4 simple tips to keep your car interior clean and tidy
5. Get Your Phone a Personal Space
Phone holders are all the range that if you drive a car and don't have one, how else do you use your phone conveniently while driving? There are different types of phone holders that can or can't fit your phone model and all you have to do is ask for assistance from the store clerks to find one that fits yours perfectly.
These come in very handy especially when you need GPS assistance from your phone while you're also driving stick. Another scenario where you can find this useful is when you're on a call with someone and don't have a Bluetooth headset - it lets you answer the call while on speakers. You can freely converse with the caller without the driver having to use his hands to hold the phone.
Despite all these functional qualities that we can gather from having a phone holder, why don't we admit that it's also a tad stylish? Sadly we can't say that all types and models are due to the cloning industry. Due to the presence of poorly-made replicas in the Philippine market, there are also phone holders with disappointing design and unsatisfying functionality.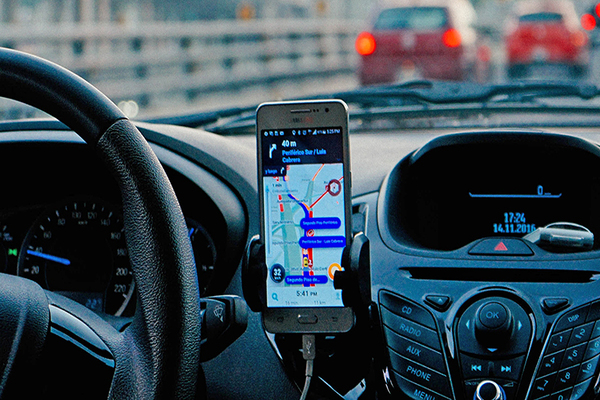 Phone holders come in very handy especially when you need GPS assistance from your phone while you're also driving stick
A well-organized and clean cabin will bring you an enjoyable driving experience. Check out to equip yourself with a helpful checklist for car interior cleaning.


Hanna Sanchez
Author
Recent posts