May will come with plenty of exciting car events that auto lovers can't miss. Make sure to note them down on your calendar.
Car or auto shows are events that every car enthusiast should not miss! It is a kind of activity wherein cars are displayed. They may be the latest and soon-to-be-launched cars and/or the classics, as well as cars that have some of the best setups.
A car show can be your means of checking out what car to buy or finding inspiration for how you can improve the looks and performance of your current car. No matter what your reason might be, getting the ticket for a car event 2019 ahead of time is always the best way to ensure that you can attend any or all of the events.
Some of you, if not most, might not be aware that there are actually a lot of car events in the Philippines. That is because most of us are only familiar with the biggest events that are usually highly advertised on the news.
If you live in the metro or nearby or further provinces, here are the car shows you can consider attending this May
1. Hot Import Nights 8 Manila
Coming to you with the help of Blade Auto Center, B2B Car Show, FUBU Manila in partnership with a few sponsors, Hot Import Nights 8 Manila is a two-day event that will happen twice in the month of May. To be precise, it is scheduled from May 4 to 5 and May 19 to 20.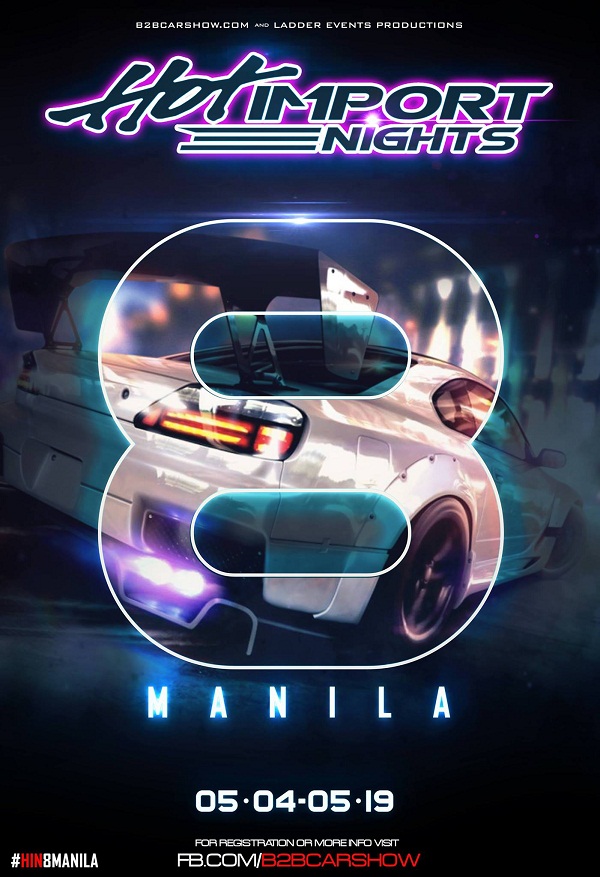 Hot Import Nights 8 Manila will be held in Ortigas Center
As for the May-4-to-5 schedule, it will be held at Metrotent or Metrowalk Open Grounds in Ortigas Center, Pasig City.
On the first day, there would be a whole day outdoor car show and whole day indoor car show plus a VIP party and concert from seven to eleven in the evening. During the second day, there would be an afternoon indoor and outdoor car show.
For general admission tickets, it will only cost you fifty pesos. On the other hand, for VIP, tickets are priced at 280 pesos. It includes an entrance pass for one day and an exclusive baller ID. Lastly, for the 500-peso VIPA ticket, it includes an entrance pass for two days, as well the baller ID and B2B keychain.
2. 2019 TransSportShow
The 28th edition of the TransSportShow will happen in May 2019, specifically from May 23 to 26. The venue will be in Halls two to four of the Mall of Asia in Pasay City and will run from ten in the morning to nine in the evening.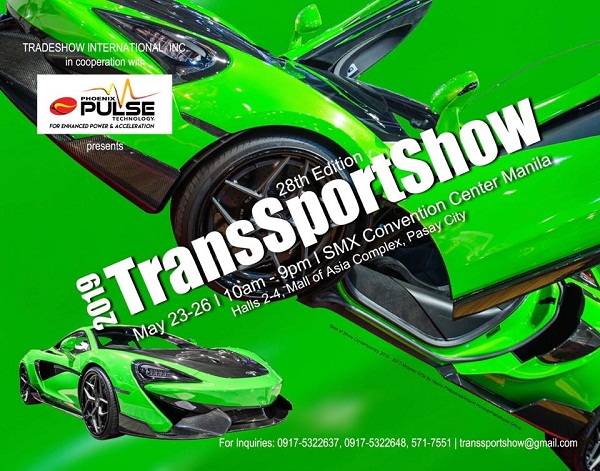 Trans Sport Show 2019 will happen from May 23 to 26
This car show event will display show cars, as well as will have retail and trade booths plus special events. Its main highlight, though, is the competition between car restoration shops and customizers for the title of the Best of Show. For those interested, tickets are available at one hundred fifty pesos only for both adults and children.
This NCR car show 2019 updated list is intended to help you find the right auto-show for your taste and interest. Be one of the firsts to book their tickets so that you won't miss out on any of the events or the event you want. After all, it's not hard to fall in love with cars! Enjoy!
>>> Click to keep updated with the latest news on the automotive industry


Charisse Kim
Author
Recent posts