Philippines Bus & Truck 2017 is a 3-day expo being held from 14 to 16 July 2017 and will showcase the myriad of products like trucks, buses, commercial vehicles, auto parts, and more.
Philbus & Truck 2017 – No.1 International Bus, Truck & Commercial Vehicles Exhibition in our country, is coming back from 14 to 16 July 2017 at the SMX Convention Center in Manila. The expo is set to be the Philippines largest tradeshow on commercial vehicles, pick-up truck, bus and accessories, auto parts and garage equipment. On its 3rd edition this year, Philbus & Truck 2017 will showcase more and more exhibitions representing various countries such as Thailand, Korea, Taiwan, Malaysia, Singapore, China, and more.
>>>
Isuzu PH was once more staging its Isuzu Truck Fest for Filipinos in Pasay City. Read our article for more details.
Event-goers will include car manufacturers, suppliers, professionals, key decision makers, distributors, and much more.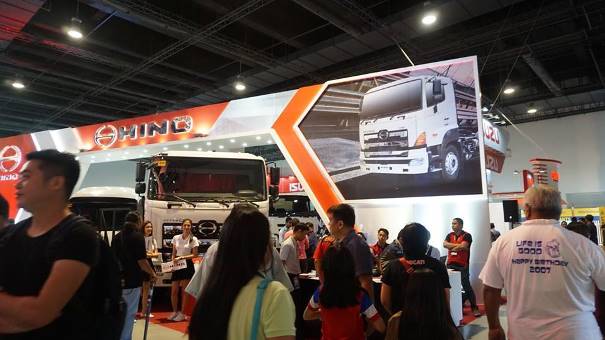 On its 3rd edition this year, Philbus & Truck 2017 will showcase more and more exhibitions representing various countries such as Thailand, Korea, Taiwan, Malaysia, Singapore, China, and more
More than 200 exhibitors are anticipated to take part in the expo to showcase their most recent product and services. Some major companies that will be present include:
Mitsubishi
Motors
Isuzu
Motors
MAN Truck & Bus
Hino Trucks
Yutong Bus and Cimatech Enterprises
Centro Manufacturing
IRS Eastern
Hyundai Motor Company
Durabus Inc. (Zhengtong Bus)
Standphil
Sinopec
The event is supported by:
The Integrated Truckers Association of the Philippines, Inc. (INTAPHIL)
The Philippine Parts Maker Association, Inc.
The Philippine Ports & Transport Council (PPTC)
The Truck Operator Association of the Phil-Tap, Inc.
Provincial Bus Operators of Philippines (PBOAP) Haulers for International Liners Association (HILA)
Exhibitor product profile:
Buses
Trucks
Commercial Vehicles
Pickup Trucks
Fork Lifts
Pallet Trucks
Automotive Parts and Systems
Commercial Automotive Accessories
Automotive Electronics & Entertainment Devices for Commercial Vehicles
Automotive Services as well as Repair and Maintenance Equipment  

PHILIPPINE BUS AND TRUCK EXPO 2016, TAMPOK SA PASAY
>>> Click here to follow up with latest local and worldwide car events