These colors work well with this tough pickup truck.
The Nissan Navara is definitely a strong contender in the local pickup truck market. Since its update in 2021, it has gained even more desirable qualities inside and out, and specific trims even received a whole slew of driver-assist features in the form of the Nissan Intelligent Mobility suite.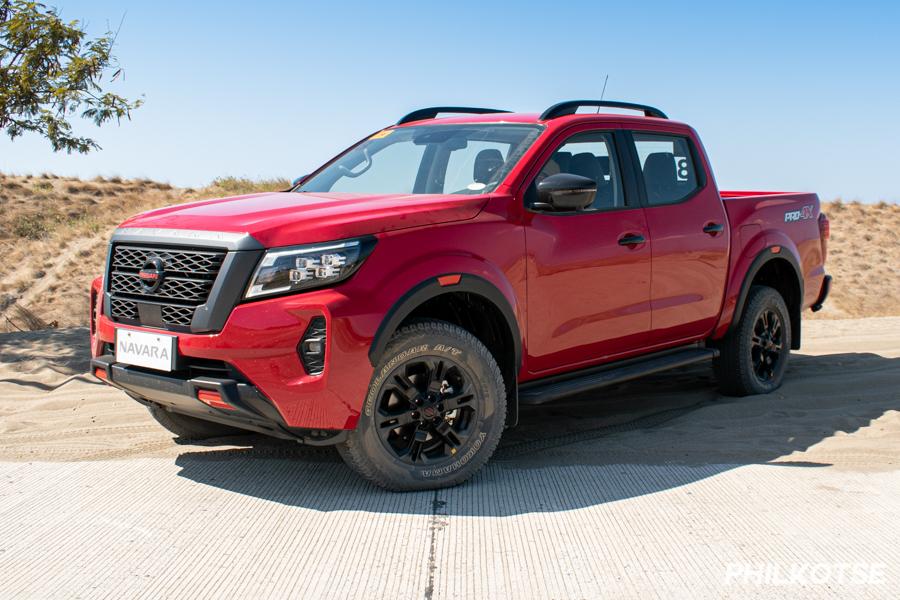 The Nissan Navara PRO-4X in Fiery Red
Suffice to say, many are considering this pickup truck as their next ride. And while we've already gone over the differences between the Navara's eight different variants, you might need some help in choosing the right color to get.
So without further ado, here are some tips to help you answer the question of which Navara color is the right one?
Keeping it simple
First off, let's start with the colors available only to the VE and EL, two of the most affordable trims in the Philippine-spec Navara's variant lineup. These include Brilliant Silver and Alpine White. Two simple colors that provide a utilitarian charm to your truck.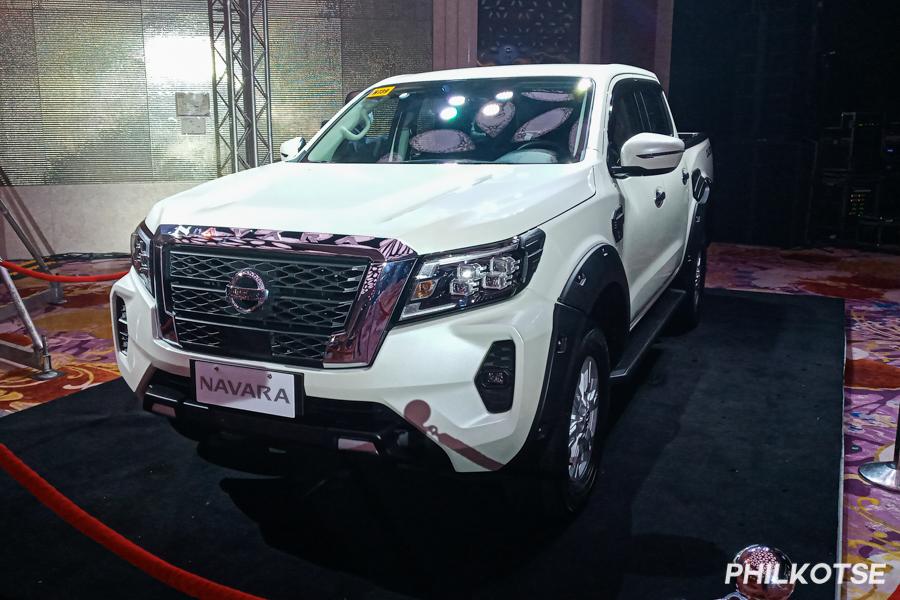 An accessorized Navara EL in Alpine White
As with most entry-level trims, a Navara EL with a Brilliant Silver and Alpine White color comes with black-colored exterior trim pieces. Then again, it does have chrome window moldings and a chrome grille to add some flavor. The VE in turn gets fancier with its chrome-colored door handles. Both trims do have body-colored front and rear bumpers.
Quiet and regal
If you prefer something quiet and elegant, then you might want the Forged Metallic Copper or Lunar Metallic Gray for the Navara. Of note, these are available for the VL and VE 4x2 variants only.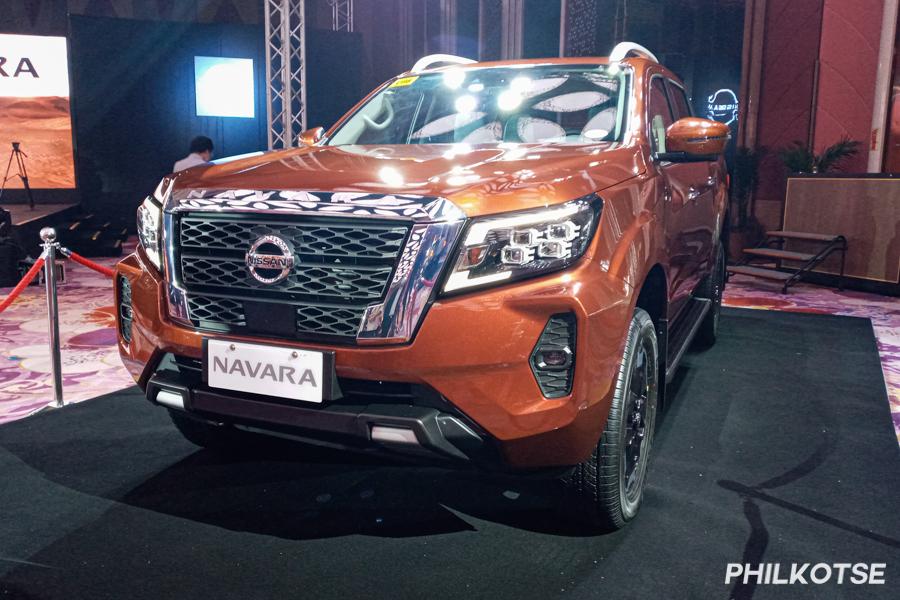 A Navara VL in Forged Metallic Copper
For the VL, these colors are combined with silver-colored roof racks, chrome window moldings, a chrome grille, a body-color side mirror, body-color front and rear bumpers.
Something in-between
If one still wants to veer away from either the loud or tough-looking colors of the Navara PRO-4X, then there's Aspen Pearl White.
Of note, a PRO-4X with this body color still gets the black exterior trim pieces and the gloss black roof rails, orange front bumper accents, and the alternate black-colored front grille with the Orange-tinged Nissan logo.
Also, Aspen Pearl White is also available for the VL trims, which as mentioned combines the said color with plenty of chrome.
The colors of adventure
If you want a tough or loud persona for your Navara, then the Galaxy Black, Fiery Red, or Stealth Pearl Gray might be the colors for you. These are all available for the top-spec Navara PRO-4X only, and they complement the said trim's black-colored exterior bits.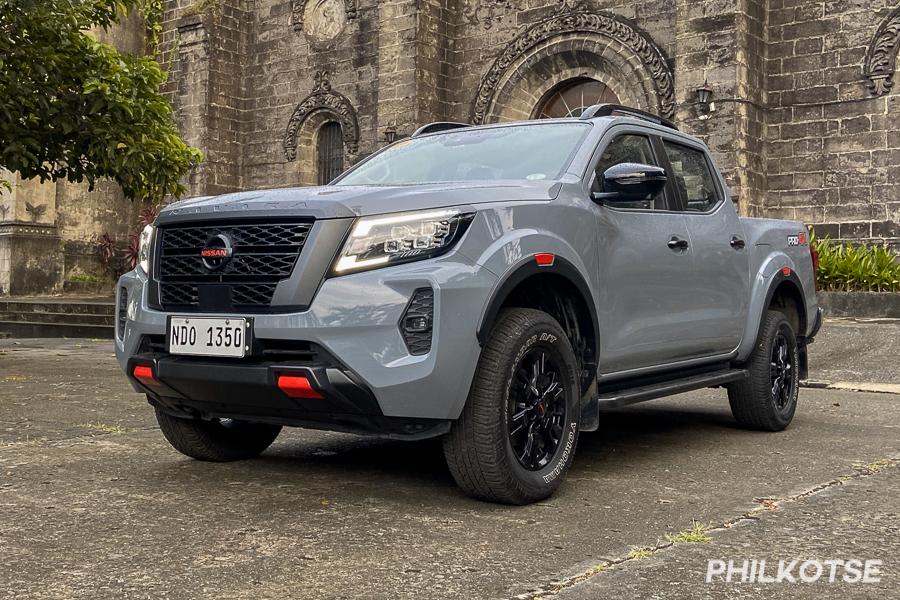 The Navara PRO-4X in Stealth Pearl Grey
As mentioned, these colors are combined with the PRO-4X's black-colored front grille, its orange front bumper trim pieces, among others.
There you have it folks, a short guide on the Nissan Navara's color choices. Remember though that these are just suggestions, and if you're getting a Navara, you should just go with the color you want. Then again, it appears that most color options for this model are attached to its many variants, so that's one thing to consider if the color of your car is a big deal for you.
For more car buying guides, keep it here on the Philippines' largest automotive portal.
Know more about Nissan Navara 2022

The Nissan Navara 2022 is a pickup truck that is available in the Philippines. Nissan Navara 2022 Philippines price starting from Php 1,026,000 to Php 1,746,000. This price range is covered within the truck's six variants, with the PRO-4X as the most expensive Navara. Under the hood, the Japanese pickup is powered by a 2.5-liter YD25DDTi inline-4 DOHC turbodiesel engine. Depending on the variant, the horsepower ranges from 161 to 190, while the torque in newton meters varies from 403 to 450. Either a 6-speed manual or a 7-speed automatic transmission is paired to the engine.
Dimensions-wise, the Navara spans 5,260 mm in length, 1,875 mm in width, and 1,855 mm in height, with the wheelbase rated at 3,150 mm. In addition, the bed dimensions (L x W x H x H) are 1,470 mm long, 1,495 mm wide, and 470 mm and 520 mm in height. Locally, this pickup truck competes against the likes of the Toyota Hilux, Ford Ranger, and Mitsubishi Strada.

Cesar G.B. Miguel
Author
Recent posts