What are the differences between the Kia Soluto LX vs EX?
If you're reading this, then it's highly likely that you're considering the Kia Soluto and you're wanting to learn more about this car model, right? Luckily for you, this Korean sedan only has four variants in the Philippine market. As such, making a choice is potentially simpler. To make it even easier for you, here's a guide on how each Soluto variant is different from each other.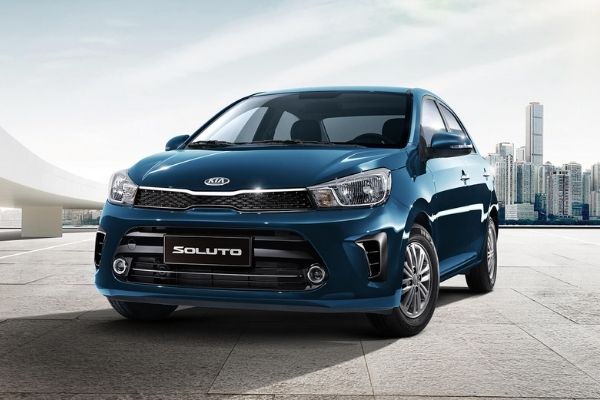 How different is the Soluto LX from the EX? Let's find out
Kia Soluto LX vs EX: Differences in exteriors
When it comes to size, all Soluto variants are identical. Both Kia Soluto LX and EX measure 4,300 mm long, 1,700 wide, and 1,460 mm high. There are also no differences with their wheelbases, which measure at 2,570 mm, and their ground clearance is identical at 150 mm.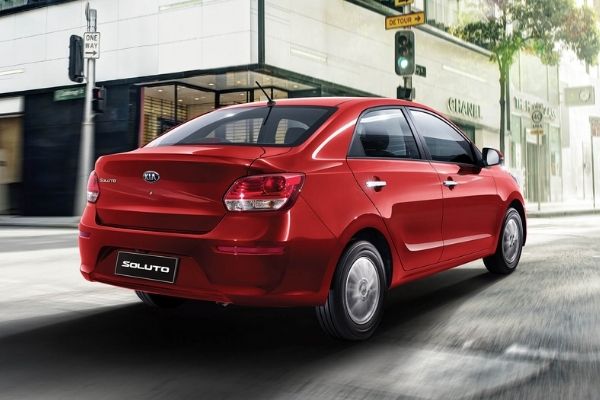 The higher trim EX comes with more stylistic exterior features
In terms of appearances though, the EX and LX does have some differences. For one thing, the high-trim EX comes with a set of better looking 14-inch alloy wheels instead of the basic steelies found on the LX. Another is that the EX also gets side-mirror repeaters, chrome door handles, as well as front fog lights. These of course are absent on the entry-level LX.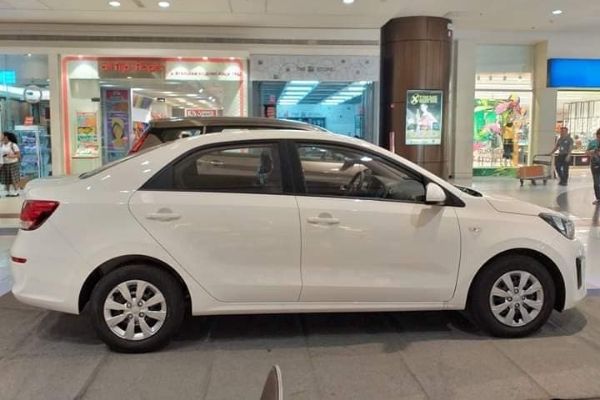 While the LX is simpler, it doesn't look that much different than the top-spec EX
>>> Related: Shoes for your ride: Steel vs Alloy wheels
Kia Soluto LX vs EX: Differences in Interiors
Uniform on all Soluto variants is the seven-inch touchscreen. Regardless of trim, this head unit is very capable. It comes with Apple CarPlay, Android Auto, and it is linked up to a decent sounding six-speaker system.
All variants of the Soluto also provide the driver a 2.8-inch multi-function display. As for the passengers, both the EX and the LX come equipped with a manual air-conditioning system and 12-volt accessory outlets.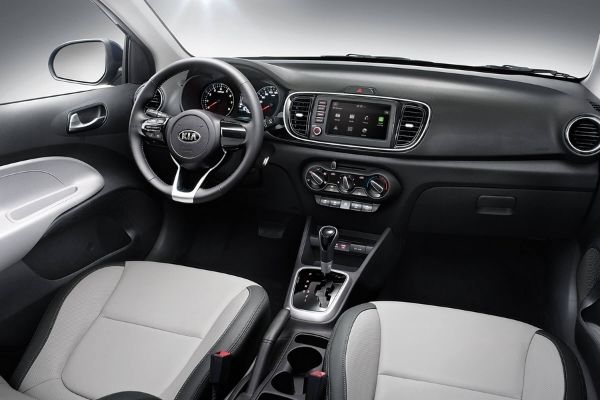 The interior of the Soluto, regardless of variant, is well arranged and spacious
The only difference between Kia Soluto LX vs EX is that the latter's seats are covered in leather. The EX, on the other hand, has simpler fabric seats. As far as trunk space goes though, both the EX and LX can provide up to 475 liters.
As entry-level Kia sedan models, you can expect the Soluto's interior to have hard touch plastics. These are simple but are undoubtedly tough enough to withstand the rigors of daily driving.
Kia Soluto LX vs EX: Engine and Performance
Under the hood, all Soluto variants are propelled by a 1.4-liter inline-4 gasoline engine. Peak power is rated at 94 horsepower and peak torque is at 132 Nm. Power is sent to the front wheels.
Each trim also has a manual version and an automatic version. For the former, it uses a five-speed manual tranny. The latter uses a four-speed automatic torque converter type transmission.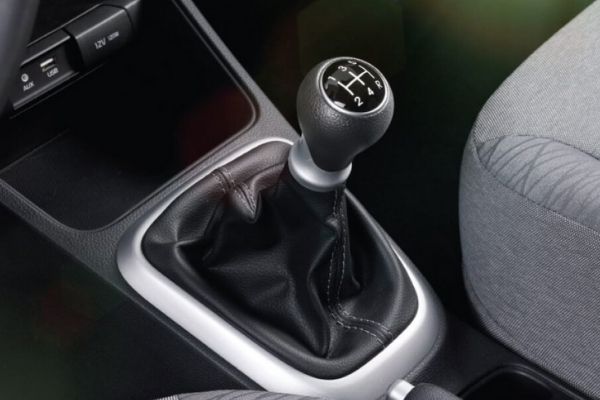 The Soluto MT's gear shifter
Kia Soluto LX vs EX: Differences in Safety features
In terms of safety features, all variants of the Soluto are equipped with dual-front airbags, ISOFIX, a seatbelt reminder, and anti-lock brakes with the electronic brake-force distribution. The high trim EX however does come with rear parking sensors while the LX does not.
Kia Soluto Variants: Pricing
Kia Soluto LX vs EX: Conclusion
To sum it all up, what makes the difference between Kia Soluto LX vs EX is its rear parking sensor, leather seats, side-mirror signal light repeaters, chrome door handles, and the 14-inch alloy wheels.
The rest like the engine, number of airbags, and its infotainment system are identical on all four trim levels.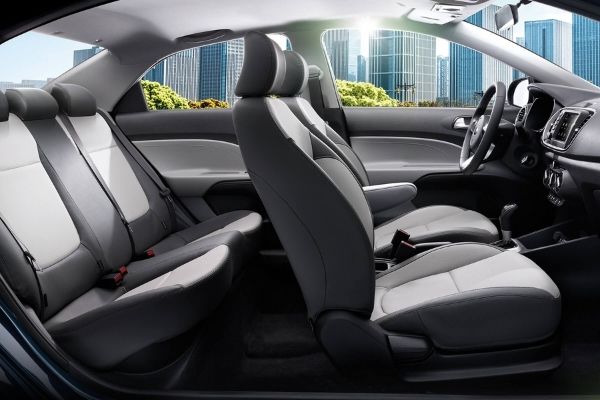 Regardless of what variant it is, the Soluto will do well as a daily driver
As a result, the range of prices of the Soluto variants isn't as widespread as other competing car models available locally. To further demonstrate this, the top-of-the-line EX AT is only Php 90,000 more expensive than the entry-level LX MT.
That's one of the lowest price differences between an entry-level variant and a top-of-the-line variant in a model currently available in the Philippines.
So, did this guide help you make your choice of Soluto variant? For more guides like this, keep reading here on Philkotse.com.
Know more about Kia Soluto 2021

<p>The Kia Soluto is a five-seater, subcompact sedan with a front-engine, front-whee-drive layout. For the Philippine market, its sole engine option is a 1.4-liter mill capable of making up to 94 horsepower and 132 Nm of torque. There are four available variants locally, and all of the uses the said engine. Available to the Soluto is a five-speed manual transmission and a four-speed automatic transmission.&nbsp;</p> <p>The Soluto is made via a joint venture between Dongfeng, Yueda and Kia. It shares a platform with the Hyundai Reina, and it is currently sold in Southeast Asia, the Middle East, South America, and China.</p>

Cesar G.B. Miguel
Author