No-nonsense subcompact sedan.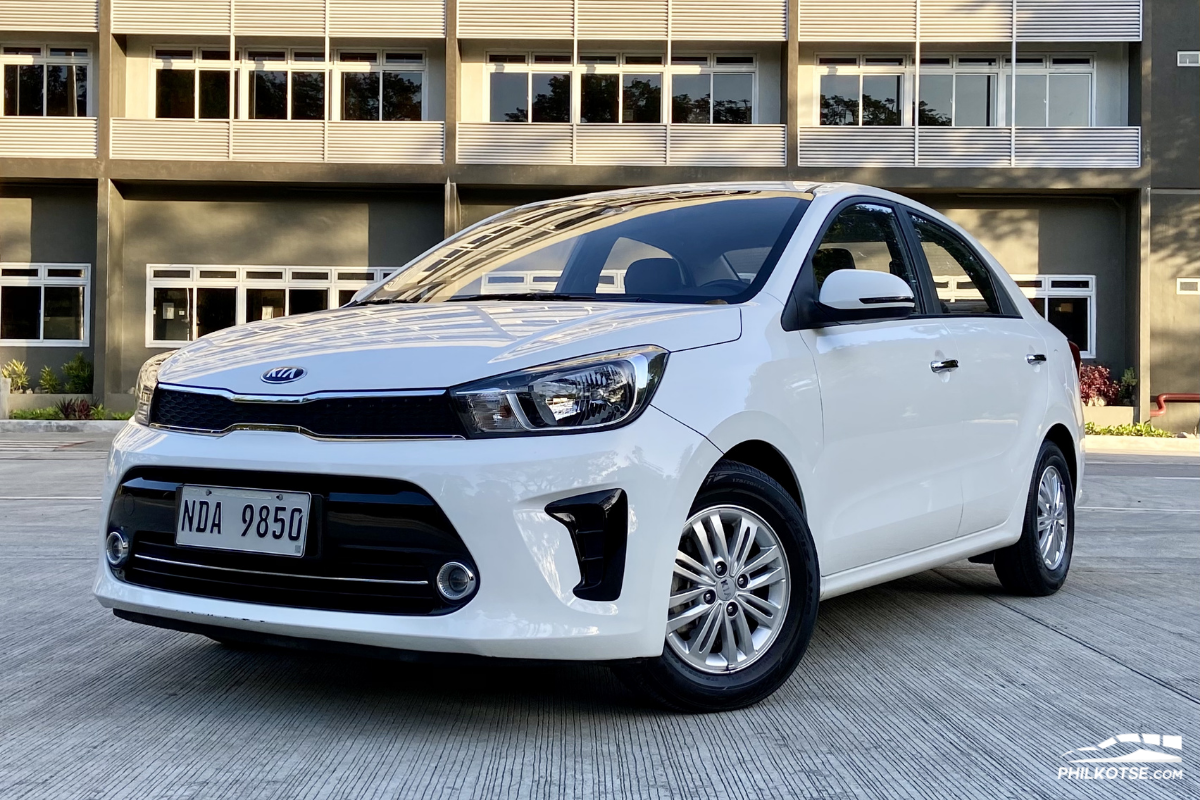 In this review...
Introduction

Exterior

Interior

Tech & Safety

Engine & Performance

Fuel Efficiency

Verdict

Variants & Price

Color Options

Specifications
2020 Kia Soluto EX Philippines: Introduction
The popularity of sedans is decreasing when you look at the global market. Car buyers are looking for a larger vehicle such as crossovers or midsize SUVs. However, that's not quite the case when you look into the Philippine market where subcompact sedans are still one of the best-selling vehicles.
Subcompact sedans are popular in the local market due to their bang for the buck sticker price. Cars under the said category allow individuals to efficiently go from point A to B.
Moreover, subcompact sedans continue to be one of the reasonable vehicle purchases for those who are looking for a reliable daily city driver. As such, car brands are consistently marketing their respective challengers in the said segment.   
Currently, Toyota Motor Philippines is on top of the food chain when it comes to the subcompact sedan segment thanks to the Vios. However, there are other worthy contenders in the market that could be on your list when you're shopping for a daily city driver.
One of which is the 2020 Kia Soluto. Does it have what it takes to be a daily urban jungle warrior? To find that out, here's Philkotse's 2020 Kia Soluto EX review.
Overall exterior & Interior design, build quality, form vs function

Number of safety & tech features, consistency during usage

Power delivery, acceleration, transmission, suspension, handling

Overall Ride Comfort, Space, Storage Areas

Sticker price vs overall package
2020 Kia Soluto Exterior Review: Simple yet surefooted
The 2020 Kia Soluto comes with the same platform as the Hyundai Reina. Both vehicles are essentially the same except for their overall styling. The Soluto's exterior styling is more subtle and sleek as compared to the Reina. Both Korean subcompact sedans are equally designed well but I prefer the subtle look of the Soluto a bit more than the Reina.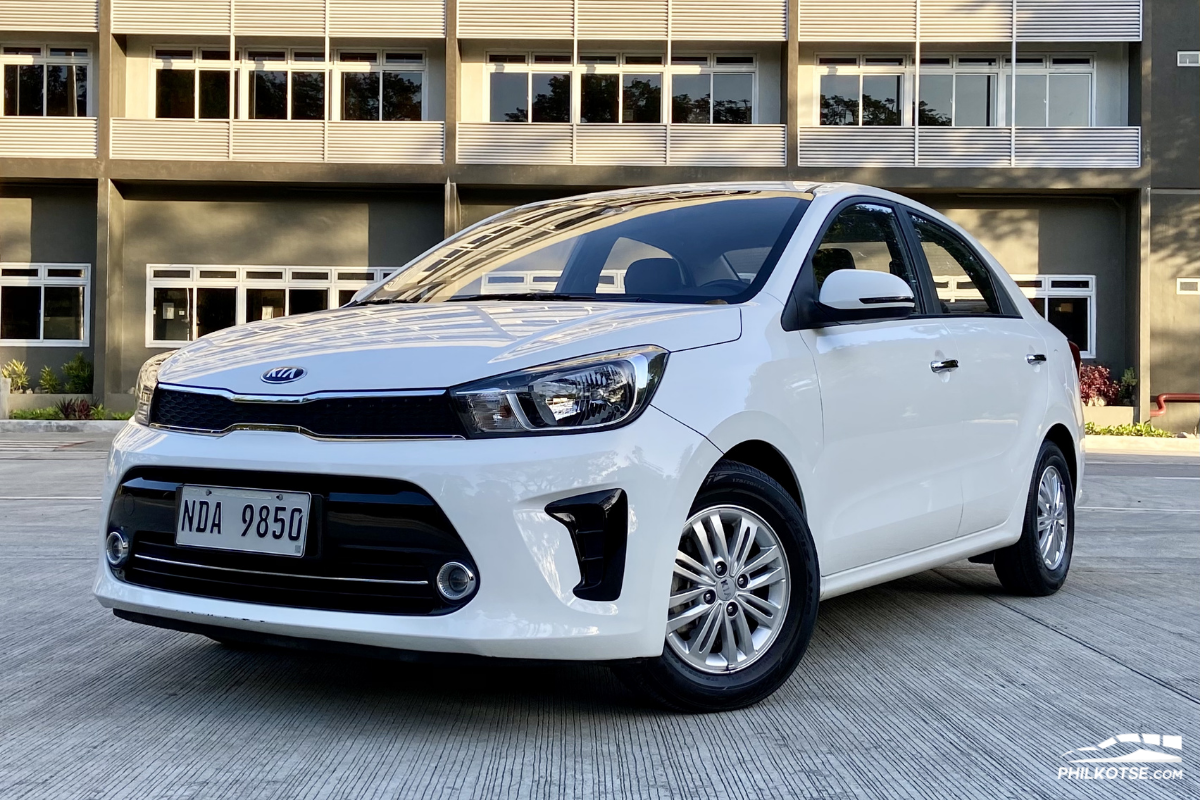 2020 Kia Soluto
The Kia Soluto comes with a simple exterior design, which is expected for cars in its price point. However, despite its overall simple exterior, the Soluto is surefooted and a confident-looking vehicle. This is due to Kia's signature tiger-nose grille, which gives the Soluto a balanced fascia. In addition, the grille design of this vehicle adds flair to the overall exterior design. 
The 2020 Soluto is also fitted with sharp-looking projector halogen headlights, an angular bumper, and fog lamps. Of note, the Soluto's fog lamps are integrated on the lower grille rather than on the bumper. The corner end of the vehicle's bumper is equipped with black front air curtain intakes that add character to the Soluto's front end. In addition, the Soluto's white exterior paint complements well in the black accents you see on its grille and bumper.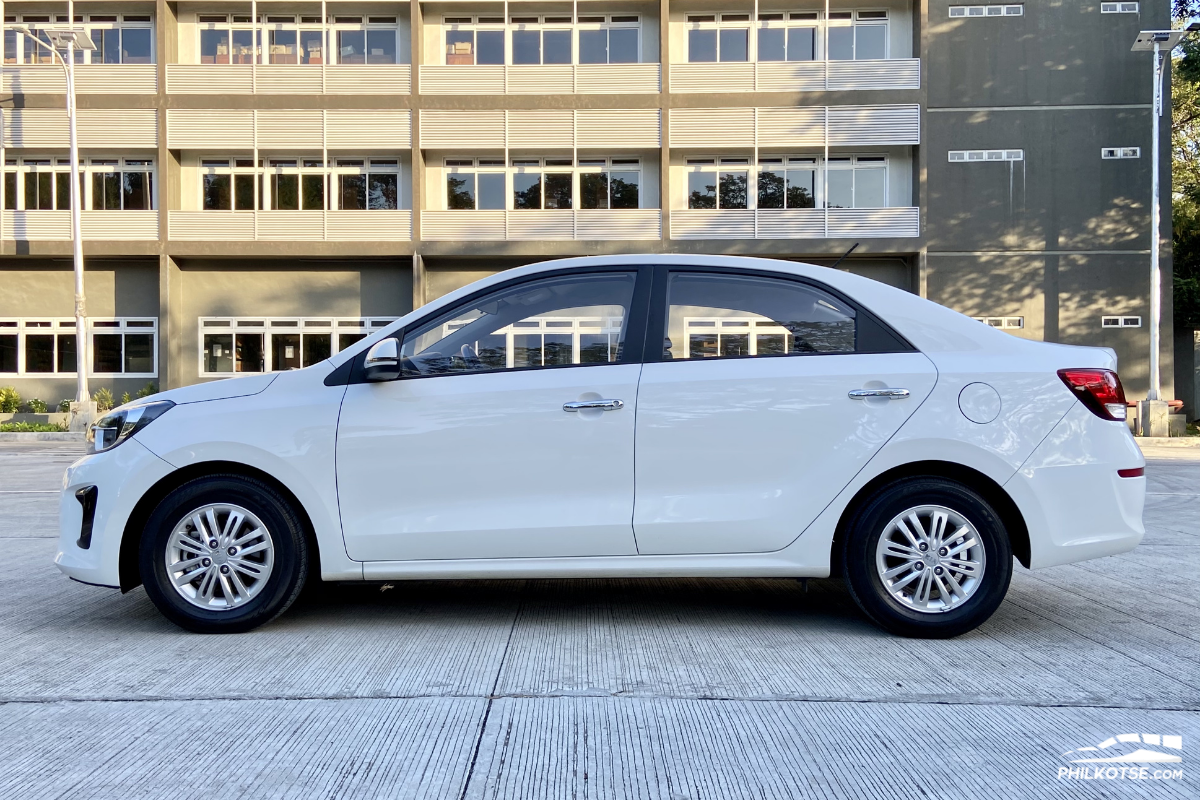 Simple yet distinctive
The simplicity of the Soluto's design continues to be seen at the side. It comes with chrome door handles as well as power-adjustable side mirrors with turn signals. However, the side mirrors are not power-folding. The 2020 Soluto sits on a set of 14-inch alloy wheels that looks rather basic yet enough to give the vehicle some extra style points.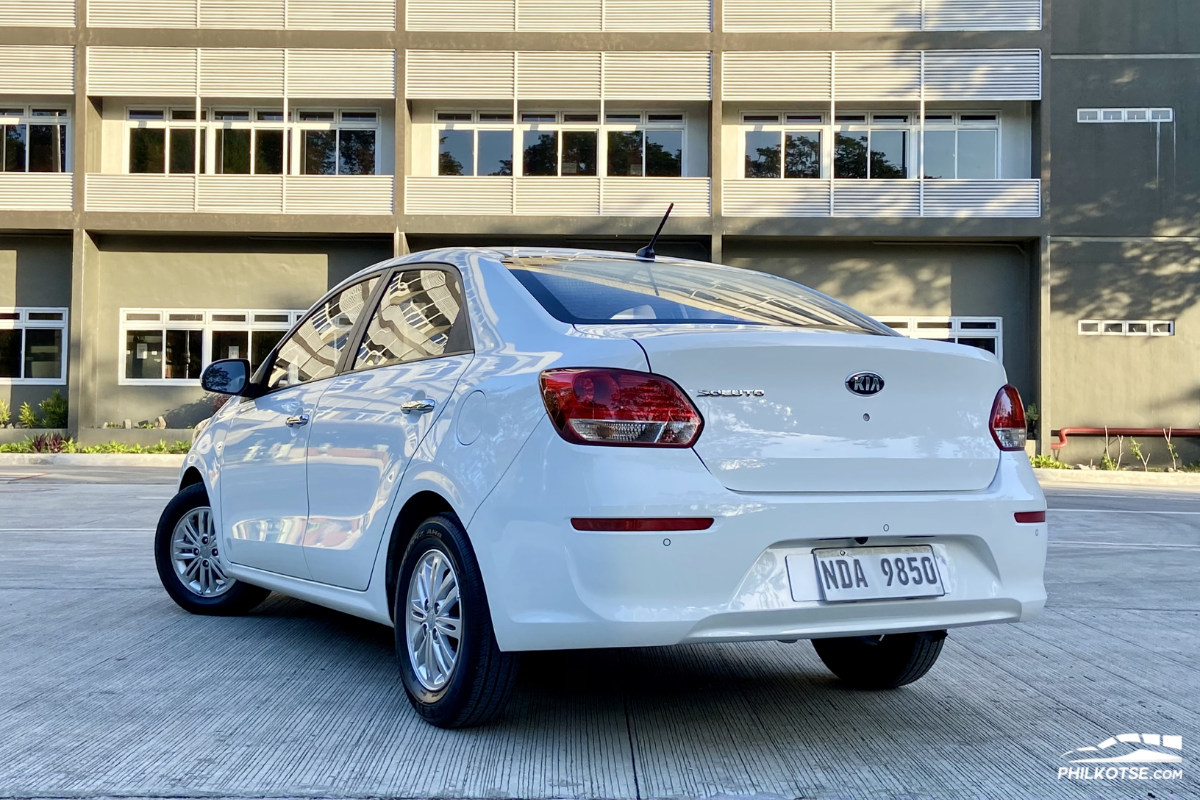 The rear looks simpler as compared to the front end
The rear of the Kia Soluto is a bit too bland or plain when you compare it to how the front end is designed. It gets rear combination halogen taillights and a bumper that's accented by distinctive reflector lights. From afar, the rear of the Soluto sort of looks like a wide face version of Ultraman. Kidding aside though, the 2020 Kia Soluto's exterior design is simple yet surefooted, and it's a vehicle that features a straightforward look.
2020 Kia Soluto Dimensions: Length, Width, Height & More

Dimensions

2020 Kia Soluto

Lenght

4,300 mm

Width

1,700 mm

Height

1,460 mm

Wheelbase

2,570 mm

Tire Size

14-inch Alloy
YOU MAY WANT TO READ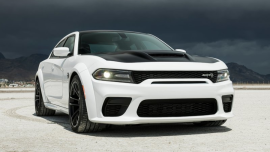 Model Price Philippines
₱ 4,990,000 - ₱ 7,990,000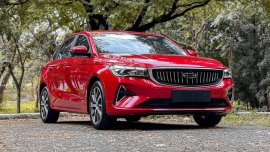 Model Price Philippines
₱ 753,000 - ₱ 999,000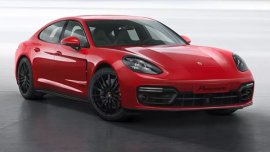 Model Price Philippines
Price available upon request
2020 Kia Soluto Interior Review: Keeping only the essentials
Inside, the 2020 Kia Soluto comes with a no-nonsense interior layout. It's plain, simple, and straightforward but comes with essential cabin features. The interior has a dark theme that's accented by silver trims, glossy black materials, and gray-ish color on the door panels. The Soluto's cabin is filled with hard plastics such as on the dashboard and door panels.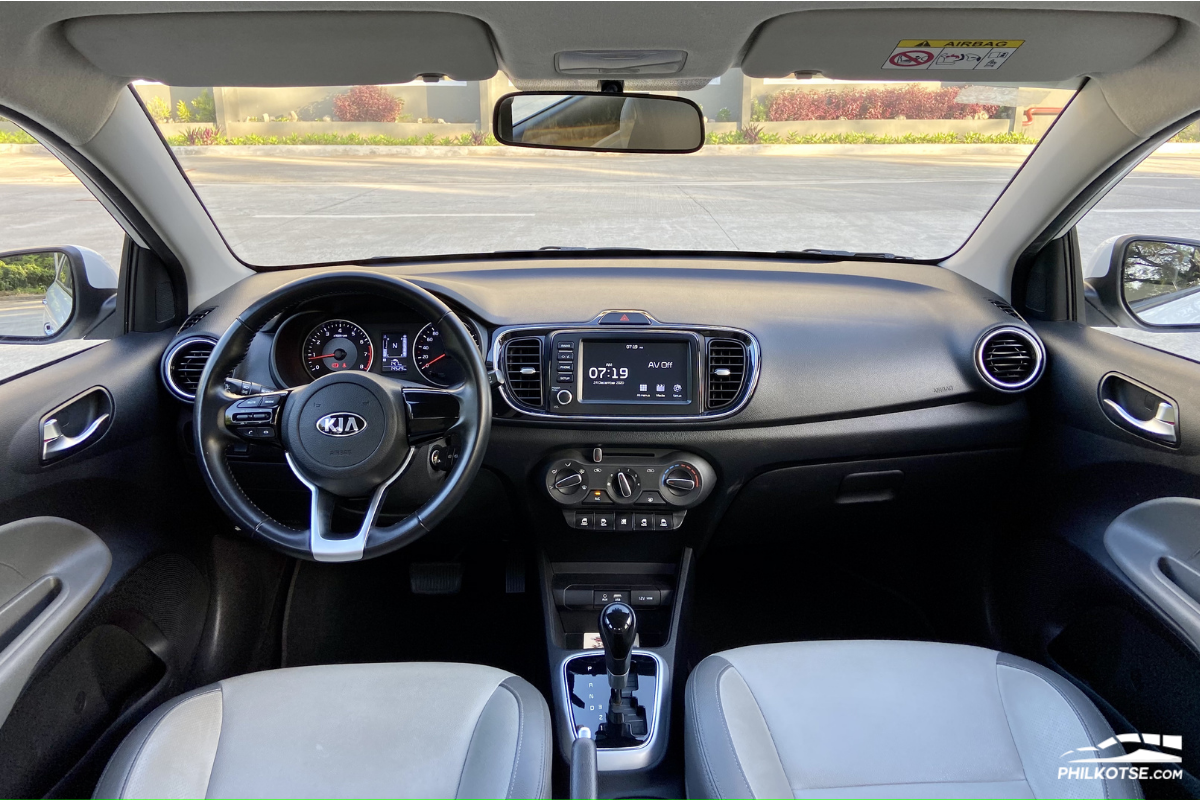 Straightforward interior layout
The dashboard of the Soluto has a clean layout along with well-organized controls such as the rotary aircon. Move down a bit and you'll see the Soluto's power window controls. Yes, the up and down buttons for the windows are placed in the middle instead of the door panel. I don't find this feature odd but I'm not a fan of it either. On the other hand, the steering wheel of the Soluto is integrated with audio and phone controls.
The instrument panel looks decent as well, and it has a clear white-on-black font for the speedometer. This Soluto also comes with a 2.8-inch LCD trip meter that allows you to get the vehicle's average fuel consumption as well as your average speed.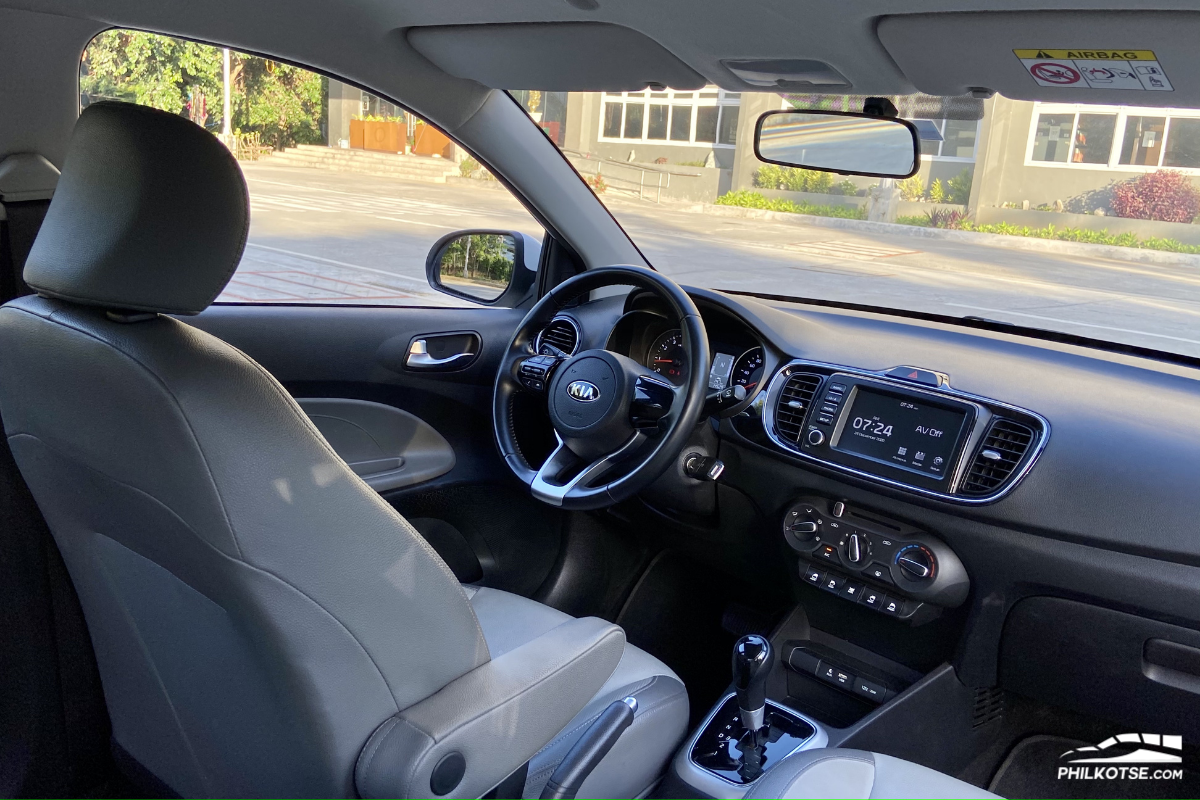 The Soluto's cabin comes with a two-tone theme
The 2020 Kia Soluto also features a 7-inch multimedia touchscreen that's compatible with Apple CarPlay and Android Auto. It has leatherette type seats that come with a two-tone theme of beige and gray, which adds style to the Soluto's straightforward interior.
One of the things I liked about the 2020 Kia Soluto's interior is the availability of an armrest at the driver's seat. I find this feature beneficial especially in long-distance highway driving since you can relax your right arm a bit while you're cruising on a straight path.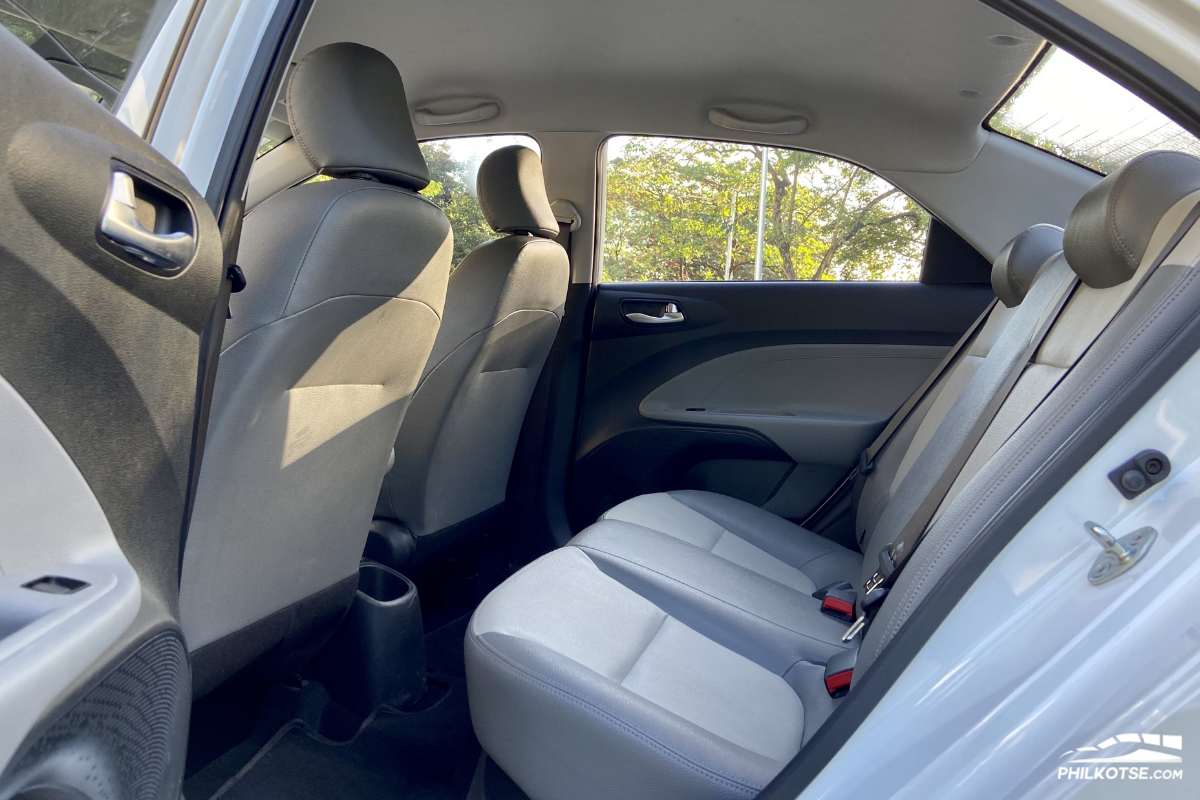 The rear passenger area gets enough leg- and head-room 
In terms of passenger capacity, the Soluto can accommodate up to five individuals. The rear seats offer enough leg- and head-room for two passengers standing at 5'8". You can fit three people at the back but the one seated in the middle might feel cramped.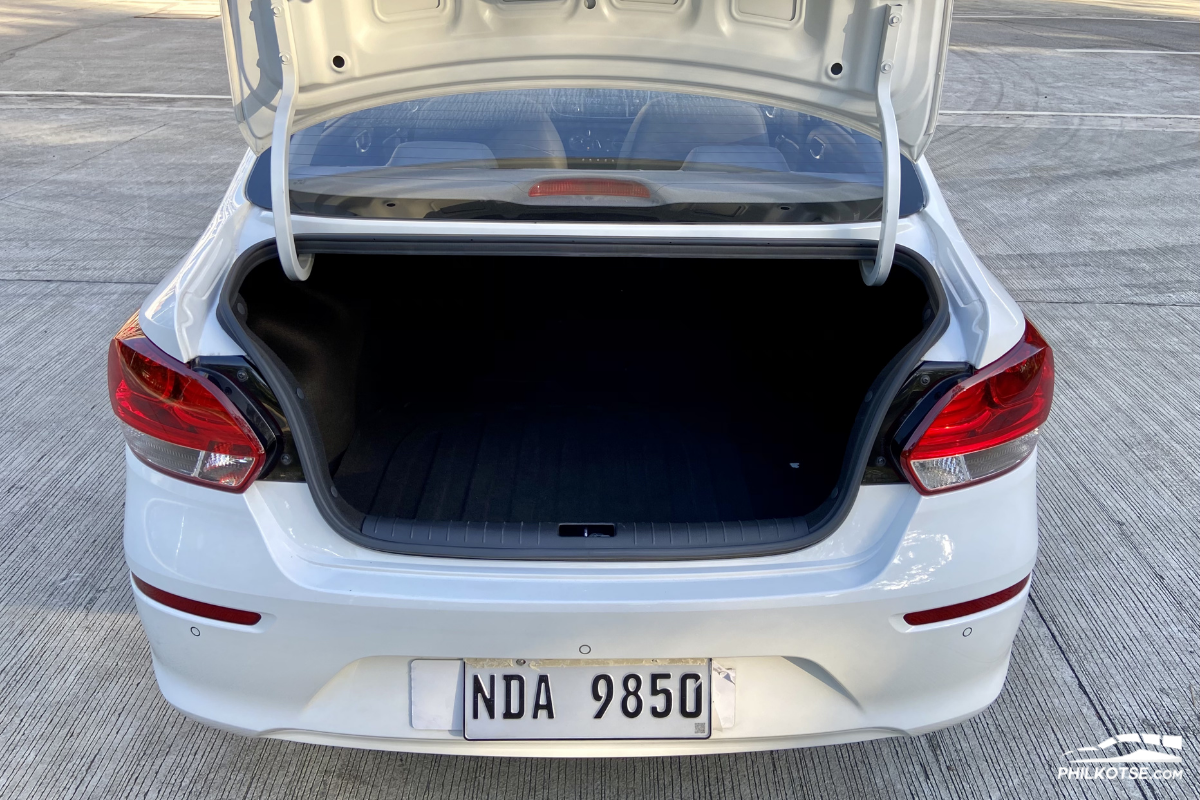 It also has a decent cargo space
You can also fit an assortment of items in the Kia Soluto's trunk as it offers enough room for a week's supply of groceries. You can also fit up to five overnight bags on the trunk as well as two large luggage or maletas, one baby stroller, among others.
2020 Kia Soluto: Tech & Safety Review
For a budget subcompact sedan, it's good to know that the 2020 Kia Soluto comes with a 7-inch infotainment touchscreen with Apple CarPlay and Android Auto. This feature allows you to mirror your phone's operating system to the infotainment touchscreen, allowing you access to apps such as Waze and Spotify. To use Apple CarPlay or Android Auto, simply plug in your smartphone's charging cable to the USB port found at the center console before you start your drive.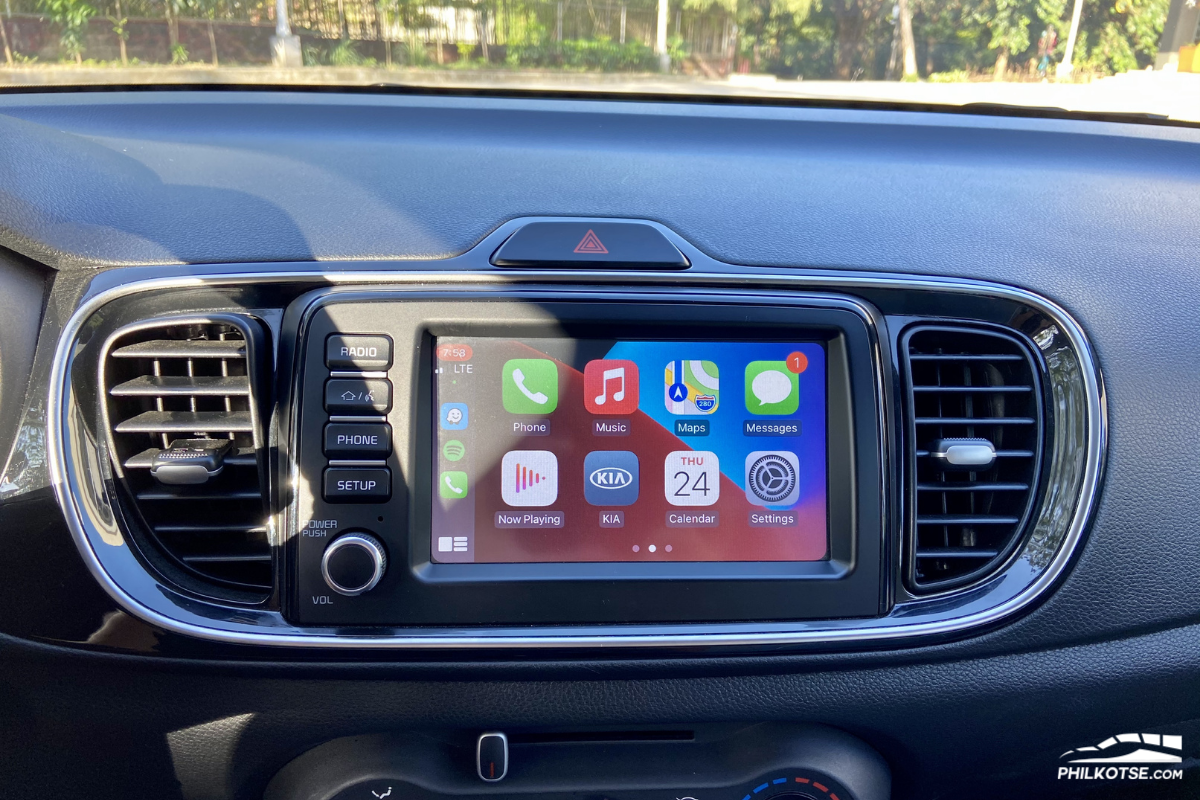 Apple CarPlay
The touchscreen also serves as a rear-camera display when you shift to reverse. It comes with lines to help you safely maneuver the vehicle in reverse. However, it doesn't come with static guidelines found on the Picanto that move simultaneously in the direction of the steering wheel. Aside from the rear-camera, the vehicle comes with rear sensors for added safety. Lastly, the Soluto is equipped with an anti-lock braking system and front airbags.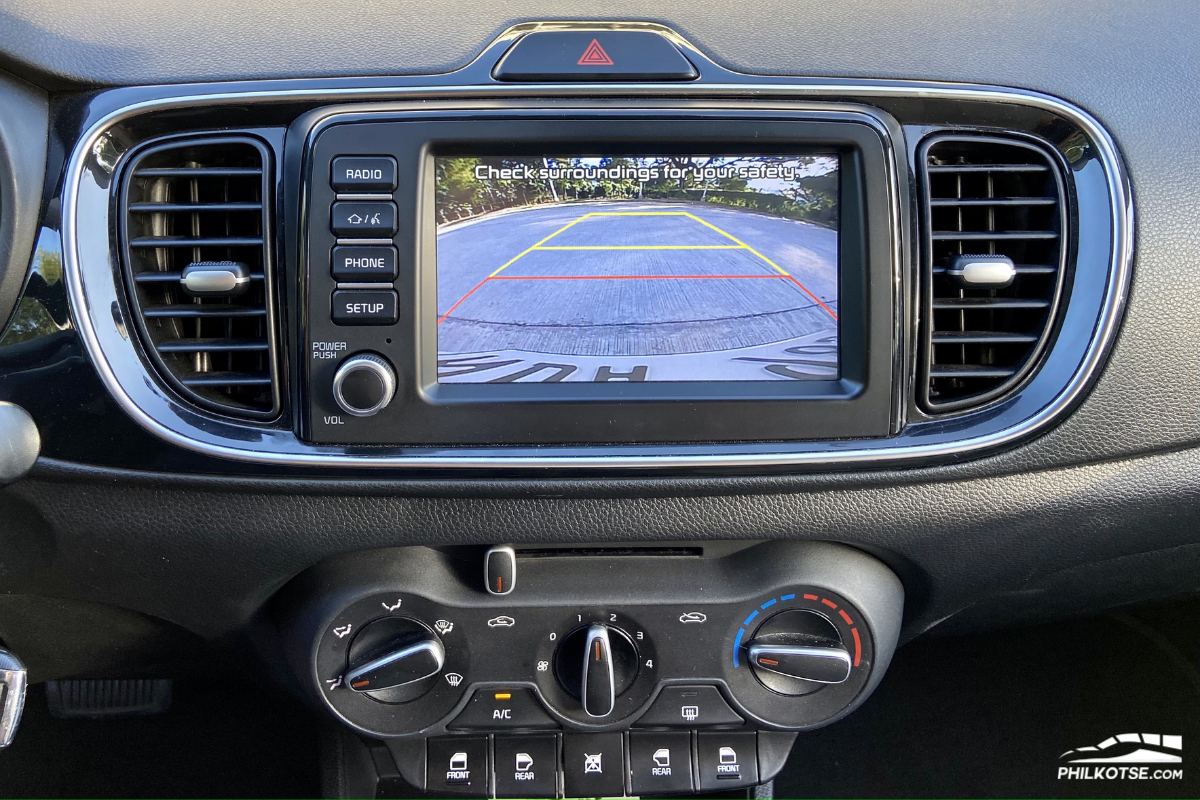 Reverse camera
2020 Kia Soluto: Engine & Performance Review
| | |
| --- | --- |
| Engine Specifications | 2020 Kia Soluto |
| Engine Type | 1.4L Gasoline |
| Max Power | 94 hp @ 6,000 rpm |
| Max Torque | 132 Nm @ 4,000rpm |
| Transmission | 4-speed automatic transmission |
| Drive Type | Front-Wheel-Drive |
The 2020 Kia Soluto is powered by a 1.4-liter gasoline engine that delivers 94 hp and 132 Nm of torque. It is mated to a four-speed automatic transmission.
The Soluto's engine delivers adequate power, and it accelerates well. The four-speed automatic transmission shifts smoothly and comes with minimum to none shift shocks even at low gears. While driving the Soluto around the city, I noticed that it likes to shift early as it changes gears slightly before the 2,000rpm mark.
The fast gear shift of the Soluto contributes to more fuel-efficient driving. However, the gear ratio becomes a bit weird as you take on uphill roads or when you climb up a bridge. The Soluto's gear ratio takes a bit of time to adjust and to deliver the right amount of power, which results in applying more input on the accelerator.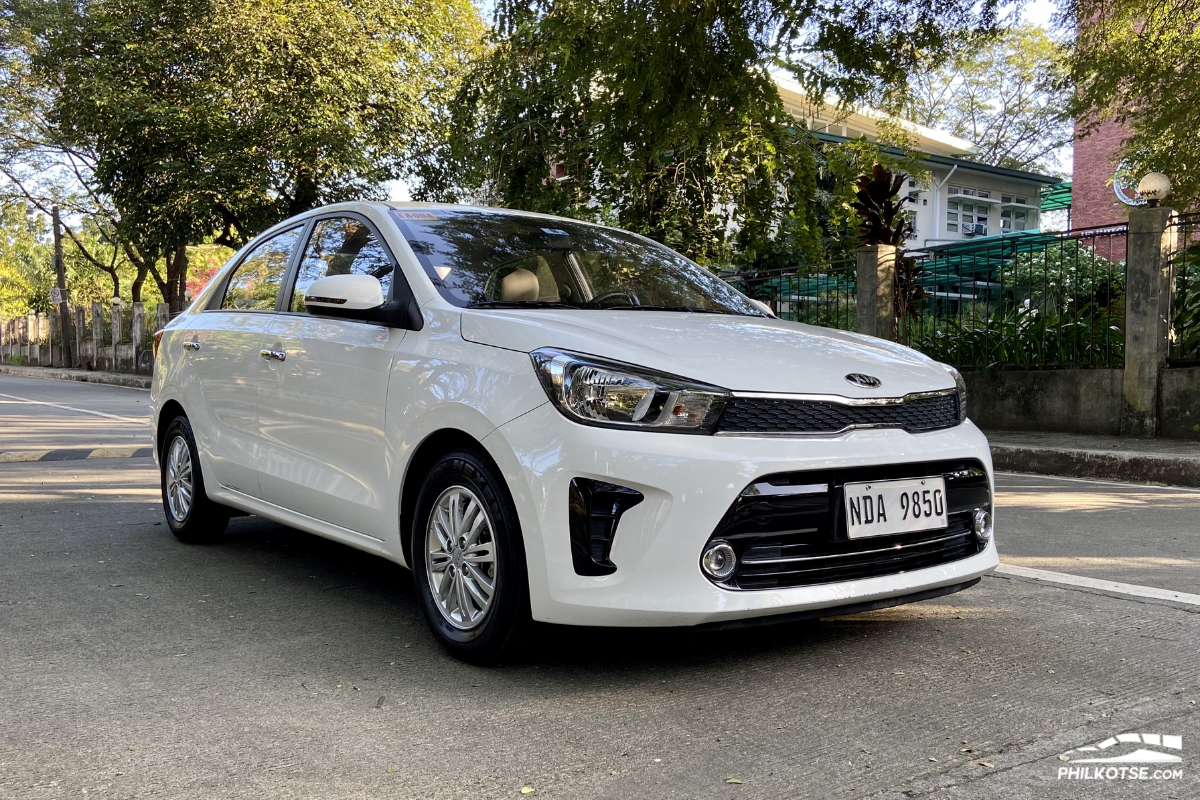 The Kia Soluto has a light steering feel
The Soluto also comes with a light steering feel, which is good for city driving. The light steering is also responsive, which makes city driving more relaxed and comfortable. This vehicle can also absorb impacts within reason as it can take the beating along EDSA's dilapidated roads. But, I do find that its suspension leans a bit on the firm side, and a significant amount of body roll can be felt when taking tighter turns.
The Soluto also has a stable ride
The forward visibility of the Soluto is good since it has a clutter-free dashboard layout and a height-adjustable driver's seat. In the open highway, the Kia Soluto is stable when driving at an average speed of 90 km/h.
2020 Kia Soluto Philippines: Fuel Efficiency
| | |
| --- | --- |
| Fuel Efficiency | 2020 Kia Soluto |
| Fuel Type | Gasoline |
| Fuel Tank Capacity | 43 liters |
| Fuel Economy | 16.7 km/l (ave. speed of 50 km/h) | 20 km/l (ave. speed of 90 km/h) |
During the test drive, I wasn't able to encounter heavy traffic along EDSA. As such, I was able to get 16.7 km/l while driving at an average speed of 50 km/h. On the highway, I got 20 km/l while driving the Soluto at an average speed of 90 km/h.
With the said numbers, you can consider the Kia Soluto as a fuel-efficient subcompact sedan. Of note, I was the only passenger on board the vehicle during the said fuel-economy test run.
2020 Kia Soluto Philippines: Verdict
The 2020 Kia Soluto is a simple, straightforward, and no-nonsense car. It is integrated with only the essential things one needs inside a car along with notable tech toys such as Apple CarPlay and Android Auto, reverse camera, rear sensors, among others. Despite its simplicity in design, the Kia Soluto is packed with a bang for the buck features. Priced at Php 755,000, the 2020 Kia Soluto EX should be on your list when you're looking for a subcompact sedan that can be your daily ride in the urban jungle.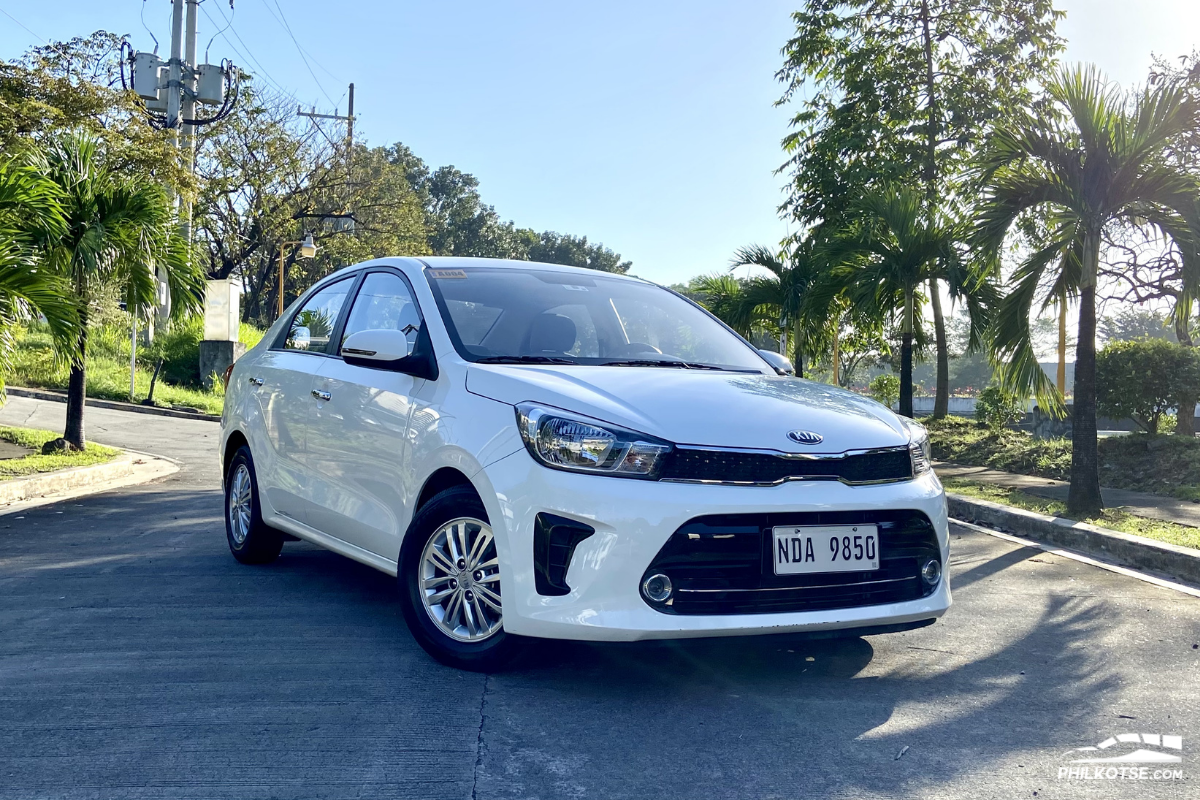 The Kia Soluto is a no-nonsense subcompact sedan
2020 Kia Soluto: Variants & Price
Kia Soluto Price & Variants in the Philippines

Kia Soluto 1.4 EX AT

Php 755,000

Kia Soluto 1.4 EX MT

Php 710,000

Kia Soluto 1.4 LX AT

Php 710,000

Kia Soluto 1.4 LX MT

Php 665,000
2020 Kia Soluto: Color Options
2020 Kia Soluto Color Options
Clear White, Titanium Silver, Blue Stream, Aurora Black Pearl, Marcato Red (EX only)
2020 Kia Soluto: Specs
Overall

Make

Kia

Name

Soluto EX AT

Body Type

Subcompact Sedan

Dimensions & Weight

Lenght

4,300 mm

Width

1,700 mm

Height

1,460 mm

Wheelbase

2,570 mm

Ground Clearance

150 mm

Engine & Transmission

Type

1.4L Gasoline

Max Power

94 hp @ 6,000 rpm

Max Torque

132 Nm @ 4,000rpm

Transmission

4-speed automatic transmission

Chassis & Suspension

Brakes (Front / Rear)

Disc / Drum

Suspension (Front / Rear)

MacPherson Strut / Torsion Beam

Wheels and Tires

14-inch Alloy

Exterior

Halogen

Fog Lamps

Rear Combination Lamp

High Mount Stop Lamp

Mirror-mounted Turn Signal Indicator

Interior

Leatherette

3-Spoke Leather Steering Wheel

Manual Tilt Steering Wheel Adjustment

Steering Wheel Mounted Audio and Hands-Free Phone Controls

Power Windows

Power Door Lock

7-inch infotainment touchscreen

Apple CarPlay and Android Auto

ISOFIX

6 Speakers

Rear Camera Display

Safety & Security

Front Airbags (Driver and Passenger)

Anti-lock Brake System

Immobilizer

ISOFIX

Rear Camera


Martin Aguilar
Author