Subtle but elegant, just the way I like it.
What's up? I'm Cesar Guiderone B. Miguel, a content writer for Philkotse.com. My name is a mouthful, so you can call me Cesar instead. Today I'll be sharing with you guys a particular car that I would want to buy.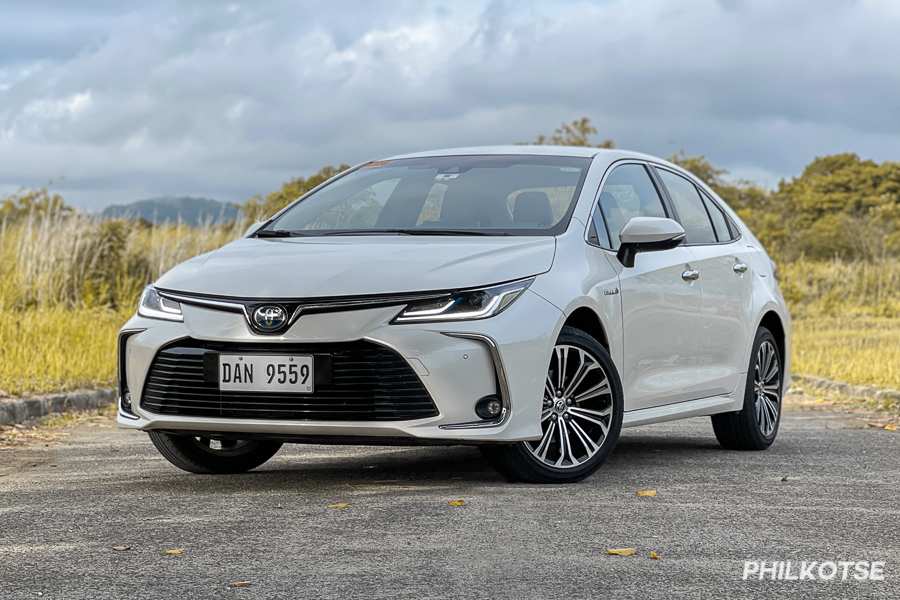 The Toyota Corolla Altis. (note: photo above shows the Hybrid variant)
Anyway, I'm of the mind that I'm a fairly okay-ish mechanic. Back in grade school, I helped my dad maintain our 4BD1-Turbo jeepney. During my early college days, I managed to fix a compression issue on my first car: a Suzuki Carry. This took a week and it involved a lot of silly mistakes on my part. Later on, I (with a bit of help), managed to fix the front suspension on my Honda City. The spring nearly struck my foot when I finagled it out, but I'm rather proud that I managed to finish the job. 
Now that I'm growing older and wider at the girth, I found out that fixing cars and wrenching on stuff is a pain. Bending over for hours on end is taxing, and kneeling to get to the car's lower bits will beat the stuffing out of me. So, if I wanted (or am able to) purchase a car right now, I would want something that's comfortable, relatively spacious, and more importantly, known to be reliable. 
What I'm talking about is the currently available Philippine-spec Toyota Corolla Altis. 
Sized and styled just right 
As a compact sedan, the Corolla Altis is just the right size for my needs. It can accommodate five people, which is more than enough for my immediate family of four. Then again, I'm living with only one family member right now so it provides a lot of space indeed. Plus, it has a trunk large enough to store the things needed to placate my occasional bouts of automotive paranoia: a portable tire inflating device, extra car fluids, etc.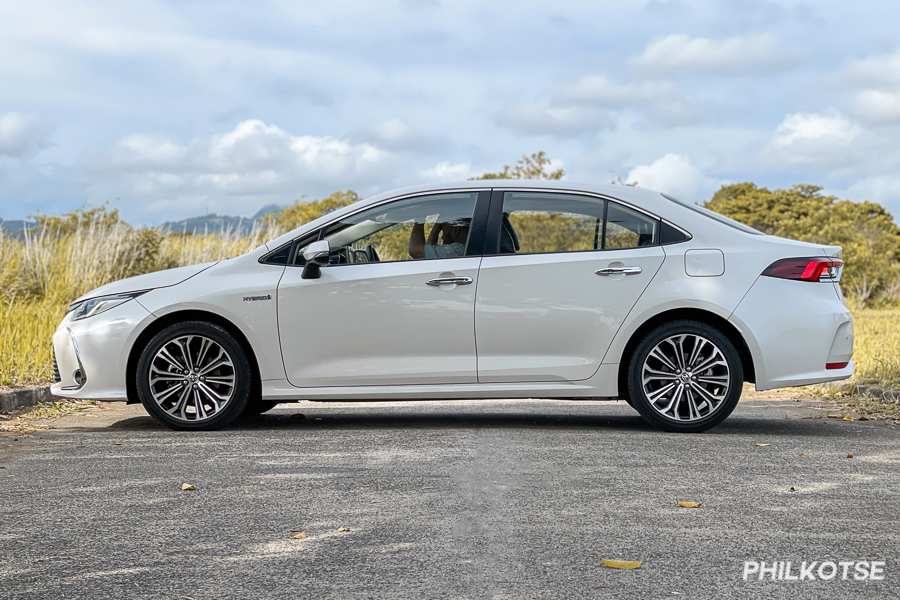 Its got a stylish roofline
The best part about the Corolla Altis (at least for me), is it's subtle but elegant styling. It isn't as loud and boisterous-looking as its competitors, and it can definitely blend in the usual crowd of cars plying the many roads of Quezon City and Ortigas. Sure, it does have some degree of aggressiveness on the front end, but most cars do nowadays anyway. 
What really tickles my automotive senses is the Corolla hatchback versions that aren't sold in the Philippines. I like sedans, but I really dig hatchbacks. To be more specific, the Corolla GR Sport Hybrid that's sold in Europe right now more than floats my boat. Sure, it is a Gazoo Racing model and is sportier than the Corolla Altis, but it remains to be fairly subdued.  
Manual goodness 
Another thing that I, and many other people like about the Corolla Altis sold in the Philippines, is the availability of a manual transmission. Specifically, the said model uses a six-speed stick shift for its E and G variants. Then again, the higher-spec V variants come with a continuously variable transmission (CVT) for those who don't want to row through gears.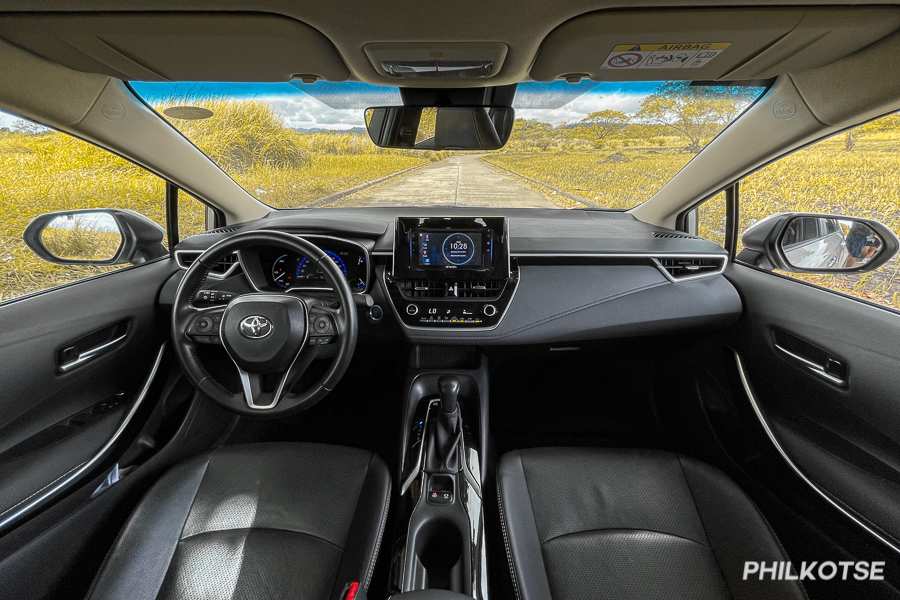 This might be the Hybrid variant, but the interior arrangement remains identical on all variants
As for the engine, the Toyota-made sedan uses the 1.6-liter gasoline inline-4 1ZR-FE, or the 1.8-liter 2ZR-FXE hybrid. I am very interested with the hybrid due to its lower carbon footprint, but I'm sticking to variants with the 1ZR-FE 1.6-liter as it's the only engine option paired with a manual tranny. 
Now the Toyota ZE series of engines has been around since 2007 replacing the older 3ZZ-FE. Since then, this four-cylinder die-cast block has been known to be reliable. Sure, it did have some issues with earlier iterations, but even those are reportedly rare. Also, its 121 horsepower and 153 Nm of torque are just enough for my occasional in-city grocery trips during this pandemic. No, it isn't as powerful as some competing cars within the segment, but then again, it's definitely got more oomph than the typical subcompact or city car model. 
Lastly, the said engine is also fairly quiet. Sure, I can appreciate the roar of a high-displacement V8, the low rumble of a turbodiesel, or the screams of a tuned inline-4, but for a daily driver I'd prefer the relatively silent hum of the Corolla Altis' engine.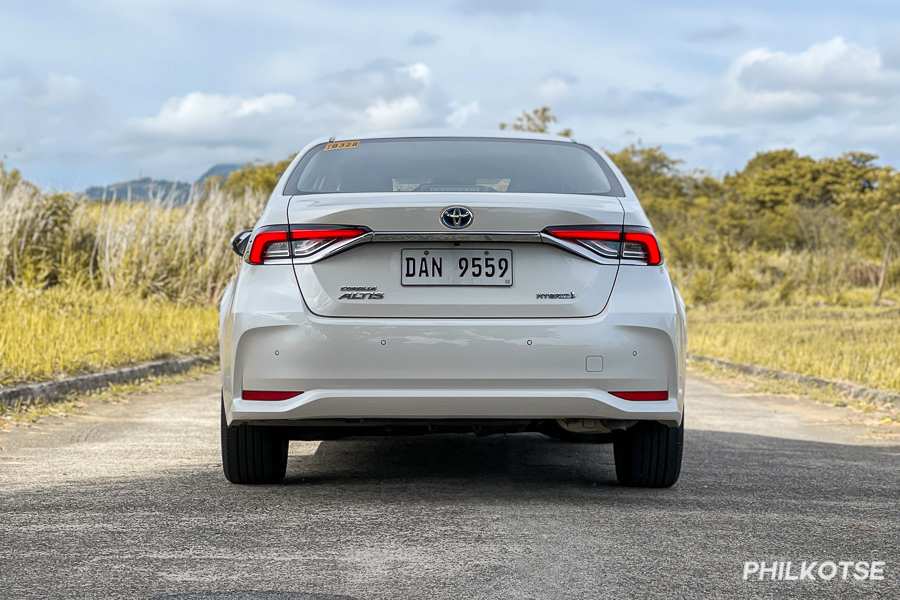 The Toyota Corolla Altis from the rear
So, there you have it folks, the car that I would like to buy is the Toyota Corolla Altis. Its ZR-series engine is known to be reliable and thus will keep me from working on it, and It looks subtle but elegant on the outside, just the way I like it.

Know more about Toyota Corolla Altis 2022

The Toyota Corolla Altis is Toyota Motor Philippine's entry into the compact sedan segment. Currently, this model has four available variants. There's the Corolla Altis E 1.6 CVT, the Corolla Altis G 1.6 CVT, the Corolla Altis V G-RS 1.6 CVT, and the Corolla Altis V 1.8 Hybrid CVT. These come with a price ranging from Php 1,054,000 to Php 1,595,000.
There are two engine options for the Corolla Altis. For the midspec G and entry-level E, they use a 1.6-liter inline-4 gasoline engine that make up to 121 horsepower and 153 Nm of torque. The top-spec V trim meanwhile, gets a 1.8-liter hybrid engine that can deliver 121 horsepower and 207 Nm of torque.
For transmissions, all of this model's variants uses a continuously variable transmission.
Size-wise, the Toyota Corolla Altis 2022 comes with a length of 4,630mm, a width of 1,780mm, and a height of 1,455mm. It also has a wheelbase length of 2,700mm, and a ground clearance of 175mm.
In the local market, the Toyota Corolla Altis mainly competes against the likes of the Honda Civic, Mazda3, MG 6, among others.

Cesar G.B. Miguel
Author