Car Search
Toyota Alphard 2019

for sale
Latest price list
Best advice for car buyers
Latest
Toyota

news
Featured links
Want to get updated car listings in the mail?

Subscribe
Toyota Alphard 2019 for sale
18

results found
Sort by
Sort by Default

Price: lowest first

Price: highest first

Oldest first

Recent first
1. Toyota Alphard 2019 Philippines: Price & All the Variants
In Metro Manila, you can find a Toyota Alphard 2019 on pretty much any street. This minivan is somehow very popular among the more wealthy families. Let's find out what makes it so excited over with Philkotse.com!
There are three colors for you to choose from, including Luxury White Pearl, Steel Blonde Metallic, and Raven Black.
For White Pearl paint, you have to add ₱15,000.
Toyota Alphard 2019: Price list in the Philippines

| | |
| --- | --- |
| Variant | Price |
| 2019 Toyota Alphard 3.5 AT | ₱3,910,000 |
| 2019 Toyota Alphard 3.5 AT (Luxury White Pearl) | ₱3,925,000 |
2. Toyota Alphard 2019 Philippines: Exterior
Most people prefer the white version of the 2019 Alphard. It's understandable, as this color is not your average all-white but a beautiful pearl white.
Upfront, the intricate grille is integrated with the "alpha" symbol, which is different than most car models out there. The Toyota logo is now on the rear instead.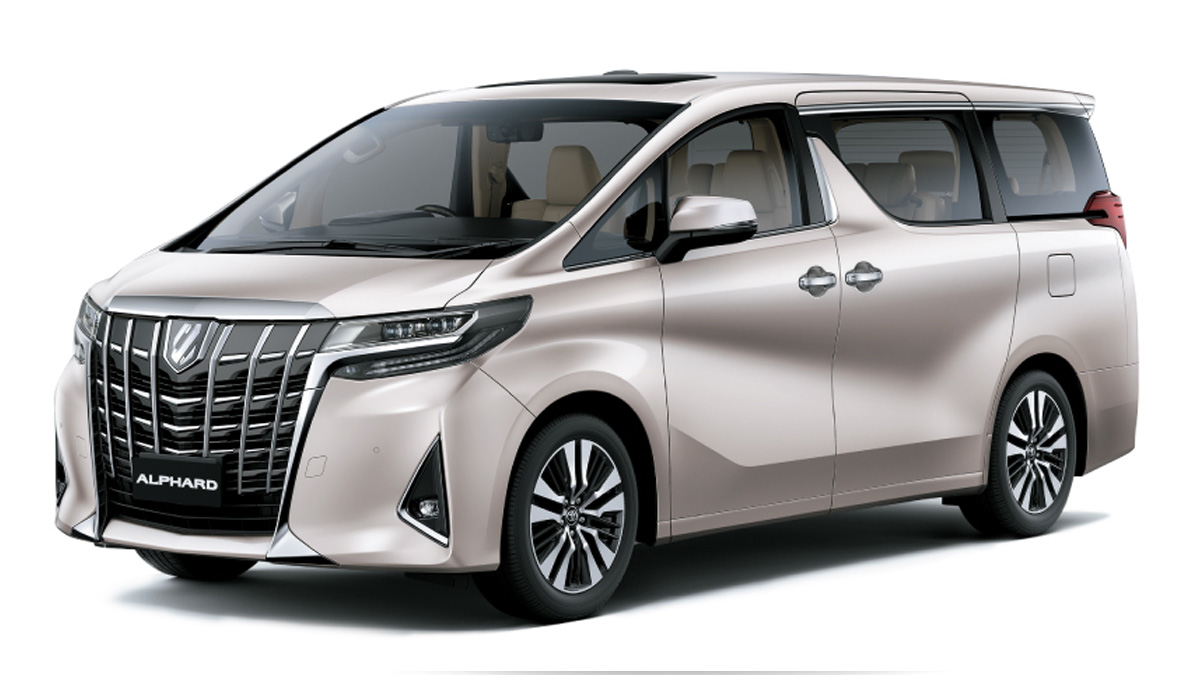 On the flanks of the grille are LED headlights. Aside from their central purpose, these headlights can also illuminate the edges of the car, improving the visibility greatly. They also have auxiliary turn lights that activate whenever the driver turns the wheel or uses the turn signal.
Another refreshing trait of the Toyota Alphard 2019 is the turn signal indicators: the row of LEDs doesn't flash but lights up sequentially. LEDs are used on the rear end as well, making this part look curvier than the rest of the minivan.
Overall, the Toyota Alphard 2019 has a sleek, aerodynamic design. Some may say it resembles a box, but it's a beautiful box nonetheless.
3. Toyota Alphard 2019 Philippines: Interior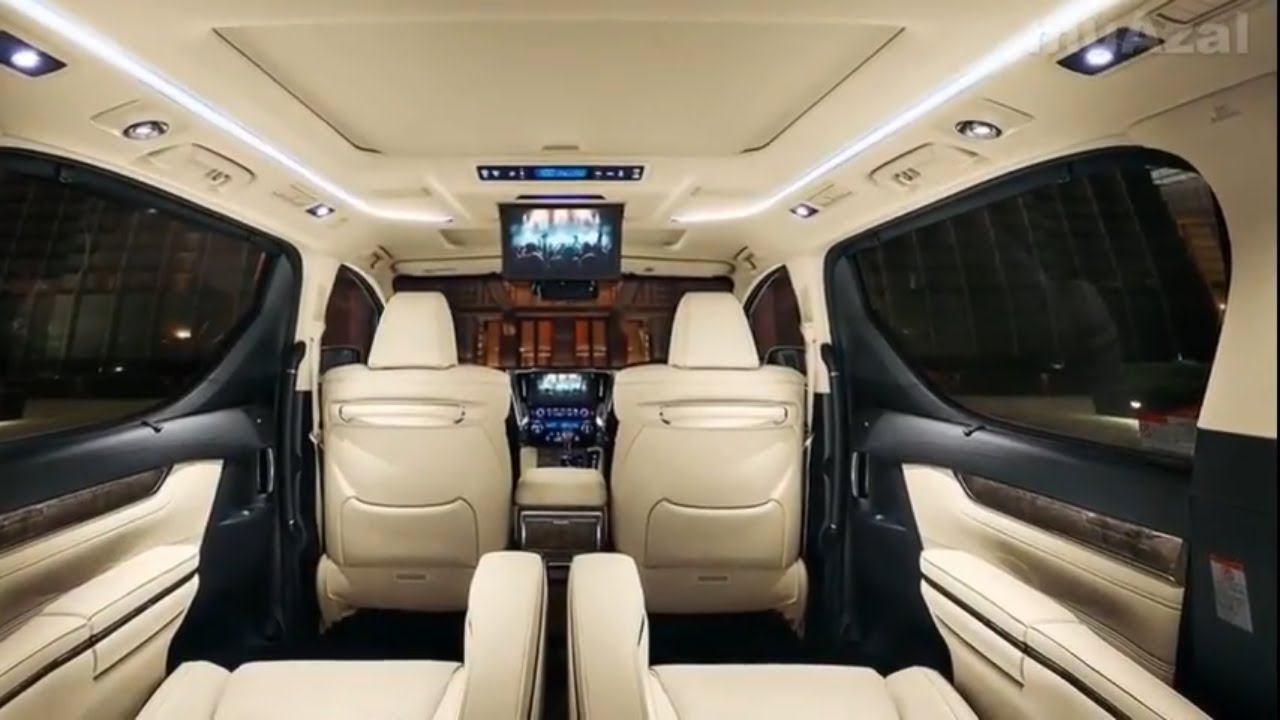 If the Toyota Camry's interior is economy class, then the insides of the Toyota Alphard 2019 is definitely business class. Yes, its interior is that nice. Beige is the dominant color for the interior design, accentuated with black plastics on some parts of the front and wood accents.
There is plenty of space inside, enough for seven adults. However, if you need to store items, then maybe only four seats will be comfortable enough. You can still stow away the rear bench for more cargo space though.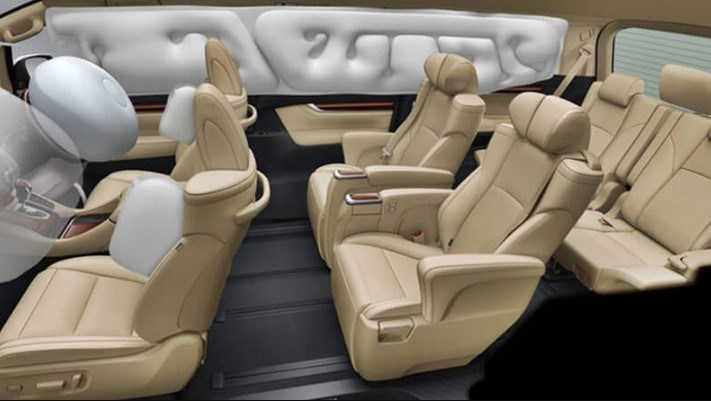 The Toyota Alphard has always been known for its captains' chairs. For the 2019 version, these uber-comfortable seats have some updates: motorized recline, leg rest, cooled and heated seats for the front row, making this minivan one of our most comfortable rides.

4. Toyota Alphard 2019 Philippines: Engine
The Toyota Alphard 2019 uses an engine of the 2GR line, the same as a Lexus IS 350 or a V6 Camry. It's a 3.5L engine that can create 292 hp and a torque of 361 Nm, mated to a 6-speed automatic transmission.
With the output coming to the front wheels, this minivan can speed up from 0 to 100 km/h in just 8.3 sec. That's pretty impressive, considering the car is over 2 tons in weight. In contrast to the pretty powerful engine, the Toyota Alphard 2019 runs smoothly and almost silently.
The engine does make some guzzling sound from time to time, though. The gas tank is also an impressive 75L container. It can take a while between refills of the gas tank, but each refill is not going to be cheap.
>>> More full-scale reviews on the Toyota Alphard: Toyota Alphard 2020 Philippines Review: Ride in maximum comfort and style
5. Toyota Alphard 2019 Philippines: Tech & Features
The 2019 Alphard has a lot of convenient features. Ones like a remote control for the automatic doors, power tailgate, and keyless entry give easier access to the minivan.
Toyota also gave the Alphard a panoramic sunroof and a large glass pane on the rear end for more space and open air. And to consume less fuel, the minivan even includes an electronic parking brake and auto-start stop.
Unfortunately, aside from the features mentioned above, the rest don't match up with the car's price and overall high-quality design.
Basic features are still there, for example, the head unit with connectivity options like Bluetooth, USB, AUX; an audio system with eight speakers; parking sensors, etc. However, premium features like a backup camera or USB plug/power outlet on the rear aren't present.
In terms of safety features, there are seven airbags, ABS, hill-start assist system, traction and stability control, and electronic brakeforce distribution with brake assist.
6. Toyota Alphard 2019 Philippines: Specs
Toyota Alphard 2019 Philippines: Specifications

| | |
| --- | --- |
| Price | ₱3,910,000 - ₱3,925,000 |
| Dimensions (Length x Width x Height) | 4,915 x 1,850 x 1,980 mm |
| Engine Size | 3.5 L |
| Fuel Capacity | 75 L |
| Transmission Type | Automatic |
| Warranty | 3 Years (100,000 km) |
>>> Further reference: Toyota Philippines Overview & Pricelist in 2020
7. Conclusion
In short, the Toyota Alphard 2019 price can be too much for some people, especially since there aren't too many techs and features available.
However, the performance and comfortableness of this minivan made up for it. So who knows, maybe your experience with this minivan is well worth its price.